MeetinOKC.com launches in conjunction to attract meeting planners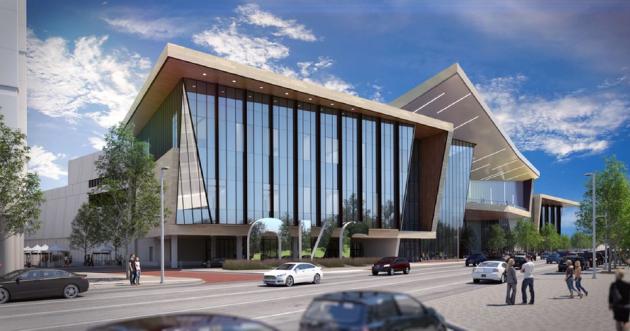 Oklahoma City – The Oklahoma City Convention & Visitors Bureau (OKC CVB), local civic leaders and other dignitaries gathered on Friday, June 15 to celebrate the historic ceremonial groundbreaking for the all-new Oklahoma City Convention Center.
"This is a great day for Oklahoma City," said Mike Carrier, president for the Oklahoma City Convention & Visitors Bureau. "This totally new convention center marks a significant milestone in OKC's commitment to the meetings and convention industry."
Designed by the architecture and design firms of Populous and GSB, the new Oklahoma City Convention Center will include a 200,000-square-foot exhibit hall, a 30,000-square-foot ballroom and 45,000 square feet of additional meeting space.
The convention center will open in 2020 and will be adjacent to the upper section of the new 70-acre Scissortail Park, which will open in 2019. Also set to open in 2020, a headquarter hotel from Omni Hotel & Resorts will be to the north of the new convention center, connected by a skywalk, and will offer 605 rooms with approximately 50,000-square-feet of meeting space. The park, convention center and headquarter hotel will all be linked to attractions, dining and nightlife in districts around downtown by the new six-mile OKC Streetcar system, which will be operational by December 2018.
"This is the only totally new build convention center underway in the United States," said Carrier. "Once the new center, the Omni headquarter hotel, the new Scissortail Park and the OKC Streetcar are all complete in 2020, Oklahoma City will be a completely new destination in the south central U.S. for meetings of all sizes."
The convention center is the largest single construction project in Oklahoma City's history, as well as the largest of eight MAPS 3 capital improvement projects funded by a 1-cent sales tax.
"Meeting planners are going to be wowed by Oklahoma City's new offerings," said Vice President of Sales Dennis Johnston. "And the fact that the center will open debt-free really sets Oklahoma City apart."

The OKC CVB has launched a new website, MeetInOKC.com, to keep meeting planners and others up-to-date on all of the convention center news leading up to the opening, as well as act as a guide to Oklahoma City for planners and attendees.  
About the convention center
The MAPS 3 Convention Center's total project budget of $288 million, including land acquisition and other related expenses, is the largest in City history for a single project. The construction contract is $168.2 million, which is $20 million under budget.
The state-of-the art building will be located east of Scissortail Park along Robinson Boulevard between SW 4th and SW 7th streets. The convention center's sleek and modern design features sweeping downtown views, and materials designed for energy efficiency and resiliency against the weather. The gleaming, angular façade has towering glass walls to make maximum use of natural light and takes its design cues from Oklahoma City's sky, landscape and architectural character.
The 200,000-square-foot exhibit hall will dominate the ground floor and feature three operable walls, making it divisible into four flexible spaces. There will be a total of 45,000 square feet of meeting spaces on all levels of the building, many also having operable walls to make the spaces flexible. The rooms can be configured to provide up to 27 individual meeting spaces. A 30,000-square-foot ballroom is the main space on the fourth level, complemented by 10,000 square feet of pre-function space and a 4,000-square-foot balcony. Informal meeting spaces, a kitchen, a potential café space, an expansive loading dock and administrative offices are also planned for the convention center.
Landscaping outside the convention center will use native plants and trees well-suited to the local climate, with a focus on sustainability, comfort and beauty. A central plaza and other inviting spaces will help the convention center's exterior come alive with activity.
Wayfinding stations inside and outside the convention center will be interactive.
A skywalk will connect the building to the future Omni hotel, which is being developed to complement and support the convention center and is also expected to be finished in 2020.
About MAPS 3
MAPS 3 is a $777 million capital improvement program to improve the quality of life in Oklahoma City. It is funded by a 1-cent sales tax initiative that began in April 2010 and ended in December 2017. MAPS 3 funds eight projects: Downtown Convention Center, Downtown Public Park, Modern Streetcar/Transit, Oklahoma River Improvements, Oklahoma State Fairgrounds Improvements, Senior Health and Wellness Centers, Trails and Sidewalks.
About the Oklahoma City Convention & Visitors Bureau
The Oklahoma City Convention and Visitors Bureau (CVB) is a division of the Greater Oklahoma City Chamber of Commerce. The CVB is the tourism information source for visitors to and the citizens of Oklahoma City. As the City's official destination marketing organization, the mission of the CVB is to contribute to the economic well-being of Oklahoma City and its citizens through the solicitation and servicing of conventions and other related group business, to promote the city as a first-class visitor destination and to enhance Oklahoma City's name and image.