If you're looking for a new way to spend time with family and friends, check out RIVERSPORT!
With locations in the Boathouse District, at Lake Overholser and Lake Hefner, RIVERSPORT offers outdoor sports and recreation in an urban setting unlike any other. Here, you'll find all the adventures!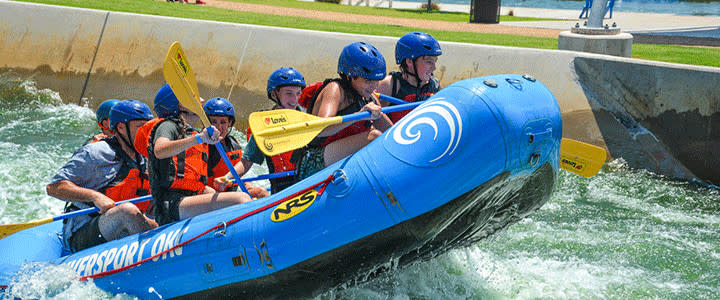 Raft down Class II-IV rapids, go whitewater tubing, try surfing or boogie boarding, then ski on our indoor slope. Climb the six-story Sky Trail, zip 700 feet across the river and back, step off the 80 ft. Rumble Drop freefall or scream down the high-speed slides. Ride the pump track, go flatwater kayaking, then stand up paddleboard down the Oklahoma River. All that on a regular day!
Join us for live music during our Hudiburg Summer Music Series and check the calendar for our Floating Film dates – Jaws returns in early September! You'll also find international race events, festivals, family reunions and community events. This fall, Outdoor October returns on weekends and we're planning a holiday event for weekends in December.
RIVERSPORT also offers rowing and canoe/kayak coached programs, summer camps, group excursions and lessons – and we're a US Olympic and Paralympic Training Site.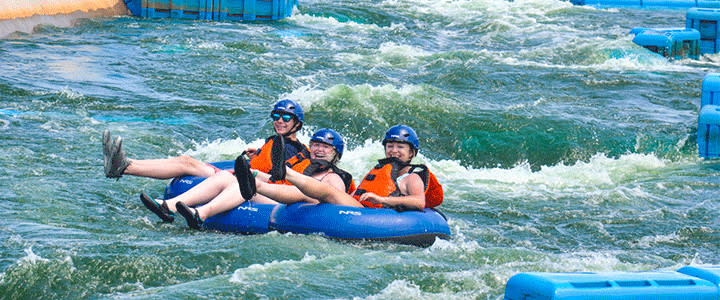 Best insider tips for planning your visit
We're open daily in the summer through mid-August, then weekends in the fall. Check riversportokc.org for our seasonal hours and follow us on social media @riversportokc for promos and in-the-moment updates.
Best value. If you want to do it all and get all the extras – including Ski OKC – buy a RIVERSPORT+ pass. If you're coming back more than once, grab a season or annual membership.
Busiest times. Like most destinations, we're busiest on Saturdays. Come on a weekday and you'll skip the lines. September weekends are also a great time – still warm enough to enjoy everything, but not as many people.
Get online. Buy your pass, schedule your raft trip and sign your waiver online. You can check out all the adventures and look at FAQs. So much time saved! When you arrive, check in at Guest Services, grab your wristband and you're good to go.
Wear shoes. Leave the slides, flip flops and Crocs at home. Secure shoes are required for safety reasons; if you forget yours, we sell them in our Outfitter's Shop.
Get here early. Arrive at least 45 minutes before your rafting time and if it's a Saturday, maybe even earlier.
Rafting? Tubing? Surfing? Bring a change of clothes, a towel and sunscreen. Leave your jewelry, watches and other valuables at home. Stow gear in a locker after you check in.
Big Water Grill. So good. You'll want to grab a meal or at least a snack. Chef Nate (yep, we have a chef) offers an amazingly great menu plus we have a full bar – beer, wine, cocktails. Check out the menu.
Epic Deck. It's just what it sounds like. It's the best place to kick back, relax and watch all the action. You'll find it on the second floor above the outdoor patio. You can also make your way over to the Sunset Deck for (you guessed it) great sunsets. Both are new and shouldn't be missed.
Nature Center Deck. OK. So we have a thing for decks. If you like surveying the world from up top, check out the Nature Center Deck overlooking the pump track to the east and downtown OKC to the west.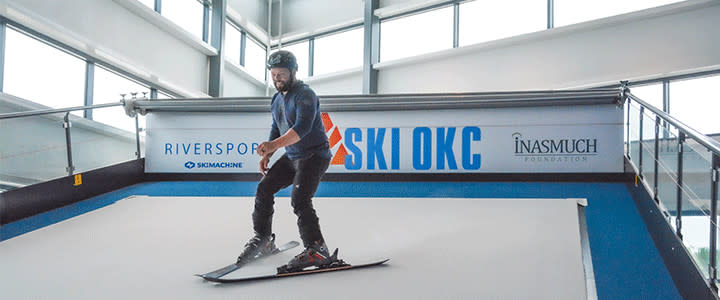 As a nonprofit, RIVERSPORT focuses on making outdoor sports and recreation more accessible to both youth and adults who face all sorts of barriers – financial, cultural, physical. Every dollar you spend with RIVERSPORT helps us 'share the outdoors' in life-changing ways.
As you can see, we have a lot going on – and there's always something new on the horizon. We look forward to welcoming you to experience all that is RIVERSPORT!