You can't seem to go a day without seeing a meme or headline bidding good riddance to 2020 as we anxiously await an effective vaccine for COVID-19.
That said, work hasn't stopped on many exciting new attractions coming to Oklahoma City over the next year. As you make your bucket list for 2021, be sure to include these new OKC experiences!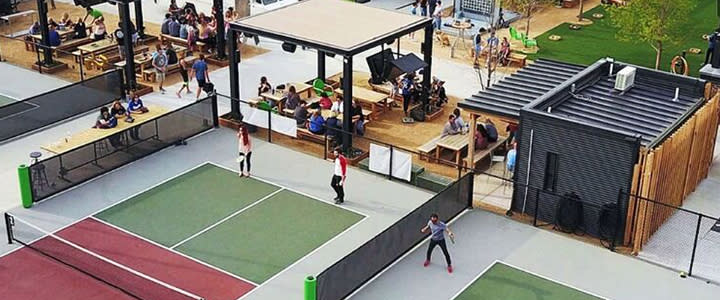 While Flix Brewhouse, a cinema with a dine-in brewery opened in 2020, we expect additional amenities in the 52-acre mixed-use entertainment area – called The Half – to open in January 2021. This includes Chicken N Pickle which will have a casual restaurant, sports bar, multiple pickleball courts and a variety of yard games.
January will also mark the opening of the new Oklahoma City Convention Center – OKC's largest MAPS project to date. This game-changing venue allows OKC to attract and host a wide variety of meetings and conventions, plus show off our nearby amenities such as Scissortail Park, the OKC Streetcar and nearby districts like Bricktown. The Oklahoma City Omni Hotel also opens in January, serving as the new convention center's headquarter hotel. This 605-room hotel brings a variety of new dining experiences, plus a spa and additional meeting space options.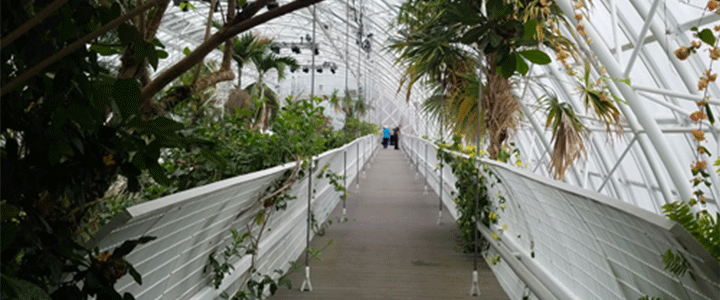 ​If you've been meaning to explore the Crystal Bridge at the Myriad Botanical Gardens, don't delay! The Crystal Bridge Conservatory will close for renovations in spring 2021 as they completely revamp the interior conservatory spaces to enhance visitor engagement. Coming in 2022, you can expect a more diverse plant collection, interactive educational exhibits, improved ADA accessibility, and a museum-quality gift shop.
The Softball Capital of the World® saw major renovations unveiled in 2020. Located in the Adventure District, the USA Softball Hall of Fame Complex - OGE Energy Field got a modernized look with upgraded features to enhance both the fan and media experience. The venue is home to the NCAA Women's College World Series which celebrates its 30th anniversary in 2021 and will be the hottest ticket in town next June.
Coming in late spring, RIVERSPORT will unveil a brand-new indoor slope which brings alpine skiing and snowboarding to the Boathouse District. With an infinite, articulating ski slope, the indoor ski simulator's quick inclination system allows for the slope to go from a Blue ski run to the equivalent of a Black ski run in seconds. With this new addition, RIVERSPORT becomes the first facility in the world to offer snow skiing, surfing and whitewater rafting all in one location.
The highly-anticipated First Americans Museum (FAM) is another marquee attraction coming to OKC in 2021. FAM will be an epic indoor/outdoor adventure for the entire family. Experience one-of-a-kind exhibits, participate in hands-on educational programs, hear first-hand accounts in the theaters and watch cultural demonstrations celebrating the collective histories and contemporary cultural expressions of Oklahoma's original peoples. Explore the outdoor cultural park where the plains, prairies and wetlands converge. Enjoy an intimate connection with the natural environment such as earth, wind, water and fire used to interpret American Indian perspectives. Mark your calendar for their grand opening on Sept. 18, 2021.
Coming to downtown in fall 2021, the all-new Red Earth Art Center will reopen in the south lobby of the renovated BancFirst Tower. Featuring permanent and rotating American Indian fine art, this expanded gallery will showcase paintings, sculpture, pottery and basketry. Red Earth will also offer unique, Native-made gifts and art in their new retail space adjacent to the gallery.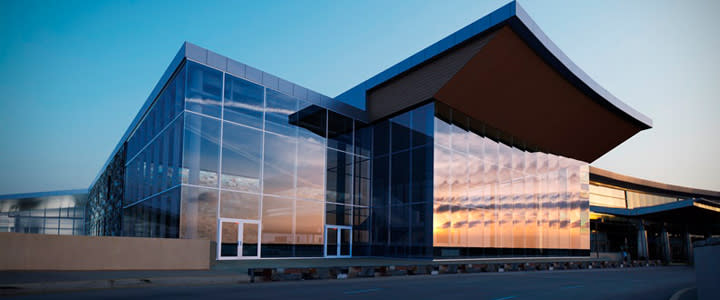 Will Rogers World Airport continues to modernize and expand with a terminal renovation project expected to be complete in the third quarter of 2021. Greeting lounges will replace previous security checkpoints, providing a comfortable place for family, friends and colleagues to wait for passengers. A new observation area overlooking the airfield, facing south, will be available for anyone who wants to come out and watch airline operations. For outbound travelers, the most notable change will be a consolidated checkpoint and town square in the newly constructed portions of the terminal building. In this expansive new space, terrazzo art designs from Oklahoma City artist Matt Goad will welcome passengers pre- and post-security. Dedicated lanes will be included in the new checkpoint for persons with disabilities and for TSA PreCheck passengers. Other exciting features include four additional airline gates and room for more retail/concession offerings.
As you can see, there's a lot to look forward to in 2021. So make plans now to get out and explore the Modern Frontier!