Taking a needed vacation shouldn't have to break the bank and OKC offers various opportunities to explore the Modern Frontier for free.
We've gathered up all there is to do at absolutely no cost to you—here are 20 free activities and locations you can enjoy this Spring. You actually can #SeeOKC for free!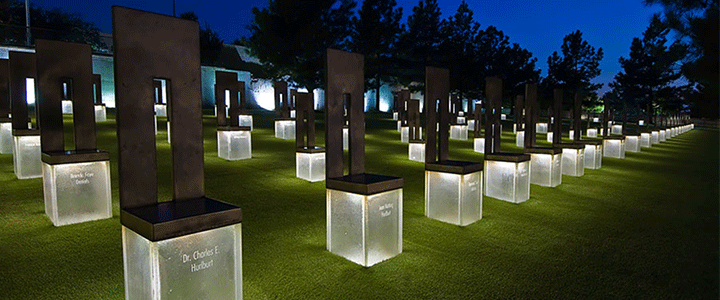 Museums
1. Located outside the Oklahoma City National Memorial & Museum, the Outdoor Symbolic Memorial stands on the now-sacred ground where the events of April 19, 1995 unfolded. 
2. The 45th Infantry Division Museum is dedicated to Oklahoma military history with a focus on World War II. It houses the country's third-largest collection of historic U.S. military firearms.
3. Explore the diverse and authentic pieces of artwork created by First American artists in Bricktown at Exhibit C Native Gallery & Gifts.
4. There was a time when people traveled by railroad. At the Oklahoma Railway Museum, you can see railroad equipment from that time including locomotives, passenger and motor cars. The museum is open Thursday through Saturday.
5. National Softball Hall of Fame and Museum is the place to learn about the sport's greatest athletes, coaches and umpires.
6. Be inspired by Oklahoma athletes and learn about sports history at the Oklahoma Sports Hall of Fame and Jim Thorpe Museum.
7. Explore the rotating and permanent exhibits at Oklahoma Contemporary Arts Center. Admission to the museum is always free but be sure to reserve a time slot before you visit. 
8. Featuring a selection of rattlesnakes, venomous snakes and lizards of Oklahoma, the OKC Rattlesnake Museum offers a safe opportunity to view these amazing animals up close.

Outdoor Fun
9.Stroll through Automobile Alley and be on the lookout for Factory Obscura at Mix-Tape--a quirky, brightly painted building with an interactive boom box that is visible from the street. It has large, working buttons and can be played with 24/7.   

10. For outdoor mural viewing, the Plaza Walls project in the Plaza District makes for a great spot for an art walk. Visit this blog to discover OKC's most Instagramable spots. 

11. Scissortail Park is an urban oasis, offering endless opportunities to roam, exercise, relax, play and enjoy nature. The children's areas invite imagination and exploration with opportunities to climb, crawl, jump, splash and spin. 

12. Grab your friends and head out to the Myriad Gardens for a serine walking tour offered on the last Saturday of every month. You can also participate in Yoga in the Gardens which is a place for yogis of all levels to center, recharge and connect with nature.

13. Oklahoma City has a network of 10 interconnected trails that lead to nearly every part of the city, totaling up to 80 miles of non-motorized trails. Check out our list of top trails in OKC to hike.

14. Will Rogers Gardens is a city park and educational center offering family-friendly workshops and classes on gardening and horticulture.

15. For skateboarders, inline skaters and BMX riders of all skill levels, the Mat Hoffman Action Sports Park offers both a bowl and street course.

For beginning and intermediate skateboarders and skaters, the Route 66 Skate Court and South Lakes Skate Court provide rails, slides and above-ground ramps.

 

Free Eats in OKC
16. Hot dang! Nashbird Chicken is delicious and packs a punch. Ask for no spice if your kiddo isn't a fan of the heat. Kids eat free on Mondays!
17. S&B Burger Joint offers great tunes and even better burgers. Kids eat free on Tuesdays, 5 p.m. to close.
18. Ted's Cafe Escondido offers endless chips and queso and free kids meals on Mondays.
19. Cowboy Chicken offers free meals for children 10 and under on Mondays.
20. Kids east free all day on Wednesdays at Louie's.