April. The month our nation was changed forever by the first act of domestic terrorism with the bombing of the Alfred P. Murrah Federal Building in Oklahoma City on April 19, 1995. This act of violence killed 168 innocent victims, injured hundreds, changed countless lives forever and altered life as we knew it for all Americans. Today now 26 years later, on this sacred ground we work to find common ground.
The Oklahoma City National Memorial & Museum remembers and honors the victims, family members, survivors and first responders and continues to educate about the impacts of violence to new generations. The Memorial and Museum invites you to honor those impacted by participating in special April opportunities.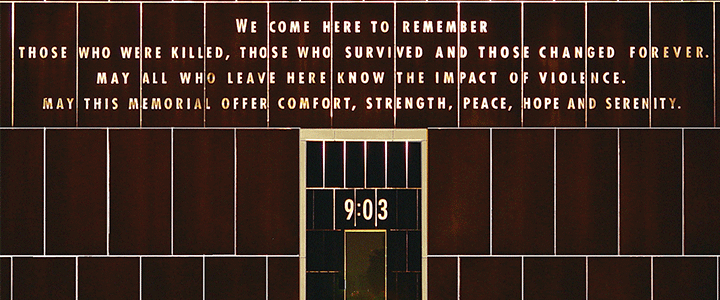 In 1995, Oklahomans clung to one emotion to get through that devastating time - hope. It was hope that gave those so deeply impacted and community leaders the strength to come together to begin conversations on how to design a place where those who were killed, those who survived and those changed forever would always be remembered. The conversations were not always easy. It involved learning to listen to other perspectives, sharing personal opinions and practicing civility, all while working through grief and vulnerability. The Memorial is sharing lessons learned through those conversations through the Better Conversations series. With the uncertainty in our world today, Better Conversations are more critical than ever. This free virtual series continues with discussions scheduled Tuesday evenings, April 13th, April 20th and April 27th from 7:00 - 8:00 p.m.
Friday, April 9, 2021, will feature a special Better Conversations virtual discussion with Krista Tippett from noon - 1:00 p.m. Krista Tippett grew up in Shawnee, Oklahoma, is a Peabody Award-winning broadcaster, a National Humanities Medalist, a New York Times bestselling author and the inaugural speaker in the Better Conversations series. She is returning for a special 26th Anniversary discussion. Discover weekly Better Conversations topics and registration information at MemorialMuseum.com. On this SACRED GROUND, we can find COMMON GROUND.
Experience the Memorial Museum through EYEwitness Tour accounts from those most affected by the bombing. Special EYEwitness Tour tickets are $25 each and include a private tour of the Museum prior to opening, a behind-the-scenes tour of the Archives and a 10% discount on Memorial Store purchases on tour day. Friday, April 16, 2021, from 8:00 - 9:30 a.m., join Richard Williams for this exclusive tour. Richard is a former District Manager for the General Services Administration Public Buildings Service and is a survivor of the bombing. Tickets can be reserved online at MemorialMuseum.com.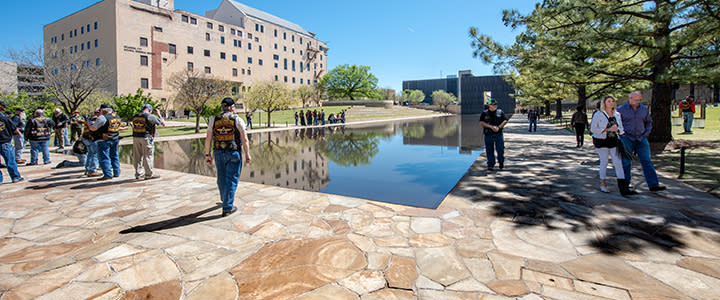 Monday, April 19, 2021, will begin with an in-person, ticketed Remembrance Ceremony for family members, survivors and first responders on the Outdoor Symbolic Memorial grounds beginning at 8:30 a.m. Due to COVID-19, we are limiting the size of the audience and safety protocols will be in place. The ceremony will include 168-seconds of silence at 9:02 a.m. to remember and honor the victims. The annual Remembrance Ceremony will be live-streamed on MemorialMuseum.com and local television stations. Following the ceremony, visit the Memorial Museum with free admission compliments of Cox Communications.
Two new exhibits will open to the public on April 19, 2021. "Remembering Through Art" is a result of a 25th Anniversary project. An Oklahoma art teacher commissioned her students to undertake a project to connect their generation to April 19, 1995. Each student was asked to choose one person from the 168 who were killed, research that person and create a work of art in their honor. As you visit this exhibit, you will see that the art illustrates something special in each person and the work of art created to honor them.
Also opening April 19th is a special exhibit highlighting the construction of the Outdoor Symbolic Memorial and the Memorial Museum. On display in the last area of the Museum and overlooking the Memorial, this special exhibit will be in recognition and commemoration of the 20th Anniversary of the opening of the Oklahoma City National Memorial Museum.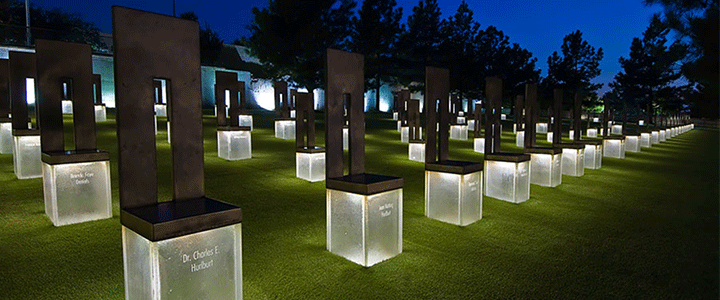 Download the Stronger Together app to enjoy the new augmented reality experience while visiting the Museum and walk through the galleries with a family member, survivor, first responder, investigator, journalist and volunteer. It will change your experience.
Due to the continuing pandemic effects and a desire to have an in-person event, the annual April Oklahoma City Memorial Marathon has been rescheduled to October 2-3, 2021. We will be back to our regular April schedule in 2022. Make plans now to join us in Oklahoma City!
If you have never been to the Memorial or Museum, come walk through this story, you will be proud of the standard Oklahoma set and continues to share with the nation, a city on a hill that continues to shine and teach the senselessness of violence.