Patio weather is close. We've crossed our fingers for windless days, or at least just a light breeze.
Whether you're planning some downtime day drinking, having a quick lunch, enjoying a leisurely brunch, or meeting friends for dinner, Oklahoma City has patios all over the metro.
Red Rock Canyon Grill sits on the eastern edge of Lake Hefner, and the patio is a popular local destination for watching the sunset. Sailboats and windsurfers provide regular visual distraction, and Red Rock's food is southwestern comfort food. A full bar is available, as well as live music most weekends.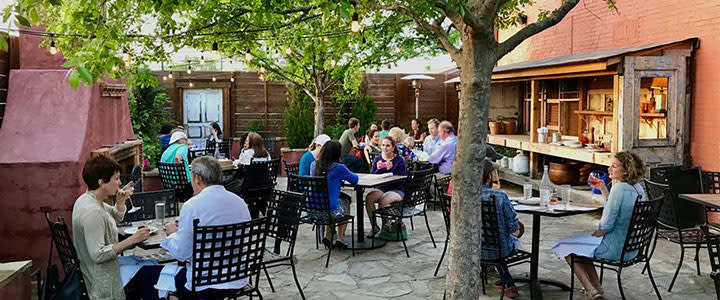 Pizzeria Gusto went with the "secret garden" patio approach. The entire patio is surrounded by a privacy fence, and the strung lighting, natural stone floor, and abundance of greenery gives the whole experience a rustic feel. It's one of the best patios on windy days thanks to the fence, and Gusto's bar with its small but excellent wine list does not get nearly enough respect.
O Bar at the Ambassador Hotel in Midtown is a popular destination for locals because of their excellent cocktails and the rooftop patio. Located on the seventh floor of the hotel, the patio affords a stunning view of the downtown skyline, as well as beautiful views of Oklahoma's breathtaking sunsets. Over the next few months, the restaurant will begin full service at the bar, so you'll be able to enjoy dinner with a view from OBar.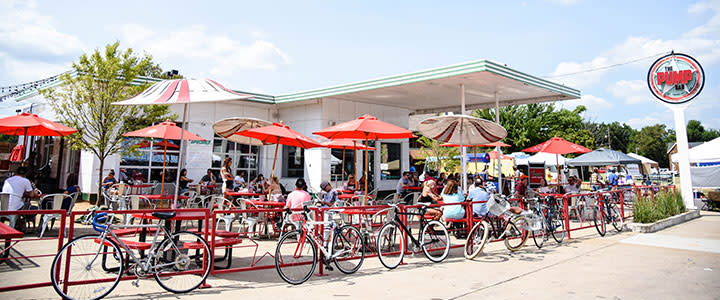 If it's not the most popular patio in town, it's close. The Pump draws one of OKC's most eclectic crowds to its huge patio, too, so there's a crowd for everyone. While it's better known as a bar and hangout, there is a small menu available, including locally famous tater tots. They're tater tots; of course they're delicious, and they go great with beer! Drink a beer, talk to friends, play a round of cornhole, or just enjoy the bustle of Uptown 23rd.
Barrios Fine Mexican Dishes in Midtown has another of the metro's sheltered patios, and thanks to the fire place, it's even fun and cozy on chilly evenings. Call ahead on iffy days to make sure it's open. The patio seats an equal number of guests as the inside, so it's usually busy with diners, and the bar puts out stellar cocktails, especially fruit and tequila-based cocktails. Don't miss the tang popsicle!
Recently voted OKC's best Italian food by a local publication, Stella Modern Italian has a great chef—Melissa Aust—and an excellent patio. Live music is occasionally featured, but mostly it's chef's outstanding food, a great view of downtown, and glasses of Prosecco at sunset.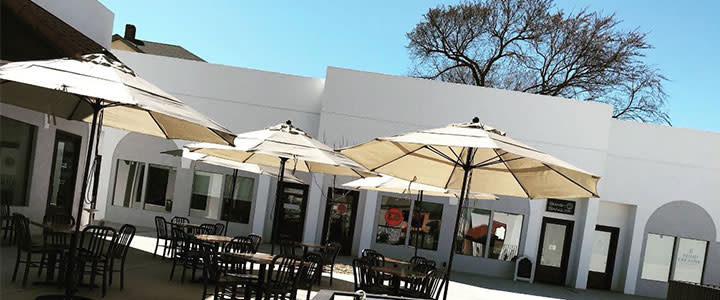 Scratch – Paseo offers an expansive patio to wind down after work or play. One of the city's best bartenders, Kristin Weddendorf—she just keeps winning contests!—oversees an excellent bar program, featuring a solid wine list and unbelievable cocktails. You'll want to try the God of Destruction while enjoying the shade of the patio.