October is finally here and that means Halloween plans are being implemented.
What used to be a one-night event with candy and neighbors is now a month-long celebration of fun and frights. Oklahoma City has several large and small-scale attractions and events to scare up holiday fun.
Frontier City's Fright Fest starts September 28 and runs Friday, Saturday and Sunday nights, as well as Halloween night, through October 31. The Festival of Fright parade kicks things off at dusk each night after the kids have had a chance to trick or treat. Themed scare zones are scattered throughout the park—some free, some not—and zombies will be roaming the grounds.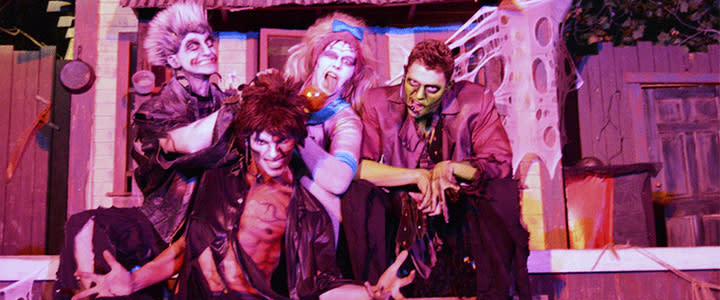 The Sanctuary OKC, one of the metro's most popular haunted attractions, will be in two locations this year. The first, called the Mouth of Madness, will be at the OKC Outlets (7624 W. Reno) beginning Friday, September 27. Owner and creator Tino Pascuzzi said the attraction will feature "nightmare phobias personified." There are no age restrictions on Sanctuary attractions, but Pascuzzi said they like to describe them as PG-13. "Parents know their kids better than we do, and we've had eight-year-olds laugh at some attractions, and thirty-year-olds assume the fetal position, so use your best judgment."
The second Sanctuary attraction will be in conjunction with RIVERSCREAM at Riversport in the Boathouse District. The Splice will feature the work of make-up artist Jenna Green of SYFY's FACE OFF, who created "crazy hybrid creatures" for the experience, according to Pascuzzi. "The Splice will be an outdoor event, but there are dwellings to explore, too," Pascuzzi said. "Jenna has created these creatures that were caused by a poisonous gas that generates DNA splicing, so terrifying melded forms emerge." The Splice and RIVERSCREAM run Friday and Saturday nights from October 11 through November 2, and will be open Halloween night.
RIVERSCREAM is a zombie encounter on the SandRidge Sky Trail. The trail will be full of obstacles and zombies for six stories. Participants will climb, dodge zombies and navigate obstacles to score points. Zombies will "bite" if you're too close, but med stations are provided along the trail to get you back in the game. It's all-ages scary fun with a preview event October 5 during the Oklahoma Regatta Festival.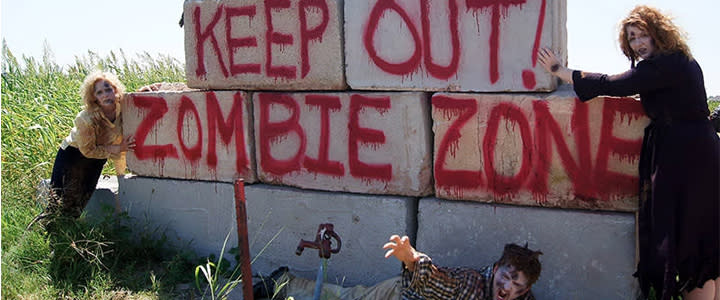 Speaking of zombies, Orr Family Farm is once again hosting their uber-popular Zombie Apocalypse Paintball. "War wagons" are equipped with mounted paintball guns, and participants will journey through various scenes, shooting zombies along the way. General manager Shannon Kemp said there are no age restrictions and no "jump scares," so children are usually okay on the ride. "We've had a tall three-year old operate a paintball gun once," she said. "If they can reach the equipment, they're welcome to participate." Zombies stay at least fifteen feet from the wagons, which minimizes the scares (and the pain from the projectiles). The apocalypse begins October 4 and runs Friday and Saturday nights—starting at sundown—through November 2.
Haunt the Zoo has events for everyone this year. The Oklahoma City Zoo will have trick or treating along the Haunt the Zoo Trail the two weekends prior to Halloween on Saturday and Sunday. On October 25, a 21+ party called Haunt the Zoo All Grown Up will feature a dj, craft cocktails, beer, food, two haunted attractions, including one in the herpetarium (which is scary enough without additional efforts), goodie bags and games.