There are lots of fun memories to be made across Oklahoma City if you're planning to explore your own backyard for spring break.
A lot has been going on over the last few years, so if you need an overnight change of scenery, book a night at one of these unique lodging destinations or escape to the Omni Oklahoma City Hotel. With four dining outlets, a heated pool deck, full-service spa and close proximity to Scissortail Park, the OKC Streetcar and more, the Omni has amenities the whole family will enjoy.
Looking for some outings to occupy you during the day? OKC attractions provide excellent programming and in-person experiences, making it easier than ever to plan a memorable spring break. We've rounded up some inspiration to help jump-start your itinerary.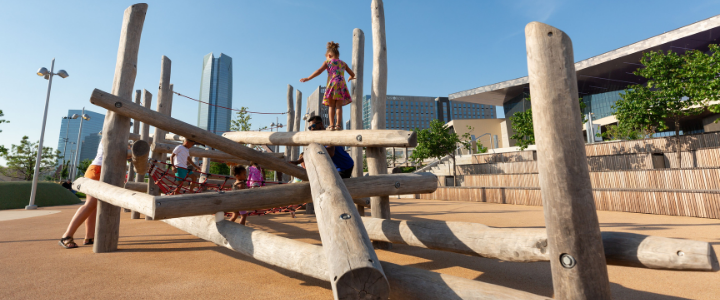 Kids (9 & Under)
Park and play. Littered with fun activities and children's play areas, Scissortail Park offers easily accessible fun for families. With net lens, geometric dome climbers, children's gardens, a large fort with a tower and slides, rock climbing, a skating rink and a large spray ground, the park will be a guaranteed hit with kids.
Pet a stingray and catch a live pirate or mermaid show. Dive shows, reptile feedings and more fun activities abound at Blue Zoo Aquarium. This interactive aquarium is located inside Quail Springs Mall and opens a whole new underwater world up to your kiddo.
Engage your emerging artist! Camp Contemporary offers creative camp experiences for youth artists ages 5 through 12. These spring break camps will be held in-person at Oklahoma Contemporary's socially distanced studios and across their entire campus. To ensure a fun, engaging and safe environment, each camp – led by professional local teaching artists and studio assistants.
Become a junior ranger while learning about OKC's resiliency. The lessons taught at the Oklahoma City National Memorial & Museum are more relevant than ever as our nation works to promote better conversations that move our communities forward. Every Oklahoman should experience this sacred place. While today's students weren't alive during the April 1995 bombing, they can greatly benefit by learning the stories of hope, resiliency and Oklahoma Standard – all while earning a National Park Service Junior Ranger badge.
Walk on the wild side. Explore more than 110 acres of animals and gardens at the Oklahoma City Zoo and Botanical Garden, plus go behind the scenes with Wild Encounters and get up close with animal feedings. While the Zoo has plenty of activities to entertain, we'd be remiss not to also mention their neighboring attractions throughout OKC's Adventure District. From the National Cowboy & Western Heritage Museum to Science Museum Oklahoma and the USA Softball Hall of Fame Complex and Museum, there's no shortage of top-notch attractions, many with special spring break camps and programming.
Tweens & Teens (10 and Up)
We stan a TikTok queen. Get your teen's attention with these Top Instagramable Spots around the metro. There's no better place to post a fresh TikTok or update your social feed with note-worthy backdrops. Be sure to use #SeeOKC so others can follow along on your adventures and your post might even be shared by @VisitOKC.
Get Inspired by an Icon. The Oklahoma Contemporary Arts Center, is a must-see. Their latest exhibit Off the Wall features three Oklahoma-based artists who create large-scale works that come in stunning and unexpected forms using fiber, textiles and mixed media. Viewing Oklahoma Contemporary's exhibits is always free, but does require reserving a timed ticket or guided tour.
Behold the tower of glass. Art lovers of all ages will also enjoy the Oklahoma City Museum of Art's newest exhibits Pop Art and Text with works by Ed Ruscha, Robert Indiana and Andy Warhol, as well as the Dale Chihuly exhibit anchored by the 55-foot Eleanor Blake Kirkpatrick Memorial Tower in the Museum's atrium. 
Take fun up a notch at Chisholm Creek. This mixed-use development offers adrenaline-pumping activities, plus a cool mix of locally-owned dining and retail favorites. Work up an appetite at iFly Indoor Skydiving, Topgolf or Red Door Escape Room and then mosey on over to one of 20 tasty dining options.
A walk in nature. Oklahoma City hosts a network of 10 interconnected trails that lead to nearly every part of the city, totaling up to 80 miles of non-motorized hiking trails to explore. Check out our list of top trails in OKC to hike for more information.
In Oklahoma, it's hard to predict what weather we'll have during spring break, but March often marks the opening of several seasonal, outdoor attractions. Try the surfing and skiing simulators, plus paddlesports of all kinds at RIVERSPORT Adventures, experience the thrill of live racing with the Quarter Horse and Mixed Breed Season at Remington Park and Frontier City will also be open for their 2022 season.
So whether you're booking an overnight stay, registering for a timed ticket at an area attraction or downloading our visitor guide and coupons, "fun parent mode" is just a few clicks away.
For more spring break inspiration, check out this 2022 Spring Break page and our Free in OKC: Spring Break Edition for additional resources.