Spring break is a season worth celebrating in Oklahoma City. What brief winter doldrums we've had have thawed, the sun is shining longer, patio season is abloom and spring is very much in the air. Plus, after a season of cozy hibernation, Oklahomans are renewed and ready for some fun in the sun. While spring break is typified by beachy destinations like Florida and the Texas coast, there's no shortage of seasonal escapism closer to home. From a poolside hotel haunt to outdoor recreation, here is the ultimate guide to a spring break in OKC.   

Where to stay  
The key to a successful spring break hinges on a few factors: comfort, location and al fresco amenities. The 21c Museum Hotel Oklahoma City, an auto factory-turned-hotel in the West Village District ticks all the boxes. Not only is its downtown locale an ideal jumping off point for nearby activities and attractions, but the property itself is casually cool and wildly comfortable, thanks to its soaring loft-style rooms and expansive on-site art galleries that are free to peruse. While this is easily the kind of hotel where you could cozy up and subside on room service, you'll be too tempted to partake in the on-site amenities and dining options to stay in bed too long. In addition to a spa and well-stocked gift shop, Bodega is a hip all-day cafe offering above-and-beyond eats like epic chocolate chip cookies, smoked pork burritos, avocado toast and pastrami sandwiches. Then there's Pool Bar, the adjoining watering hole with an outdoor wading pool that provides the perfect amount of spring break-style atmosphere, complete with snacks like smoked chicken wings, cauliflower tacos, shrimp ceviche and house-made ChocoTacos. For something a smidge more glam, take a seat at stylish Mary Eddy's, the hotel's full-service restaurant, where seasonal dishes — like roasted carrot soup, coffee-crusted lamb chop, and rabbit and dumplings — raise the bar on spring break fare.   

Where to eat and drink  
Beyond the on-site dining options at your hotel, spring break is a time to come alive, to get out and explore and to bask in the patio-clad glory of OKC's booming dining scene. In typical spring break fashion, you'll likely be inclined to keep things in close proximity to your hotel, so that you're ideally walking distance from your bar of choice. Fortunately, the 21c is an ideal home base thanks to its convenient adjacency to some of the city's most spirited dining and drinking rooms.   
The Jones Assembly is a restaurant, a bar and a music venue. It is also one of the metro's hottest spots, featuring brunch and dinner menus. A few blocks west, Fair-Weather Friend anchors a new warehouse-style complex, complete with a huge picnic table-filled lawn and an entertainment venue for concerts and dancing, Beer City Music Hall. Perfect for spring-y outdoor drinking, the funky brewery peddles some of the city's most interesting beers, like Red Beer (lager with Bloody Mary mix) and Space Snacks (seltzer with banana puree and Tang). Don't sleep on the food, either — Fair-Weather Friend slings some of the best wood-fired pizzas around, from the classics, like margherita and pepperoni, to the neoteric, like pancetta and dill.   
Next door to Fair-Weather Friend, The Flycatcher Club is a hip newbie with an old-school supper club-style feel. From the same folks behind beloved Bar Arbolada, heralded for having one of the best cheeseburgers in the country, the Club sports a central bar surrounded by booths and billiards, offering a curated menu of classic cocktails, a few wines and local craft beers. The food menu offers that same lauded cheeseburger, plus several originals, like a pork belly and pimento cheese sandwich, fried chicken sandwich, corn ribs, tater tots and beer cheese dip. If the spring sunshine cooperates, there's a patio with your name on it.   
The area is also home to several other patio-equipped breweries, each with its own distinct vibe, style and flavor, including Stonecloud Brewing Company, Angry Scotsman, Lively Beerworks and Anthem Brewing, while nearby Social Capital is a sprawling bi-level craft beer bar offering sweeping skyline views from its second-floor patio overlooking Scissortail Park.   
For a more diverse array of dining and drinking options, make your way a few blocks south of the hotel where a rapidly developing neighborhood is making a home for destination-worthy dining. Palo Santo is an impossibly cool cocktail bar and Latin-leaning kitchen with an airy, lofty aesthetic that looks fresh out of California.
In the morning, rise and shine at Stitch Cafe, a bustling spot for breakfast tacos, tarts, burritos, bowls and coffee that shares space with a lush plant shop. In true spring break fashion, the sunny cafe sports a full-blown bar program that goes above and beyond brunch cocktails with original sips like mango chili margaritas, prickly pear mojitos, and Old Fashioneds with mezcal and tequila.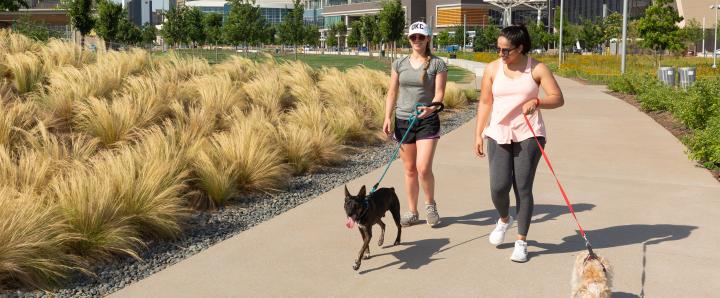 What to do  
From bountiful parks to nighttime dance parties, you're ideally situated for a spring break to remember. By day, downtown OKC has plenty of sunny spring-time offerings, like the newly reopened tropical conservatory at Myriad Gardens, the Bricktown Canal, where al fresco bars are accented by a surprisingly fun and challenging mini golf course, and the recent southern expansion of Scissortail Park, complete with sports courts for basketball and pickleball.   
If you'd like a more cultured approach to spring break, you're stepping distance from Oklahoma City Museum of Art, home to some of the most stunning Chihuly collections on Earth. And don't miss the American Banjo Museum in Bricktown, home to more than 400 instruments and historic memorabilia relating to this all-American legacy. Film is another art form worth celebrating, especially considering your location along hallowed Film Row. Drink it all in with a screening at indie arthouse theater Rodeo Cinema, then polish it off with a nightcap at next door wine pub, The Study.   
Then, go on a shopping spree (it's a new season, after all, so it's time to refresh the wardrobe!). Sue & Evelyn Boutique is a vintage wonderland in West Village, legendary western wear branch Lucchese recently made its Oklahoma debut in the First National Center and Trade Supply Co. slings everything from soaps and leather-patch hats to shirts and bison-shaped air fresheners in the Farmers Market District. For one-of-a-kind housewares, antiques and furnishings, get lost in the aisles at Dead People's Stuff, a beloved institution for architectural gems and home design.   
For nightlife, if you can pry yourself away from the cocktails at Mary Eddy's, Lamp Post Lounge is a retro '70s-style discotheque where ABBA is basically guaranteed to play several times a night, while Bricktown's famed nightlife scene is home to everything from Dollhouse OKC dance club to snug live music venue JJ's Alley and boisterous dueling piano bar Michael Murphy's.