It's beginning to feel a lot like fall. Just in time to get the family piled into the car and off to a fall festival. Or maybe you're on the lookout for the perfect pumpkin for your front porch. Oklahoma City has plenty of events to choose from so you can find the right one for your clan. Here are fall festivals and events going on in the city... and a chance for you to win tickets to go to a few in town!
1.    Orr Family Farm
The Orr Family Farm has hay rides, a pumpkin patch, Fall Festivities Fireworks every Friday and Saturday in October at 9 p.m., Pumpkin Princess Pageant is October 16 at 2 p.m., Trick ORR Treat at the Farm is October 29 from 10 a.m. to 9 p.m., Orr Family Farm Bonfire and "The Great Pumpkin Movie" is October 29 at 8 p.m. and try out the Corn Maze inspired by the Peanuts movie.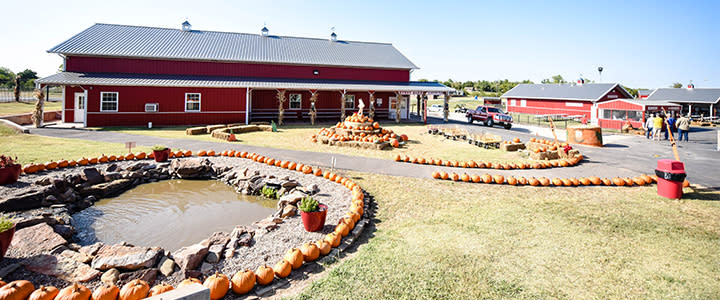 2.  Pumpkinville
Pumpkinville at the Myriad Botanical Gardens is open October 7-23 from 10 a.m. - 5 p.m. Children and families can participate in crafts, activities and see imaginative displays. The woodland fairy tale town of Pumpkinville will bring the Children's Garden to life. You can buy pumpkins and even paint a pumpkin for $5 a pumpkin. Events happening on select dates during Pumpkinville are Cider Press Demonstration and Tasting, Bricktown Holiday Inn Express to Pumpkinville, Story Time on Grandmother's Porch, Pumpkin Carving Class, Painting in the Gardens Series with Wine and Palette Pumpkin Painting, and Pumpkinville Halloween Party.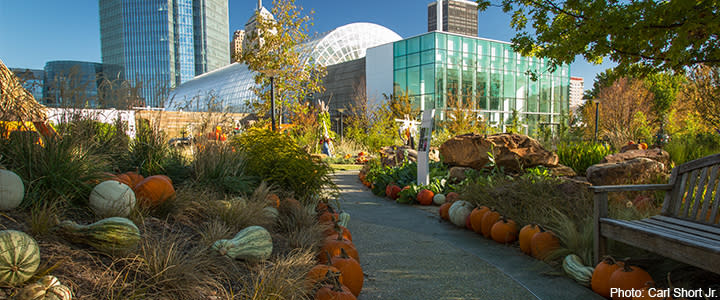 3.    Martin Park
Martin Park Nature Center has a couple of halloween-inspired activities for the entire family. Fall Into Art is October 8 from 11 a.m. - 3 p.m. There will be art exhibitions, hands-on activities, kids' nature creations, hikes and family outdoor games. Haunted Hike is October 29 from 6:30 p.m. - 9:30 p.m. The popular nighttime hike program will tour the woods looking for family friendly tricks and treats while learning about snakes, spiders and bats.
4.    Harry Potter Festival
Harry Potter Festival on N. Western Ave. between 41st and 42nd streets is October 16 from 4 p.m. - 8 p.m. Bring the family out for Quidditch, Potion Class, Butterbeer, costume contest, Sorting Hat, Triwizzard Maze and potion-inspired shaved ice.
5.    Brick-or-Treat
Brick-or-Treat free candy hunt for kids under 14-years-old in costume is October 25 from 4 p.m. - 7 p.m. at various businesses. There will be a tent set up with maps at Reno and Mickey Mantle on the plaza at Chickasaw Bricktown Ballpark. Festivities include a pumpkin-painting station and mascots from local teams.
6.    Haunt the Zoo
Haunt the Zoo is October 26-October 31 from 6:30 p.m. - 8:30 p.m. Trick-or-treaters will take a different walk on the wild side, while getting yummy treats along the pumpkin-lined pathway.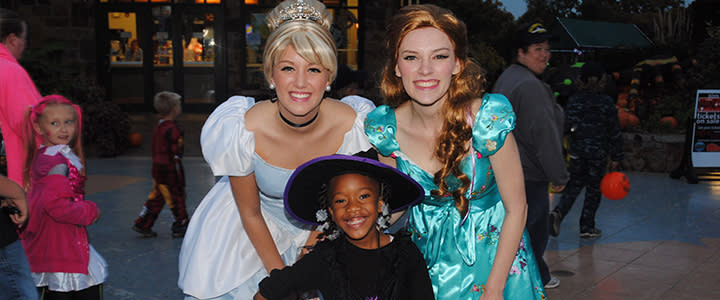 7.    Haunt the Harn
Haunt the Harn at Harn Homestead is October 27 from 6:30 p.m. - 8:30 p.m. Trick-or-treat through historic buildings, enjoy games and craft projects.
8.    Haunt the River
Haunt the River at Lake Overholser Boathouse is October 29 from 12 pm – 8 pm. Will include not only all of the fun RIVERSPORT Adventures, but also Halloween themed enjoyment like Candy Corn Climb, Screamin' Swing, and Dead Man's Drop. Even the water will feel a bit eerie with Kreepy Kayak and Spooky SUP Zone. Pumpkin decoration, fall pontoon excursion and s'mores will help give the full Halloween effect.
9.    Magic Lantern
Magic Lantern at the Paseo Arts District is October 30 from 3 pm – 6:15 pm. Professional artists create unique art and choreograph original dance pieces. They also help visitors make their own costumes and works of art.
10.  Museum of Osteology
Halloween Bash at The Museum of Osteology is October 31 from 6 p.m. - 9 p.m. Get ready to go on a scavenger hunt, play Halloween themed games, make spooky crafts and trick-or-treat all while roaming through the hundreds of skeletons on display.
Enter to win the Fall Family Fun package!