Exercise is a fundamental part of good health. No matter your age or size, physical activity offers plenty of benefits for your mind and body. Here are few inspirations to get your family moving, no membership required!
Fitness Events at Local Venues:
Drop-in Yoga at OKCMOA
Oklahoma City Museum of Art invites yogis to practice their flow at the museum on Thursdays evening and Saturday mornings. All skill levels are welcome to practice surrounded by beautiful art. Each practice has a different focus and theme. Just drop in and enjoy a workout among the museum's galleries. Classes are $8 for museum members and $12 for non-members.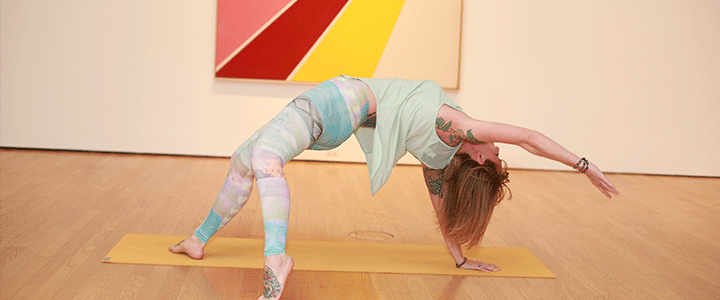 Mommy & Me Workouts at Tot Town
Moms and kids can enjoy a 30-minute low impact workout together. Kids have the freedom to participate in the exercises or move about the facility for free play. Held weekdays at 10 a.m., classes incorporate a variety of exercises for a full body workout. On Saturdays, a certified yoga instructor leads the class in a relaxing yoga session that is best suited for families with kids ages 6 & under. Classes are $5 for adults, $10 for the first child, $8 for siblings and $5 for kids under 1.
Health & Wellness at metro libraries
From Tia Chi and dance to yoga story time for kids, the Metropolitan & Pioneer library systems host a variety of health and wellness events that get families moving. The best part is that the events are free. Some do require registration, however. Check out their events calendar to find a fun activity to get your family moving.
Family Skate Night at Skate Galaxy
Fitness does not mean you need a formal exercise class! Families can get their bodies moving in lots of fun ways. Skate Galaxy offers special family skate nights twice a week and free skate lessons on Saturdays. Admission is $6 and includes basic skate rental.
Make a splash!
Swimming is an especially fun way to be active. Dig out those suits and head to a local pool. Oklahoma City has several indoor options families can enjoy all year-long and a host of outdoor options open seasonally. 
Full Moon Bike Ride & Run at Myriad Gardens
Throughout the year, Myriad Gardens partners with Schlegel Bicycles and Ultramax Sports Oklahoma for some fun fitness under the full moon. Take a leisurely ride through downtown or work on your speed during one of the timed runs. Participants are requested to make a $5 donation. Lights and helmets are required for the ride. If you don't have a bike, rent a Spokie.  For more details about upcoming rides, visit www.myriadgardens.org.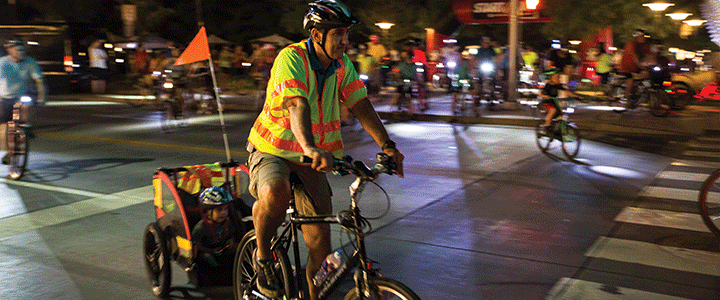 What could be more family friendly than the zoo? While not your typical fitness destination, the zoo has several trails all mapped out each with animal theme. Ranging from less than half a mile to nearly three miles, the zoo is a unique option to get your crew moving. Bonus: Getting to see your favorite animals should help with some motivation.  
Top Family Runs:
Get inspired to get off the couch by signing up for a local run and train together. Here are a few family-friendly runs happening in 2018.
Feb. 17 - Run for Recovery at Stars & Stripes Park

April 7 & 8: Redbud Classic at Nichols Hills Plaza

May 5: Autism Oklahoma PieceWalk & 5K at the Chickasaw Bricktown Ballpark

April 29: Oklahoma City Memorial Marathon
Click here for a lists of runs happening all year-long.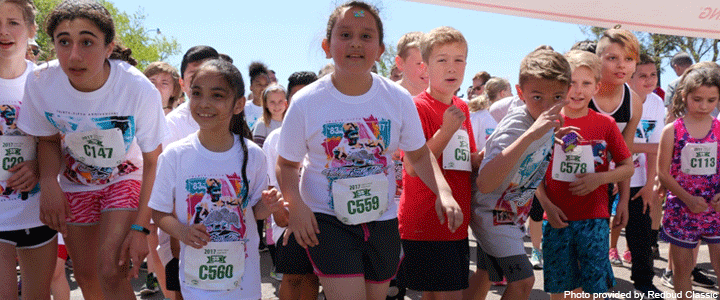 Walking & Biking Trails:
Laces up those sneakers or strap on those helmets and get moving together! Oklahoma City has a host of family-friendly trails just waiting for you. Oklahoma City has ten interconnected trails amassing for more than 80 miles.   
Earlywine Trail - Earlywine Trail features a five and a half mile paved shared-lane trail that wraps around the park. There is an additional pedestrian-use only trail within the park.
Oklahoma River Trails – Following the Oklahoma River, the two trails combine for approximately 13 miles.
Overholser Trail – Overholser Trail passes fishing docks, a playground, airport and more on its just over three mile path.
Bert Cooper Trails – Formerly Lake Hefner Trails, Bert Cooper Trails wrap