There is no shortage of opportunities for family fun in Oklahoma City. If you spent an entire weekend doing as much as possible, you still wouldn't scratch the surface. There is THAT much to do with kids in Oklahoma City. I recently took my family  to experience Downtown in December and have 24 hours of winter family fun in OKC. Take a look at everything we did and let it inspire you to get out this weekend.

 

1. Start your day with brunch at Skirvin's Hilton's Park Avenue Grill. The restaurant recently revamped their entire menu to offer more grill and a la carte options. You can order from that new menu or choose the breakfast buffet with all-you-care-to-eat classic breakfast offerings like silver dollar pancakes, bacon, oatmeal bar, omelet station, pastries and more.

2.

After breakfast/brunch, head next door to the Red Earth Art Center. This art center is part of the same non profit organization responsible for the annual Red Earth Festival. The art center promotes Native culture through traditional and contemporary Native art. Their permanent collection highlights a variety of artists and mediums. For the holidays, you'll want to see Treefest, a special holiday collection of 25 Christmas trees decorated by Native tribes. Every tribe has decorated a tree with handmade ornaments and art pieces. Be sure to find the tree that rotates.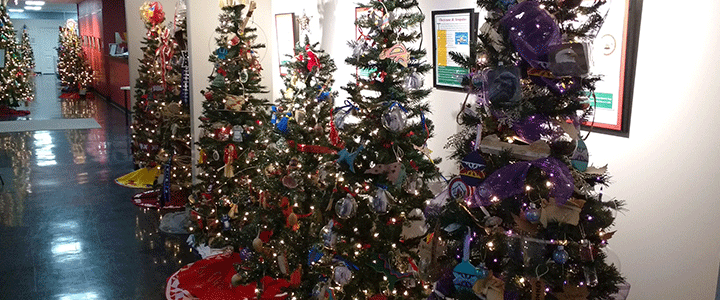 3. If you still have some holiday shopping to do, head to Midtown for the Holiday Pop-Up Shops. These shops are a series of fun geodesic domes featuring local vendors.  It's easy to shop local here with vendors changing weekly.

4.

Our family loves the Myriad Botanical Gardens. Regardless of the time of year, the kids welcome the chance to play in the Children's Garden and see the fish in the pond. Note: This area is beautiful at night when everything is aglow with holiday lights If you want to see the Crystal Bridge Conservatory, you can visit free from 6-9pm during OG&E Merry & Bright Free Admission Sundays.
Another reason to head to Myriad Gardens is to spin around the Devon Ice Rink. Now in it's 8th year, this ice rink is an annual family tradition for many and is a lot of fun for all ages. For a flat fee you get ice skates and an all day skate pass. If you have never skated before, there are side rails to hold onto and skate aides for children.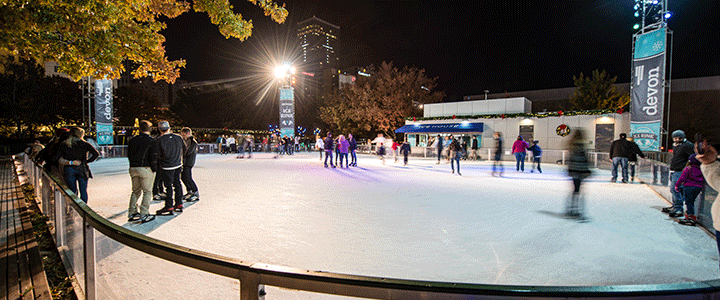 5. After a few hours on the ice, you'll work up quite the appetite. Charleston's just opened up a new location in Bricktown along the canal. It's an easy walk from the Devon Ice Rink and it takes you along the Bricktown Canal which is all decked out in holiday lights in December. The restaurant has a casual atmosphere and is great for families. Recommended dishes include the Barbecued Baby Back Ribs and Key Lime Pie.

6. After dinner, stay in Bricktown or head to one of the nearby entertainment venues for a special event. While we were there, we had the privilege of seeing Trans-Siberian Orchestra (TSO) live in concert. It's one of our favorite holiday traditions and we look forward to every year. If you haven't seen TSO perform before, imagine a mixture of holiday music and rock concert complete with laser light show and pyrotechnics. It's a fabulous show and it gets better every year.

 

7. Finally, a winter family fun day would not be complete without a trip to see the Automobile Alley holiday lights. Drive or walk along Broadway to view more than 300,000 brightly colored lights. Many of the buildings are decorated in strands of lights from the roof to the ground. If you are walking you can do a little window shopping at the same time.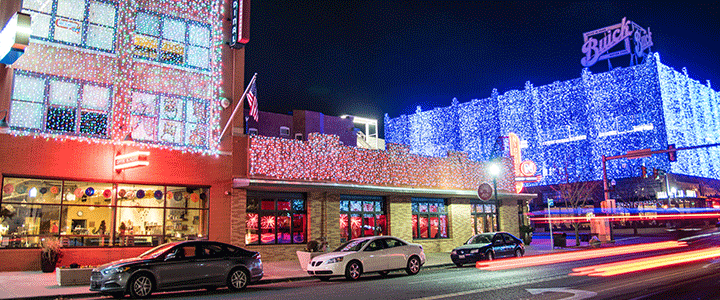 If you are coming in from out of town or want to make your day of family fun into a staycation, you'll want a place to rest your head. We stayed at the historic Skirvin Hilton and the service and accommodations were excellent. Plus if you have a room on an upper floor facing north, you can see the Automobile Alley lights from your window. While there you can see their large Christmas tree, Gingerbread House and their new artist in residence.