Thanks in large part to the popularity of beards in recent years, Oklahoma City has become home to some topnotch men's grooming salons. These aren't the barbershops of old, where men with too much Brylcreem in their pre-Pat Riley hairdos tried not to drop ashes from their cigarettes into your hair whilst giving you a high and tight or buzz cut. Rather, these modern salons combine the traditional cut and shave with man-friendly perks like anonymity, Scotch, beer and products that smell…well, manly.
Scissors & Scotch landed at Chisholm Creek just off the Kilpatrick Turnpike in late 2017. The upscale men's salon is exactly what the name implies: a high-end grooming salon with adult beverage options. In addition to the standard haircut and shave, S&S has hot towels, back-of-neck shaves, various massages, and a face refresher. More importantly, a full-service bar is located on site, with a knowledgeable bartender, craft cocktails, and an excellent selection of the signature spirit: Scotch. And, yes, you can take it to your appointment with you, and you can grab a drink afterwards, too.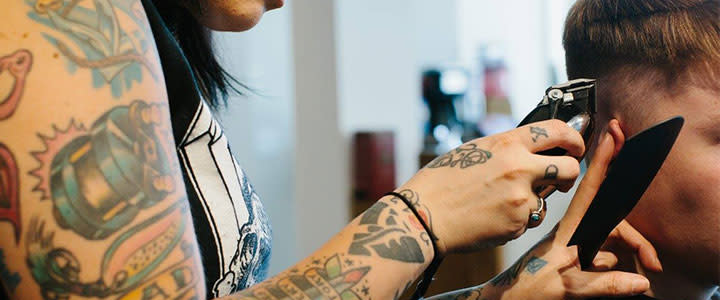 Revel8 Grooming & Shave Shop is located just off downtown in the historic Main Street Arcade building. Owner Clarice Buchanan Westlund built the men's grooming salon because her original full-service location is one of the busiest in Oklahoma City. Revel8 has a full range of haircut and shave options, as well as a masseuse on site with customizable massage lengths. One of the more popular services is the esthetician's beard facial.
"With fuller beards being popular, there is so much underlying skin that doesn't get properly exfoliated and moisturized," Buchanan Westlund said. "Our on-site esthetician can treat the skin, and she will help you develop a home regimen for skincare between professional visits."
The esthetician can also provide "tattoo brightening" at Revel8. The process is a thorough exfoliation that brightens the ink color and makes the tattoos look fresher.
Two nail service chairs are located in a hidden area of the salon, so men can get "man hands" or "foot details," and the Revel8 team develops their own oils and scrubs—with appropriately masculine fragrances—in house. A full line of products, including popular local brand Clad Stache, is available for purchase.
Udander is one of the city's premiere spas, and the owners have scheduled the day to keep male and female clients separate. Men's appointments are typically M-W 3-6pm, Th-Sa 9am-noon, and Sunday noon-2pm. Udander offers a full range of spa services, including full body massage, foot soaks and soak tubs, facials, steam and sauna.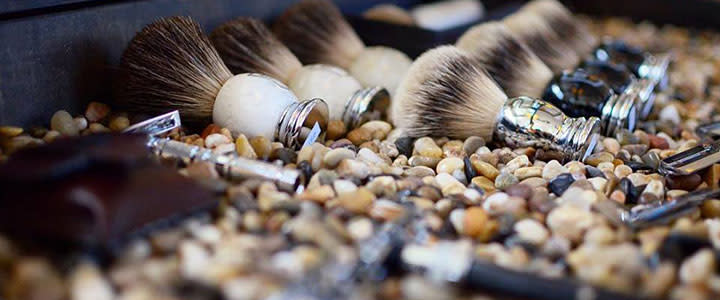 Two other local shave shops are worth mentioning, especially if you want to combine a little shopping with the grooming day: Carwin's Shave Shop and Weldon Jack. Both are located along Western Avenue, and both offer razor shaves, haircuts and bear trims. Carwin's sells high quality hair care products and accessories, as well as beautiful razors and shaving accessories. Weldon Jack has a retail store attached, with motorcycle gear and men's clothing.