Oklahoma City has several museums, venues, galleries, and exhibits that are safely showcasing diverse artworks for serious connoisseurs and casual viewers alike.
From ancient techniques to contemporary styles, you won't want to miss these new art exhibits in OKC.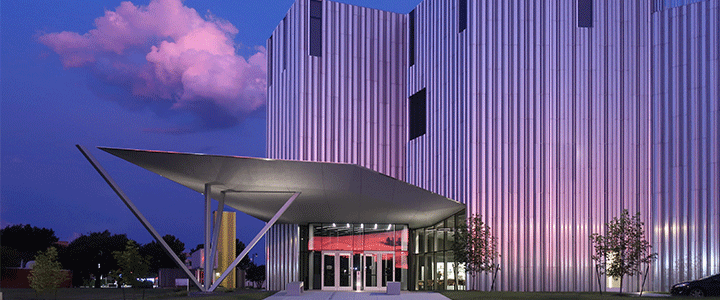 Oklahoma Contemporary Arts Center
Fieldworks: Beyond Measure, Dec. 17, 2020 - April 19, 2021
This mixed-medium exhibition explores different measurement practices and the limits of movement across the land through a diverse archive of objects, photographs, videos and more. The exhibit encourages visitors to view their surroundings through a lens of contemporary art.
Ed Ruscha: OKLA, Feb. 18 - July 5, 2021
View influential works by the iconic American artist, Ed Ruscha. The special exhibition focuses on the artist's Oklahoma roots — family, upbringing and self-discovery as an artist. Hands-on art stations allow visitors to explore 75 works from all phases of the Ed Ruscha's 60 plus year career.
Paseo Arts and Creativity Center
Melanin Stories, Feb. 5 - 27, 2021
Stroll the historic Paseo Arts District where locally-owned art galleries can be found at every turn. While you're in the district, stop by the Paseo Arts and Creativity Center to view a wide array of rotating exhibits by local artists. The Melanin Stories exhibit features local artists of color working with various mediums to tell stories of history and culture. The goal of this show is to enlighten observers and provide a diverse and inclusive community to all. 

ARTSPACE at Untitled
Unfiltered Views, Jan. 21 – Feb. 27, 2021
Located in the heart of Deep Deuce, Unfiltered Views celebrates the originality and spontaneity of folk-art and its testimony to the importance of art in everyday life. Exhibits at ARTSPACE are always free and open to the public from 10 am – 6 pm, Tuesday – Saturday.
National Cowboy & Western Heritage Museum
Spiro and the Art of the Mississippian World, Feb. 12 – May 9, 2021
Discover daily life practices of the Spiro people and what lessons may be learned as we face our own ecological changes today. More than a decade in the making, this 200-object exhibition showcases contemporary Indigenous pieces while connecting the artistry of the Spiro people to their modern descendants. All exhibits are free with museum admission.

Oklahoma History Center
Launch to Landing: Oklahomans and Space, permanent exhibit
As the newest permanent exhibit at the Oklahoma History Center, this collection focuses on the many Oklahomans who have played a part in the U.S. air and space program, as well as early Oklahoma pioneers of aviation. Located in the Gaylord Special Exhibit Gallery, the centerpiece of the exhibit is the Skylab 4 Apollo Command Module (CM-118), in addition to several personal items utilized by astronauts.
While you're there, be sure to visit Realizing the Dream in the Kerr-McGee Gallery where visitors will gain insight into spaces occupied by community and Civil Rights Movement leaders such as Richard Lewis's barbershop and Clara Luper's living room.
Oklahoma City Museum of Art
Moving Vision: Op and Kinetic Art from the Sixties and Seventies, Feb. 20 - May 16, 2021
This groovy display is all about movement—both real and perceived. This exhibition brings together two-dimensional and three-dimensional forms to tell the story of artists' explorations of motion in the 1960s and 70s.
The Painters of Pompeii, June 26 - Sept. 26, 2021
The Painters of Pompeii: Roman Frescoes from the National Archaeological Museum, Naples will see a number of collection highlights travel to North America for the first time. Opening June 26, 2021, and running through Sept. 26, 2021, this historic presentation of the art of painting in ancient Rome will be presented exclusively at the Oklahoma City Museum of Art before returning to Europe. Classes offering a virtual visit to Naples and Southern Italy exploring the history, culture, food and wine began in January.
First Americans Museum
Mark your calendar! Opening Sept. 18, 2021, along the Oklahoma River, the First Americans Museum will showcase state-of-the-art exhibitions in history, culture, art and more. Visitors can experience the collective histories of Oklahoma's 39 distinctive First American Nations in the Tribal Nations Gallery and view 140 objects on a long-term loan from the Smithsonian Institution's National Museum of the American Indian in the Mezzanine Gallery. The outdoor cultural park will provide an intimate connection with the natural environment such as earth, wind, water and fire used to interpret American Indian perspectives.