Picking a place to eat can be a daily struggle. So why not make it easy and pick one of Oklahoma City's "As Seen on TV" restaurants! From Man V. Food to Cupcake Wars, we've rounded up a handful of eateries featured on TV. 
Cattlemen's Steakhouse
Featured on: Man V. Food & Diners, Drive-In and Dives
What to Eat:  Step into OKC's oldest restaurant, opened in 1910, for some true cowboy cuisine.  For starters, try Lamb fries like Adam Richman on Man V. Food. And for those who don't know what that is, they are also popularly called Rocky Mountain Oysters or Calf fires. For the main course, Guy Fieri tried the Peppercorn Steak and said he'd "drink that peppercorn sauce," so by the sounds of that you may want to taste it too.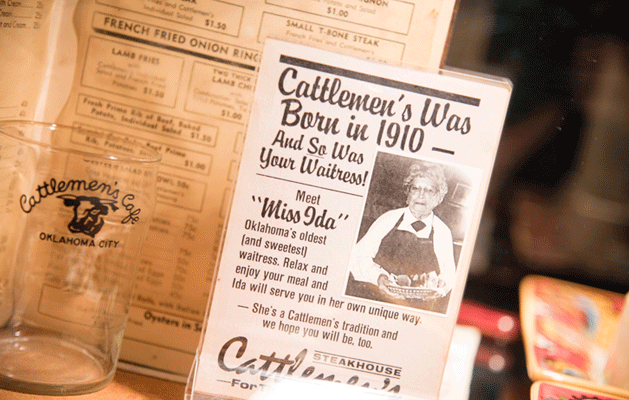 Leo's Barbeque
Featured on: Diners, Drive-In and Dives
What to Eat: This hidden gem of a barbeque joint, which used to be an old gas station, has been serving up delicious barbeque since 1974. It's made a name for itself with its delicious ribs and tasty barbeque sauces… even barbequed bologna.  And a bonus of eating at Leo's, you get a free slice of Strawberry Banana Cake with every meal! And let me tell you from experience, that cake is worth saving room for.
Ingrid's Kitchen
Featured on: Diners, Drive-In and Dives
What to Eat: Ingrid's is not only home to some of the best German food in OKC, but also one of the best bakeries around. For more than 35 years, Ingrid's has been baking everything from homemade Chocolate Whoopie and Cannoli's to croissants and kolaches. But don't forget about the fresh made bread.  Guy Fieri loved the Rye Bread if you'd like to indulge in what he ate!
Nic's Grill
Featured on: Diners, Drive-In and Dives
What to Eat: Nic's Grill is an Oklahoma City staple, serving up some of the best burgers around town. The massive burger is served over curly, house fries and… with a fork. (These burgers blur the line of delicious and messy.) But be warned, this 17-seat diner fills up fast so you may have to get their early to claim a spot! Good news though, Nic's has opened a second location at the Ice House at the Myriad Botanical Gardens. It is a seasonal restaurant so be sure to check their Facebook for openings and hours.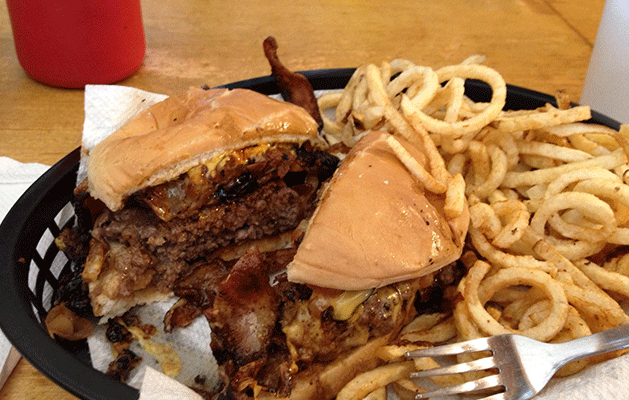 Mama E's Wings and Waffles
Featured on: Diners, Drive-In and Dives & Restaurant Impossible
What to Eat: For some unforgettable soul food, Mama E's is where you want to go. From Chicken and Waffles to Fried Catfish and Mac n' Cheese, you can't go wrong here. And as for drinks they've got you covered with classic sweet tea to all you can drink Kool-Aid.
Green Goodies
Featured on: Cupcake Wars
What to Eat: And for the most important meal, dessert.  Oklahoma City's own Green Goodies won their episode of "Cupcake Wars" for their lemon-pomegranate, hazelnut-vanilla bean, chipotle-dark chocolate, and dark chocolate coconut caramel cupcakes and for a good reason. This shop offers vegan, gluten-free, sugar-free and classic cupcakes and you honestly can't tell a difference because they are all so good. You can stop in their store at Classen Curve and grab a cupcake (or two) and also enjoy a light lunch or frozen yogurt while you're there!
So next time you're in town and in the mood for anything from barbeque to a cupcake, check out one of these "As Seen on TV" restaurants.