Hello, Fall! It's that time of year when it's not blazing hot nor intolerably cold outside, but because it's almost time to take photos for your family holiday cards, you begin breaking out the sweaters to stage the perfect pic.
Before you start choosing your family's clothes, you'll need to find the best location. Fortunately, Oklahoma City has several picture-perfect spots that will make for wonderful fall photos.
With potential themes ranging from "dynamically urban" to "peacefully serene," "nostalgically western," to "boldly artsy," choose from a variety of environments that are sure to represent your family in the best light. This list will break it down for you.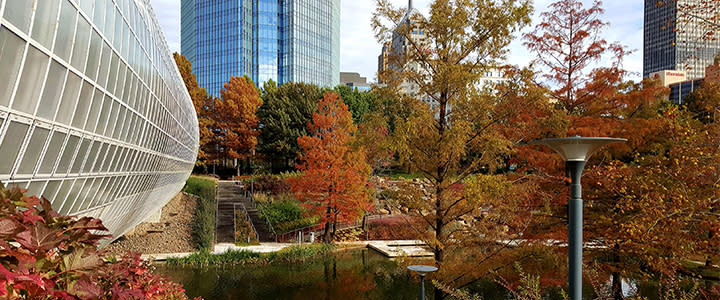 Parks:
This picturesque park was developed in 1912 and has charming characteristics including a garden, arboretum, conservatory and garden atrium lobby.
With 15-acres of nature from which to pick, this park includes ornate gardens, a Great Lawn and a below-ground-level lake. The Crystal Bridge Conservatory is also on the grounds with more than 700 different kinds of plants, a lovely waterfall and a sky bridge.
The brand-new park is full of fall foliage, featuring a plethora of native prairie grasses, lush flower gardens and tree-lined walkways. Take a stroll through the 40-acre urban park and head to the bridge over Scissortail Lake for a stunning view of downtown.
With 2.5 miles of forest trails, a sizable pond and a tranquil creek, you'll have many choices for the ideal photo. You'll also find meadows, grasslands, bridges and streams.
Edgemere Park
This elegant park is tucked away in a historic neighborhood district. The beautiful landscape of trees, a unique creek, a scenic bridge and a gazebo can all be a great fit for your photographs.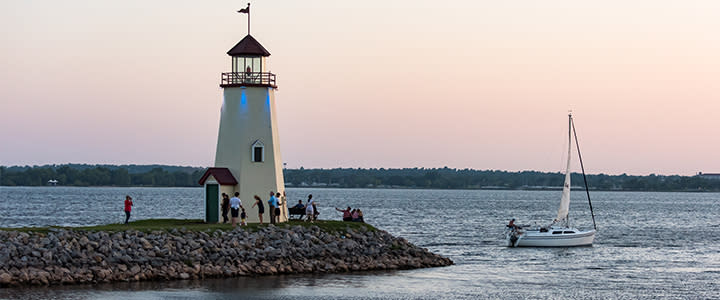 Lakes:
You'll find 2,500 acres of peaceful surroundings here. Take pictures with the lake behind you, or use other backgrounds such as the original forest, a lighthouse, marina, 9.5 miles of bicycle trails, or the beautiful park.
This 1,500-acre lake includes a striking bridge and dam that can make a nice backdrop. The original Route 66 that once ran along the north side of the lake, now North Overholser Drive, has gorgeous scenic sections.
Downtown OKC:
Downtown Oklahoma City has amazing views with new and old buildings. Some buildings have painted, brick or classic backdrops. Areas to check out within downtown including the Arts District, Automobile Alley, Deep Deuce, Midtown District and Plaza District.
This old warehouse district just east of downtown OKC is chock-full of history with interesting buildings, public sculptures, murals and a monument to the Oklahoma Land Run. The beautiful tree-lined mile-long canal also makes for great photographs.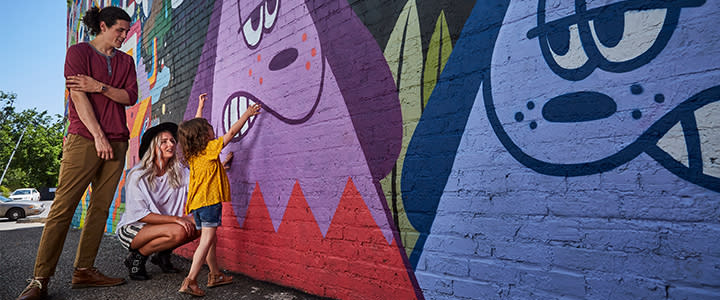 Notable spots:
Tap into your western heritage in Stockyards City. Much of the original business district is the same from the 1910s, maintaining a unique western feel, perfect for a cowboy/girl theme.
The moment you arrive in this unique area, you notice the culture shifts. The Spanish architecture of the 1920s stucco buildings and clay roof tiles provide a bohemian feel that is hard to find anywhere else in the city. The quaint curvy, tree-lined street also adds a special ambiance.
Plaza Walls
Located in the Plaza District, the offbeat street art features an array of colorful street art murals created by local artists
—
it's the perfect photo backdrop for an artsy vibe.
What better way to show off your family's wild side than the delightful setting of the zoo?! Take photos in front of any of the  1,400 animals, the beautiful lake or the garden area.