Whether you enjoy watching baseball games from behind home plate with traditional peanuts and Cracker Jack in hand, or if you'd prefer a fully catered meal inside the comforts of a suite, the Oklahoma City Dodgers has you covered.
The Triple-A affiliate of the Los Angeles Dodgers is scheduled to play 70 home games from April through August this season starting Tuesday, April 10 against the Round Rock Express.
The OKC Dodgers and Chickasaw Bricktown Ballpark offer numerous ways to enjoy the "best seats in the house" all season long – whether that means watching from behind the dugouts or hoping for home runs while sitting on an outfield party deck.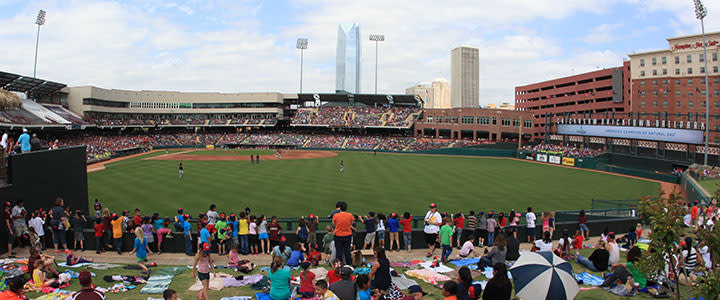 For fans who like to sit closest to the field, several seating options are available in the lower bowl of seats stretching from behind home plate down each foul line into right and left field. Premium 4Topps seating offers all-inclusive food and in-seat wait service at a private half-moon table with four swivel chairs located off the main concourse near home plate. Other outdoor seating options include the left-field terrace, the outfield lawn and all-you-can-eat seats for groups of 10 or more.
If you are looking to secure your own private outdoor space for a larger group, a party deck may offer the ideal option for your special gathering. The Devon Energy Deck is an open-air, patio-style area that accommodates 40-60 people and overlooks right field. The two-tiered Budweiser Deck in left field opened in 2015 and is designed for larger groups of 75-150. Both party deck areas offer all-you-can-eat food and beverage options, hats and more.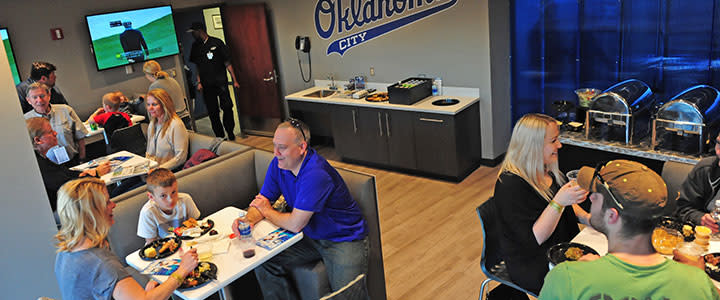 If you prefer a climate-controlled environment, an entertainment suite might be your ideal option. Suites offer indoor and outdoor seating for up to 20 guests, as well as special perks like VIP parking and limited-edition OKC Dodgers hats. Customizable catering and beverage options are also available. The Champions Suite offers a semi-private indoor and outdoor space with four seats per table, all-inclusive food and drinks and access to the Oklahoma Fidelity Bank Club.
Regardless of which seats you select to enjoy the game, fans who step through the Chickasaw Bricktown Ballpark gates this season will notice several additions and improvements throughout the stadium.
The Oklahoma Sports Hall of Fame relocated to the ballpark during the offseason and now occupies the upper level above the OKC Dodgers Team Store. The COOP Beer Garden will open along the concourse on the first-base side and feature a permanent bar including COOP products and cocktails, new furniture and seating options, as well as expansion of the area to extend to the exterior of the ballpark. The Dental Depot Playground will have fun, new features for young fans to enjoy. The Legends Lounge Concourse Suite boasts a revamped look with new furniture and a fresh wall mural. A handful of concession stands have also changed locations to better accommodate fans throughout the ballpark.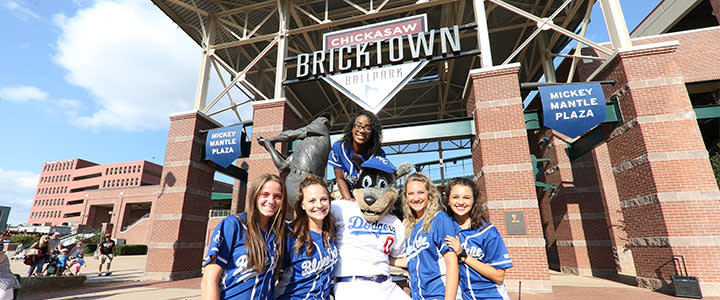 In addition to the new improvements to the ballpark and exciting action on the field, the Dodgers offer a full slate of family-friendly entertainment and promotions throughout the season, including Friday night fireworks, superhero visits, a Cody Bellinger bobblehead giveaway, special group nights, $2 Thursdays, Chaparral Energy Family Sundays and more.
The OKC Dodgers are also one of 33 Minor League Baseball® teams participating in the MiLB™ "Es Divertido Ser Un Fan®" ("It's Fun to Be a Fan®") campaign for 2018. As part of the campaign, the OKC Dodgers will take the field as Cielo Azul de Oklahoma City for a total of eight homes games – known as ¡Celebración Cielo Azul! – May 31 - June 3 against Omaha and July 27 - July 30 against El Paso.
Whether you are seeking individual game tickets, season tickets, would like to plan a group outing or learn about upcoming promotions, the OKC Dodgers would be happy to accommodate your request and help you find the "best seats in the house." Visit okcdodgers.com or call (405) 218-1000 for more information or to reserve your tickets today.
The OKC Dodgers look forward to seeing you soon at Chickasaw Bricktown Ballpark!