The State Fair of Oklahoma is knocking on our door with opening day just 14 days away and this year's fair is offering up plenty of new food, shows and excitement during its 11 days in town.
If the State Fair of Oklahoma is a yearly tradition or you haven't been before, this year's Bigger, Better, Best Fair is offering up plenty of new fun but still mixes in the very best of midway games, buildings full of vendors and shopping, the auto show, agriculture and of course the food. 
 
Here's our top 5 list of new things headed to the State Fair of Oklahoma this year -
1. Sky Eye Park
Fairgoers can soar to new heights on the Sky Eye Wheel – the largest Ferris Wheel in North America- standing at 155 feet tall. You can find Sky Eye Wheel in the Entertainment Plaza, but I'm sure you won't have to look too hard to find it.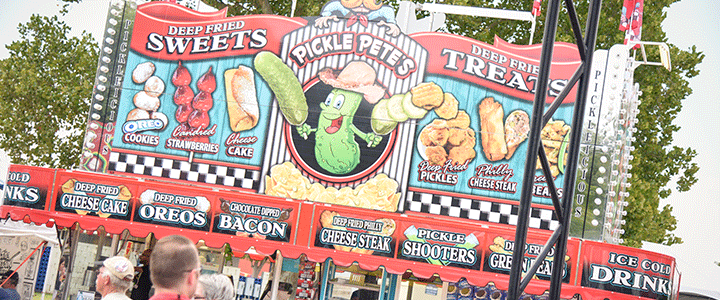 2. The Food
Pull out the stretchy pants and gear up for some of the newest food to hit the State Fair. Here's some of our favorites:
 -Bacon-Wrapped Zucchini (it's got to be healthy right?)
 -Mac-N-Cheese Burger
 -Red Beans & Rice on a Stick (How do they even?)
-Unicorn Crepe (Starbucks did a thing and we think it took off)
-Monte Cristo Crepe
-Deep-Fried Pineapple Raisin Bread Pudding Bites
The best way to find the food is to look on the interactive food finder on www.okstatefair.com.
3. New Shows
For the 11-day run of the show, the Fair has free shows throughout. Yes, free! Here's a few must-see shows on our list:
-Live Shark Encounter – Learn about these mysterious creatures and how they maneuver under the water at the Bandshell Lawn.
-Disney on Ice presents Follow Your Heart - All of your favorites hit the ice September 14-19 including Dory, Anna and Elsa from Frozen, Cinderella, Ariel, Buzz Lightyear and many more.
-World's Fastest Rope & Gun Spinner – Rider Kiesner will be spinning it up a notch during the Oklahoma Frontier Experience Wild West Showcase with lassos and handguns.
-Cowgirl Mounted Shooting – Jane Anders-Kukowski, stunt rider and mounted shooting expert will demonstrate her amazing horsemanship and accurate marksmanship using two .45 caliber, single-action revolvers while running a fast-paced and timed pattern.

4.  New Exhibits
The JFK Exhibition – Fairgoers will be able to step back in time at The JFK Exhibition – the largest traveling JFK Exhibition in the country. Hundreds of authentic items will be on display.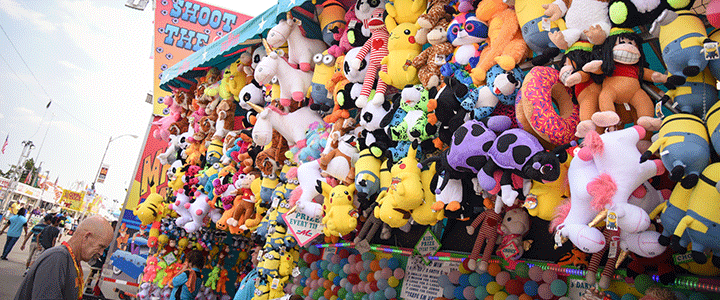 5. Concerts
Several big-named bands are headed to Oklahoma during the State Fair. Best of all, they're free with outside gate admission! Kicking off the entertainment on opening day (which is only $2 admission) is William Michael Morgan.
See acts like The Oak Ridge Boys, the Beatles tribute band BeatleMania LIVE!, La Mafia, Hawk Nelson, Chase Bryant, Tony! Toni! Toné!, lead-vocalist and founding member of STYX, Dennis Young and Sugar Free Allstars, just to name a few, throughout the entire State Fair of Oklahoma.
Finally, Gary Allen and Josh Turner take the stage during the PRCA Xtreme Bulls Tour on September 22 and 23. Both concerts do require an additional ticket and can be purchased at the State Fair Box Office, online or by calling 405-948-6800.
For more information on The State Fair of Oklahoma, visit www.okstatefair.com.