New Year's Eve is always six days after Christmas, which means many of us are broke from buying all the gifts. Still, who doesn't want to ring in the New Year with some bubbles or fireworks? Oklahoma City has a surprising number of options—for adults only and families—that won't overtax your budget.
Opening Night
Opening Night is downtown Oklahoma City's sprawling NYE party for people of all ages. The staging area this year is Bicentennial Park on the east side of the Civic Center, beginning at 7pm. In addition to nine stages of live music, the Hall of Mirrors inside the Civic Center will be a children's area with face painting, interactive art projects and live music. For adults, Opening Night is finally adding a drink tent, with beer and wine—including sparkling wine—and the tent is heated! Fireworks start after the countdown, and wristbands for access to everything are only $8 in advance and $10 that night.
Adele Wolf's Burlesque
Oklahoma Contemporary is hosting Adele Wolf's Burlesque & Variety Show beginning at 10pm. The 18-and-over show is themed around burlesque through the decades, and attendees are invited to wear a costume from their favorite decade. The rotating cast features award-winning performers from all over the world. A photo booth will be available on site, and the show includes interactive portions that involve the audience. Sparkling wine is on the drinks list, so you'll be able to toast 2019. Tickets start at $25.
Uptown GetDown
For the second straight year, Tower Theatre is hosting the Uptown Get Down, a big, neighborhood party with music, dancing and drinking. The dancing is optional, but the list of upbeat musical acts almost guarantees you'll want to move a little. Doors open at 7pm and the music starts at 8pm. Early bird general admission tickets are only $23, and VIP is going for $50. The VIP gets you the best viewing area, a private bar, and bubbles for a midnight toast.
Factory Obscura
Oklahoma City's newest immersive art experience, Factory Obscura, will be presenting BEYOND Burlesque from 7-10pm, which means you can take in this mind-bending art installation and still make it to Opening Night. The best local burlesque performers will be incorporated into the installation, so you can move through Factory Obscura at your own pace and wander around as your inspiration leads you. Tickets are $30-38.
Museum of Art Rooftop
Want an unencumbered view of the fireworks? The OKC Museum of Art is opening the rooftop terrace from 11:30pm to 12:15am for a spectacular view. Sparkling wine and sparkling grape juice are both available for a toast, and access is only $10.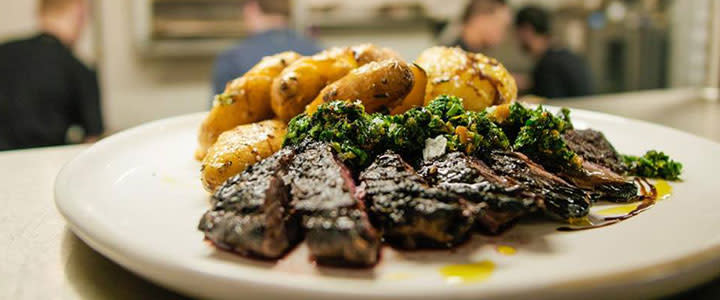 Dine at a new hotspot
If New Year's Eve means a nice dinner and then a celebration at home, OKC's newest dining hotspot has a prix fixe menu just for NYE. Osteria, the concept from Chef Jonathon Stranger and Top Chef alum Fabio Viviani, is offering dinner for only $65. The four-course (plus amuse bouche) meal features two choices for each course, which means a couple can try everything on the NYE menu. The menu for the night includes venison loin, wild salmon and fruit de mare agnolotti. Their sister concept, St. Mark's Chop Room, is also offering a prix fixe dinner at the same price, with wine pairings for a $30 upcharge. Both restaurants have a final seating at 11pm.