If you're visiting Oklahoma City or just an OKC local, chances are you're going to want to visit Bricktown often. It houses the Bricktown Ballpark, the canal, the Chesapeake Arena (where the Oklahoma City Thunder play) retail shops, and of course - numerous fantastic eateries.
All About Cha's tea baristas server you up fantastically brewed unique tea blends, coffee, espresso and other coffee drinks, along with delicious breakfast, lunch and dinner items. Sip the local favorite - Green Con Panna, a combination of green tea and steamed milk topped with whipped cream. Feast on one of their freshly-made daily quiches, or a Chicken Avocado Croissant. Along with wraps and salads, Cha also has sushi rolls for lunch or dinner. Save room however, for one of their amazing desserts, including their Ultimate Chocolate Blackout Cake, a Pecan Tart or a Parisian Macaron.

Bricktown Brewery is a choice spot to head to for locally crafted beer and sinful comfort cuisine like burgers, BBQ and pizza. As one of the earliest eateries in Bricktown, their handcrafted beer is award-winning and pairs nicely with their delicious hickory smoked BBQ but there are a slew of other noteworthy menu items like the Hatch Green Chile Burger with white queso, hatch green chiles and more. Try an order of Sea Salt Caramel Fries or the Chopped & Chipped Nachos, corn tortilla chips topped with slow-smoked pork shoulder, BBQ,  cheese, sour cream and capped off with a giant fried jalapeno.  Round out your meal with a sizzling Apple Crisp or warm fresh-baked cookie and if you're around on Friday or Saturday, check out the live acoustic music!
Mickey Mantle's Steakhouse is a home-run if you're looking for elegant fine-dining in Bricktown. This spacious and lovely restaurant offers an extensive wine list of over 500 choices from all over the world along with grilled signature steaks, fresh seafood and more. Make sure and pick something from their Mac N' Cheese menu classic like jalapeno-bacon, or lobster! Head over to the adjoining #7 Lounge for a fine cigar or scotch or a fantastic cocktail after your meal. You can relax in a beautifully curtained private booth or take a complimentary limo ride to a Thunder game if you happen to be heading that way!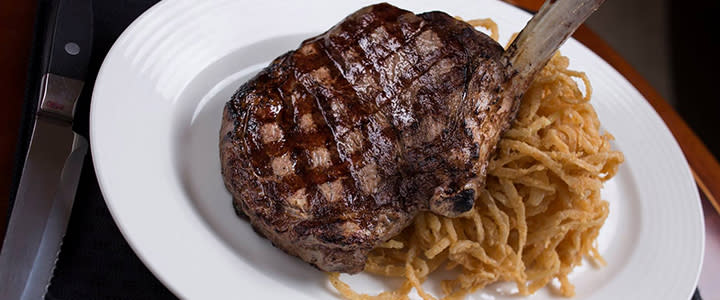 Crabtown's Cajun seafood-inspired menu is high on the list of visitors' dining choices in Oklahoma City. Their main feature is much loved - the Cajun Crab & Shrimp Boil that is turned out onto a butcher paper covered table.  This snow crab and shrimp laden feast is fun to eat with a crowd! The heavily featured seafood menu offers other mouthwatering fare like Crab Pot Pie, Louisiana Maji Mahi, and Po Boys but Crabtown also features burgers, chicken fried steak, steak and red beans and rice. Wash down the heat with one of their specialty drinks and finish things off with one of their outstanding desserts like New Orleans Bread Pudding or Key Lime Pie.
Next time you're here for fun, a conference or a weekend away, we hope you dive in to the diverse food options Bricktown offers!