Leave it to the locals to know the best of what Oklahoma City has to offer. Here's a list of local tips for those only-in-Oklahoma-City experiences
Street Art
Oklahoma City boasts an amazing amount of street art. From bridge tunnels and walkways to building-sized murals, there's always something to see around every corner
"Make sure you walk around the Plaza District and check out the entire wall of street art behind the Plaza." -Susan Riley
Plaza Walls is a rotating mural project. One wall changes every month, while the entire Plaza Walls alley changes during the annual Plaza District Festival in September.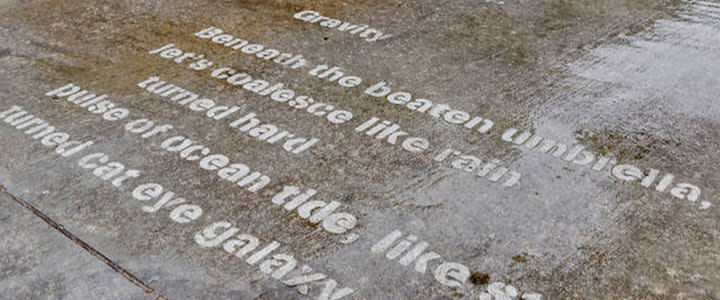 "Make It Rain Poems are a favorite when you're in Downtown OKC." - Jalaine Smothers
Rain or shine, OKC gives you the ability to see art no matter the weather.  Oklahoma was one of six cities awarded a creative place-making grant, and Downtown OKC made proper use of the funds.
Using Rainworks waterproof solution, 27 different poems are scattered throughout eight downtown districts.  When dry, they are completely invisible and with a few rain drops, the art begins to come alive.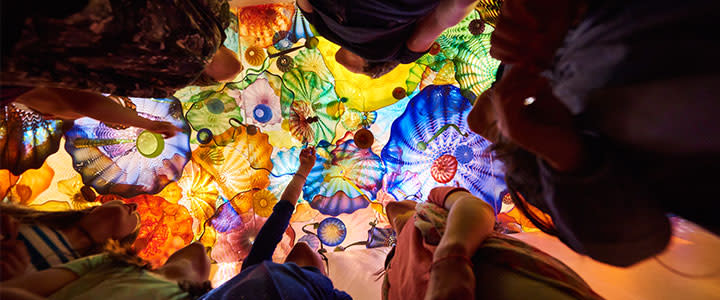 We Heart Art
At the Oklahoma City Museum of Art, visitors are greeted by a massive Dale Chihuly glass sculpture as they walk into the foyer, a not-so-subtle promise of what the third floor holds. But it's the rooftop that locals flock to in the warmer months for the museum's Third Thursday events. With $5 admission, you can see all of the art among many other perks and activities.
"One of my favorite things is the Third Thursdays at the OKC Museum of Art during the summer! Great evening with music, art and drinks! The view is amazing from the rooftop!" -Marla Moore
And with one of the largest collections of Dale Chihuly, there's many opportunities to take a selfie or appreciate the art – your choice!
"The Dale Chihuly permanent exhibition piece at the Oklahoma Museum of Art is gorgeous and a must-see!" - Lydia Bungner

Meals on Wheels
OKC is a food lover's dream, but what's even more impressive is the food truck scene.
"Head to Bleu Garten when the weather is nice." - Lacey Hamilton
Bleu Garten is a fun, outdoor venue with a rotating list of food trucks in Midtown.  

Brunch Love
Whether you are dining at the highly lauded Cafe Kacao, or having a musical morning at R&J's Supper Club, OKC has brunch covered.
"You have to eat at Cafe Kacao! It's the #1 breakfast, brunch, lunch and dinner cafe in Oklahoma! I frequent OKC restaurants and this one always takes the cake." - Maggie Bond
If you're looking for mixing it up for brunch, R&J's Supper Club is spinning records with a live DJ on the patio each Sunday from 12-5pm.
"The DJ Brunch on Sunday's is our favorite! The Shrimp and Grits are everything!" -Paula Marshall

History Lessons
Oklahoma has a storied past, and the Centennial Land Run Monument in Bricktown celebrates one of the state's first moments. Located at the south end of the Bricktown Canal, these heroic figures are the largest series of sculptures in the world, consisting of 47 statues spread across a distance of 365 feet.
"In all my tour guiding of OKC, the Centennial Land Run Monument always leaves a lasting impression on everyone that I take there." -Judith Toombs

Beef Country
Actor Colin Ferrell claimed in multiple interviews that the best burger he has ever tasted was found in Oklahoma City.  We tend to agree with Colin and many others who have waited in line for Nic's infamous Onion Burger. Featured in Diners, Drive In's & and Dives, this 15-seat neighborhood gem is cranking out food six days a week and creating a fan base with everyone who dines in.
"Go to the original Nic's for an onion burger. Get there early- there's usually a line." - Caleb Everett
Speaking of beef, get a true experience of the West just minutes from Downtown OKC in Stockyards City. Stockyard City is the home of the largest stocker/feeder cattle market in the world. Since its inception, more than 102,000,000 head of livestock have passed through the iron gates leading to the Stockyards operation.
"Check out the cattle auctions every Monday and Tuesday morning if you're in town. Just the walk over the cattle pens is enough to make you forget you're only 5 minutes from downtown." -Seth Spillman

Drink Scene
OKC has an amazing cocktail and beer scene, but there's one drink in particular that is an Oklahoma City staple. Featured recently in The New York Times, The Lunchbox at Edna's Restaurant & Club is a drink that was made by accident. Today, it's resulted in more than 1.7 million orders since the early 90's.  
"If you're in OKC you have to grab a lunchbox at Edna's!" -Tabbi Burwell
Equal parts Coors Light and orange juice mixed with a shot of sweet Italian liqueur amaretto, the Lunchbox is always served in one of Edna's signature chilled mugs.
Prefer to drink outdoors? The OKC Dodgers are a summer favorite and Thursday night games pack on a sweet deal.
"Dodgers games on Thirsty Thursdays are a must. $2 beers and sodas!" -Taylor Lawrence
"If you're looking for a special night out, Junior's is a cigar/piano bar with a wonderful Brandy Ice." - Cristy Ksepka
Located inside the west Oil Center Building off the Northwest Expressway, Junior's has been around since 1973 and still embodies the spirit of that time from the lush red walls, the chandeliers and the sunken piano bar.