Hang on to your hats (and secure all loose articles) – Oklahoma's biggest and best amusement park opens on Saturday, April 8th for the 2017 season. From coasters to concerts and family fun to funnel cakes, there's something for everyone to enjoy at Frontier City!
What's New in 2017?
Over the past three years, Frontier City has added three new attractions – Winged Warrior, Brain Drain, and Gunslinger – and we're not slowing down now! Our Wild West Water Works area is growing by 1,249 feet of high-intensity thrills slides this season with Gully Washer.
Opening summer 2017, this brand new triple slide complex will tower six stories in the air and blast riders through three enclosed body slides featuring back-to-back turns, thrilling dips, and tight 360° curves. Wild West Water Works opens May 13th and is FREE with park admission.
FREE Concerts
This season's Summer Concert Series presented by Subway will be one of our biggest to date! Fourteen acts have been booked that will please the pop princesses, hard rockers, and everyone in between.
April 29 – for King & Country feat. Stars Go Dim
June 10 – Theory of a Deadman
June 17 – Vince Neil of Mötley Crüe
June 24 – Smash Mouth
July 1 – Chris Janson
July 8 – The Charlie Daniels Band
July 15 –Rick Springfield
July 22 – Randy Houser
July 29 – Grand Funk Railroad
August 5 – Alter Bridge
August 12 – Newsboys feat. Ryan Stevenson
August 19 – R5
August 20 – Z-Fest
August 26 – Forever In Your Mind
All concerts are FREE with park admission.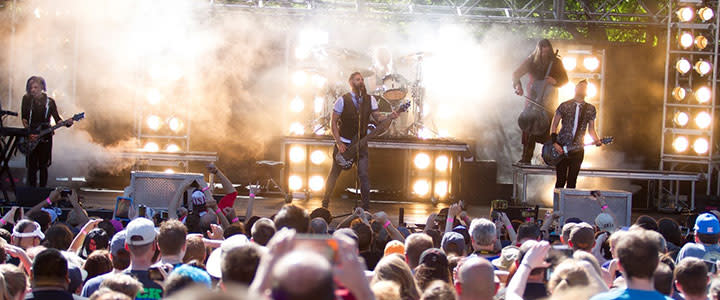 Double Park Season Passes
Looking for the best deal to visit Frontier City (and White Water Bay) this season? Get unlimited visits, admission discounts for friends, exclusive perks, and more with a Double Park Season Pass!
Let's do some quick math. A general admission ticket to Frontier City is $39.99 + tax for one day. If you were to pay $39.99 + tax to get into the park each day that it is open this season (118 days, to be exact), your total for the year would come to $4,718.82 + tax.
But who's going to visit the park EVERY day?
Very true. Even our number one fans only visit an estimated 75 times in a season. Let's say you visit twice instead – once for a concert, once for FrightFest (back for its 28th year of fear this October). Your total would come to $79.98 + tax – almost $10 more than the cost of a Double Park Season Pass that will allow you to enjoy unlimited visits to two great parks all season long!
That's an awesome deal! Where can I get my hands on one of these?
Double Park Season Passes are available now for the lowest price of the year at the Frontier City website.