If you're in town and in the mood for some delicious sandwiches (hot or cold), salads, soups, pizza, tacos or mouth-watering desserts, look no further than Café 501 in Classen Curve.  

Café 501 started as a "little lunch spot" in a neighboring city over 15 years ago.  It has now grown into two locations and one of the best places to grab Sunday brunch, a filling dinner with friends or your "go-to" place for bakery items that are unmatched.  Their recipes are inspired from travels around the globe from collected recipes in France, Italy, South America, Morocco, Germany and Austria.  You'll notice those influences in their rustic stone pizzas, artisan bread and European food pairings across the menu.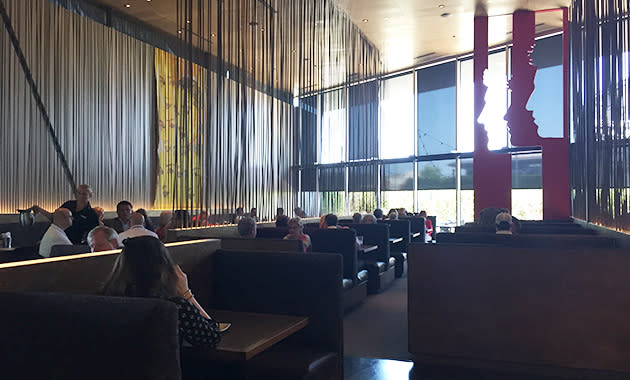 Located on the corner of NW Grand and NW 58th street, Café 501 offers a unique design balancing a sophisticated yet causal environment that will make anyone feel welcome.  As you walk in you'll approach the case of desserts and my-oh-my they all looked fabulous.  Ordering was easy as there are just enough options on the wall-placed menu but the desserts might hold you up if you are trying to pick out your favorite.  
My co-workers and I decided to indulge last week and we all ordered one of their wraps.  I, of course, went to my usual- The Coyote Crunch.  This spicy wrap is filled with lettuce, Monterey Jack Cheese, Tortilla strips, grilled chicken, Chipotle mayo, caramelized onions and Jalapeños.  Make sure to grab a drink if you order this one!  Paired with the wrap is Café 501's delicious macaroni salad but you can choose between an added side salad, fruit or chips. In looking around at other tables, I started having food-envy because the salads and street tacos I saw around me looked scrumptious.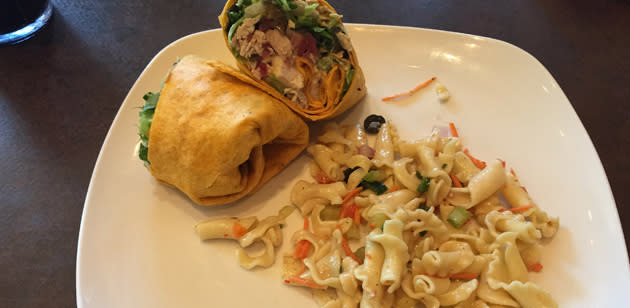 My co-workers and I finished up lunch with three desserts- the cornflake cookie, the ricotta cheese cookie and a s'mores dessert.  Let me just tell you, that cornflake cookie will make you think you've died and gone to heaven!  And, the ricotta cheese cookie was super fluffy and filling.  I wanted to love the s'mores dessert but I tend to like my marshmallow burnt, but it was still good and super pretty to look at!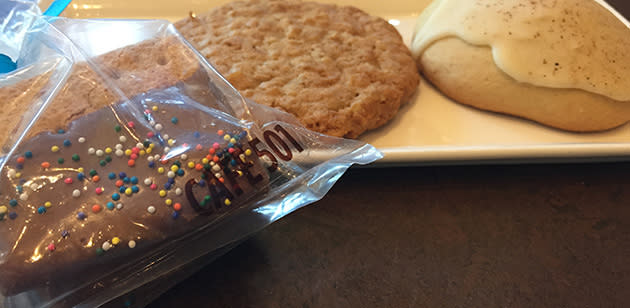 Café 501 also offers a full bar, patio and plenty of parking plus they make it very easy to make online reservations on Cafe501.com.
I promise, this is one restaurant that you can't-miss while in the Western Avenue District!  Plus, there's plenty of shopping nearby once you're done with your meal.