One meal you're sure to not miss is brunch on the weekends. When visiting Oklahoma City you'll find that we have plenty of places to indulge in for brunch so we're making it easy on you and giving you the top five!
Everyone knows Cheever's Café is one of the top dining spots in Oklahoma City, but surprisingly their brunch is one of the best and most reasonably priced options out there and is why they were picked as the Best Weekend Brunch for 2016 in the Best of OKC Gazette Awards. From soups and salads like their Cowboy Rubbed Salmon Salad to Main Plates like the delicious Masa Vallo Con Huevos, a fantastic layering of masa cakes topped with shrimp risotto, poached eggs, pico de gallo, salsa verde, and ancho chile cream, everything is fantastic. There are also cocktail offerings like Cheever's Brunch Punch, a uniquely crafted mix each weekend, Bloody Mary's and Mimosa's.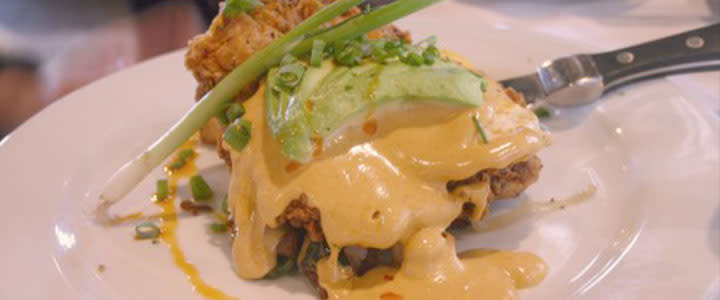 If you love cruise-style brunch settings with hot lines featuring pasta, chicken, vegetables and fish offerings or cold lines serving up fresh fruit, salads and shrimp, you're going to love Rococo's Northpark brunch.  There are also custom-made waffle and omelet stations, hand-carved meat stations, scrumptious desserts, and the ever popular Bloody Mary bar. Each week the staff cooks up a themed buffet such as Asian, Caribbean or European delights. And basking in the beautiful ambiance that is Rococo's interior is an added bonus!
Locally adored Café Kacao features popular breakfast items like their Chocolate Waffles or their French Toast a delightful stack of crispy French toast, topped with whipped cream cheese, fresh fruit and powdered sugar.  However, dine a bit more adventurously and discover the real stars of their Guatemalan-inspired menu are their south of the border breakfast options like the Motuleno – two corn tortillas filled with moist black beans, capped off with two sunny-side up eggs, ranchero sauce, dry cheese and slices of avocado. Café Kacao also brews up some delicious Guatemalan coffee, some creative concoctions like the Crème Brulee Latte or the Horchata Latte and refreshing house-made cocktails.
Voted in the Gazette's Best of OKC 2015 as Best Weekend Brunch, Ingrid's offers a Sunday brunch buffet featuring eggs benedict and biscuits and sausage gravy on the breakfast end of their lengthy buffet, and Roast Beef, Fried Chicken and a variety of homemade salads on the lunch end.  Tucked away in the corner you'll find some of their German delights like bratwurst and sauerkraut, fried chicken and a featured Entrée of the Day.  However, the dessert table will have you returning over and over to Ingrid's where you'll find a table laden with fresh-baked goods like cobblers, thumbprint cookies, pies and cakes and more!
Picasso Café is a trendy little spot in the Paseo District, and their brunch pleases everyone.  From the Build Your Own Omelets to a variety of Benedicts like Classic, Crab cake, Pulled Pork or their Garden version, the eatery serves up a choice for everyone!  Whether you want breakfast items, a burger, or a sweet or savory crepe, or even a Smoked Salmon and Avocado Spring Roll, you'll find it all at Picasso Café.  An added bonus is that they have several vegetarian and vegan options as well as drinks like Bloody Mary's and a grown-up version of house made Ginger Ale.