Heading Northwest? Northwest Oklahoma City, that is...
Well, if you're stomach is growling and you're looking for the best places to dine along Memorial Road, we've got the list for you!
1. Nunu's Mediterranean Café & Market
Tucked in between a bevy of chain restaurants and stores on Memorial Road, OKC locals enjoy the warm atmosphere and friendly staff at Nunu's, along with their many delicious Mediterranean menu offerings like kafta, falafel, hummus, and cabbage rolls. Their signature dish, Hashwa, is a mixture of beef, rice and Lebanese spices cooked with clarified butter and topped with crunchy toasted almonds. Round out your meal with a choice off their assorted Middle Eastern Pastry menu or indulge in their decadent chocolate Tiara Cake with a scoop of gelato alongside. Wash it down with a refreshing Lebanese Lemonade or sip on wine by the glass.
2. Panang 2
Thai food fans flock to Panang 2 all week long to enjoy their authentic Thai dishes and generous portions. They serve a variety of Thai fare like curries, noodle dishes, stir fries and fried rice.  Panang's dishes are full of mouthwatering flavors that will have you craving them long after you've left.  A must-try appetizer is the Angel Wings – chicken wings, deboned, stuffed with ground chicken, deep fried and served with a delicious dipping sauce. Order a large Tom Kah soup for the table, a savory Thai-spiced coconut soup filled with vegetables and chicken or tofu as it served in an enormous silver bowl and comes with a ladle and small bowls to share.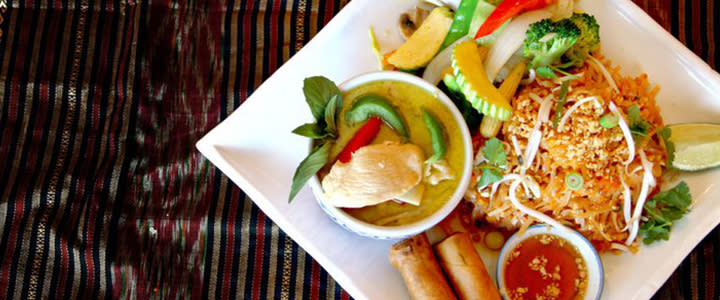 3. Coolgreens
Those who love to live and eat a healthy lifestyle adore Coolgreens and their concept of using fresh whole ingredients. The them at Coolgreens is to order one of their Signature dishes including soups, salads, wraps and flatbreads or build-your-own by picking from the variety of greens, sauces, toppings, proteins, cheeses and vegetable and fruit offerings along the fast-casual cafeteria style line where you watch your creations made in front of you.  Try the Skinny Flatbread, topped with basil pesto, turkey, roasted grapes, sun-dried tomatoes, figs, bean sprouts, walnuts, arugula and goat cheese. It's an unusually delicious combination!
4. Szechuan Bistro
If you want a step beyond a typical Chinese buffet, look no further than Szechuan Bistro.  Order from the front of the menu if you prefer more Americanized Chinese food, or if you prefer authentic traditional Chinese cuisine with Szechuan specialties, venture into the back of the menu for true flavor.  Fresh whole ingredients are prepared into tantalizing dishes like their sizzling platters, clay pots or noodle dishes. Try the Whole Red Snapper in Bean Sauce or the Double Cooked Pork. If with a group, request a round lazy Susan table to enjoy sharing your dining items!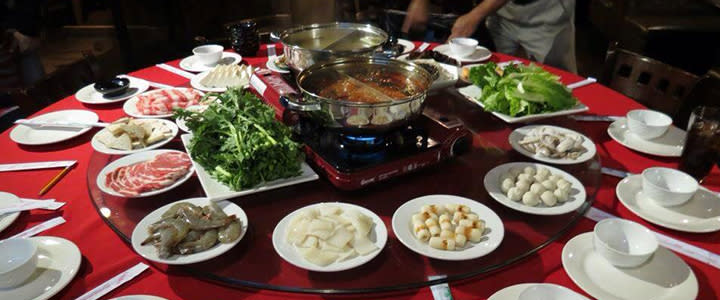 5. Tucker's Onion Burgers
Oklahoma claims the onion burger originated in our state, and one cannot experience Oklahoma City without trying this unique and mouthwatering version of a burger. Tucker's grills their burgers the traditional way by pressing them down on a pile of thinly shredded onions as they grill,  and serving them as a single, a double, with or without cheese, but for the truly hungry and adventurous, try the Mother Tucker, over one pound of juicy meaty deliciousness with triple burger patties, cheese and onions. Honorable mention goes to Tucker's turkey onion burger as it is one of the most delicious you'll ever try. An added bonus at Tucker's are the hand-dipped milk shakes in three flavor and their homemade lemonades.