#NationalGrilledCheeseDay is just around the corner so I took one for the team and volunteered to try some of OKC's best grilled cheese sandwiches to determine which five you've got to try. I hope you're hungry; here's what I found:
1. The Really Fancy Grilled Cheese at Kitchen No. 324 definitely lives up to its name. This sandwich is made with smoked cheddar, jack cheese, fresh thyme and a nice spread of poblano-peach preserves served on a sourdough bread for a really fancy sandwich. What really stood out to me was the way the preserves brightened up the flavor of the smoky cheese and delivered a nice, sweet heat that I haven't had anywhere else. And just a friendly tip, I'd recommend getting Kitchen 324's Idaho and sweet potato chips on the side.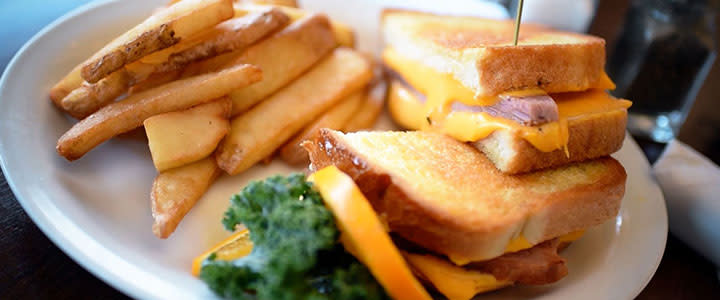 2. Not to be confused with Nic's Grill on Penn, Nic's Place in Midtown offers a more upscale lounge experience than its diner counterpart. Each grilled cheese is customized to order, so I sampled a trio of grilled cheeses we're sure you'll want to try. If you're a Gouda lover like myself, the smoked Gouda and Swiss sandwich will not disappoint. I paired this sandwich with a cup of Nic's tomato soup and could have easily went back for seconds and thirds. I also ordered the Pepper Jack with pepperoni combo, which was like pizza on toast. So if you love pizza and grilled cheese, get the best of both worlds with this sandwich. And lastly, the American cheese with ham was a heartier, meatier version of the classic grilled cheese. The cheese was perfectly melted and the ham was super flavorful, making it perfect for any meat connoisseur.
3. Ask any local where to find the best grilled cheese sandwich and chances are, the first place they'll tell you is The Mule. I ordered the "Big Ass Grilled Cheese" sandwich and they weren't lying. This sandwich is overflowing with a big, hearty blend of cheddar, Gouda, Swiss and American cheeses on a sourdough bread. And if you're a big cheese lover like myself and four cheeses just aren't enough, let them know you're feeling Bleu for the addition of Bleu cheese. Each sandwich comes with a side of your choice. I recommend the house tomato soup.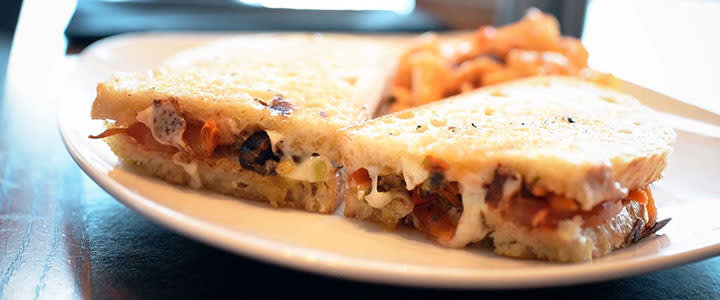 4. The Grilled Tomato & Cheese sandwich from Cafe 501 in Classen Curve was one of the most unique grilled cheese sandwiches of the day. It was light, delicious and had a Mediterranean feel to it. Cafe 501's blend of four cheeses is topped with fresh tomato and their house olive salad on toasted French bread. But what put it over the top was the Balsamic reduction drizzled inside the bread. This, for me, is the perfect spring-time sandwich. I would pair this with a side salad and enjoy it on Cafe 501's patio on a nice, sunny day.
5. West on Western has an upscale look and feel, and their grilled cheese was definitely a new and improved version of your childhood favorite. The West Grilled Cheese has lemon ricotta, mozzarella, goat cheese and pesto, toasted on a light Tuscan bread. While these cheeses aren't typically in a classic grilled cheese, I still got that nostalgic feeling you come to expect when biting into a grilled cheese sandwich. But what I loved the most about this sandwich was the light lemon flavor from the ricotta. I didn't expect the lemon to be able to stand out among the blend of the cheeses, but it did so beautifully for a nice, citrus undertone.
Whether you're out for National Grilled Cheese Day or just looking for a nice comforting meal out, you won't be disappointed after trying any of these five sandwiches.