Who said you can't have fun for free?
Experience the Modern Frontier for little to nothing with our guide to free things to do this summer in OKC. You can really #SeeOKC without breaking the bank!
Outdoor Adventures
Sunday Twilight Concert Series
Sunday Twilight Concert Series is an outdoor weekly concert series that brings the arts and the community together each summer. This year, the free event will be held in-person and via live stream all summer long!
Community Yoga
Grab your friends and head out to the Myriad Gardens for a serine yoga experience offered twice a week. Yoga in the Gardens is a place for yogis of all levels to center, recharge and connect with nature.
Lake Hefner
At Lake Hefner, on any given day, you'll find walkers, runners, bicyclers, roller-bladers and skateboarders enjoying the trails that circle the lake. Catch some of the city's most glorious sunsets at Lake Hefner, as well as some waves, especially if you're into sailing or water sports like kitesurfing. Surrounded by local restaurants, Lake Hefner also offers a variety of indoor and outdoor dining options to indulge while enjoying the view.

Live from the Lawn
Live from the Lawn at Scissortail Park brings live music under the stars at the spacious Love's Travel Stops Stage and Great Lawn. Music fans are invited to bring out blankets, picnics, and camping chairs to delight in a great and varied lineup of music from local, regional and national touring musicians.
Oklahoma City Streetcar
Park at one of EMBARK's five public garages (open 24/7) along the route and use your receipt to ride the streetcar for free all day long. Each parking receipt is valid for two people to ride for free for 24 hours from the time of parking. Visit the Oklahoma City Streetcar for more information on the parking garages and their closest streetcar platform.
OKC Trails
Oklahoma City has a network of 10 interconnected trails that lead to nearly every part of the city, totaling up to 80 miles of non-motorized trails.
Mat Hoffman Action Sports Park
Grab your helmet – you're in for a wild ride! Ranked in the top 10 skate parks in the U.S., the action park is divided into two areas – a flow course with bowl combinations and a street course with ledges and handrails. This 26,000-square-foot outdoor sports park for BMX riders, skateboarders and rollerbladers, is the state's largest and most challenging. The park is open from dawn to 11 p.m. daily. 
Bleu Garten
At Bleu Garten you'll find an outdoor food truck park with covered seating, a state-of-the-art bar and life-size Jenga. The open-air food truck park allows for social distancing and space to unwind on a sunny summer day. 
Farmers Market
Find local produce, meats, spices, honey, plants, flowers and more all from Oklahoma vendors at the OSU-OKC Farmers Market. The market is held on Saturdays from 9 a.m. – 1 p.m. at the Scissortail Park Stage Plaza near Oklahoma City Boulevard and Robinson Avenue.

Oklahoma Land Run Monument
Along the south end of the Bricktown Canal, just southwest of Bass Pro Shops, the Centennial Land Run Monument features 45 heroic bronze statues of land run participants, frozen in motion as they race to claim new homesteads, which commemorates the opening of the Unassigned Land in Oklahoma Territory with the Land Run of 1889. The frenzied energy and emotion from one instant during the run is captured in bronze by artist Paul Moore. 
OKC Dog Parks
Stretch your pup's legs at the Midtown Mutts Dog Park, Deep Deuce Dog Park, or the dog parks at Myriad Gardens and Scissortail Park! With plenty of water access for your dog, you can stay and play for hours on end. Find the best dog park for you and your fur-baby on the Greater Oklahoma City Parks & Trails Foundation website. 
Stinchcomb Wildlife Refuge at Lake Overholser
Get closer to nature at the Stinchcomb Wildlife Refuge at the north end of Lake Overholser. It is a pristine area of 1,000 acres that has remained unchanged since before statehood. Hike the area and see whitetail deer, beavers, egrets and beautiful views of lakes, bottomland forest and marshlands.
Martin Nature Park
Martin Park Nature Center is a 144-acre nature reserve with 3.5 miles of gentle hiking trails and many species of animals. Wooded trails, a nature-themed playground and picnic areas offer a variety of amenities you can enjoy at your own pace. The park is open Wednesday through Sunday from 9 a.m. to 6 p.m.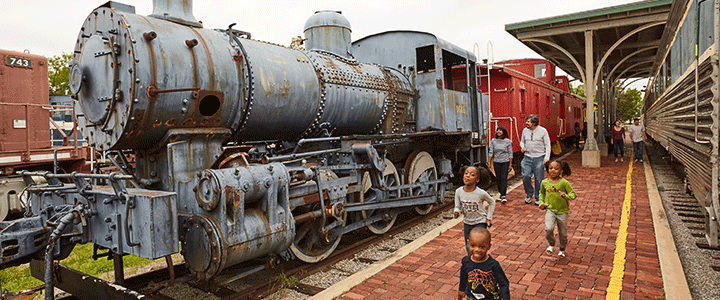 Oklahoma Railway Museum
Enjoy free admission to the Oklahoma Railway Museum Thursday-Saturday and see freight cars, passenger cars and a real steam engine on display.
OKC Murals
Have you heard the news? USA Today recently named Oklahoma City as the Best City for Street Art! For prime outdoor mural viewing, the Plaza Walls project in the Plaza District makes for a great spot for an art walk. Then take a stroll through Bricktown or Western Avenue where you'll discover a plethora of bright imagery. Visit this blog to discover OKC's most Instagramable spots.
Splash Pads
Looking for ways to cool off during the hot summer months? Check out this list of OKC's 16 free splash grounds!
Indoor Adventures
Oklahoma City Museum of Art
Opening exclusively at the Oklahoma City Museum of Art on June 26, the special summer exhibition, "The Painters of Pompeii" is only making one stop in the U.S. before returning to Europe. Admission to the art museum is free for children 17 and under and includes access to the exhibits on all three floors of the museum.

Oklahoma City National Memorial & Museum
Admission to the Outdoor Symbolic Memorial at the Oklahoma City National Memorial & Museum is always free. The serine memorial stands on the now-sacred ground where the events of April 19, 1995, unfolded. Inside the museum, the new Stronger Together augmented reality experience takes you through the Museum alongside a family member, survivor, first responder, investigator, journalist and community volunteer. These storytellers will appear with you in the galleries, all through augmented reality technology. 
Oklahoma Contemporary Arts Center
Explore the rotating and permanent exhibits at Oklahoma Contemporary Arts Center. Admission to the museum is always free but be sure to reserve a time slot before you visit. 
Cattle Auctions in Stockyards City
Watch hundreds of cattle exchange hands every week at the world's largest stocker/feeder cattle market. Catch the auction every Monday and Tuesday morning (free to attend) and explore nearby shops and iconic restaurants nearby in Stockyards City.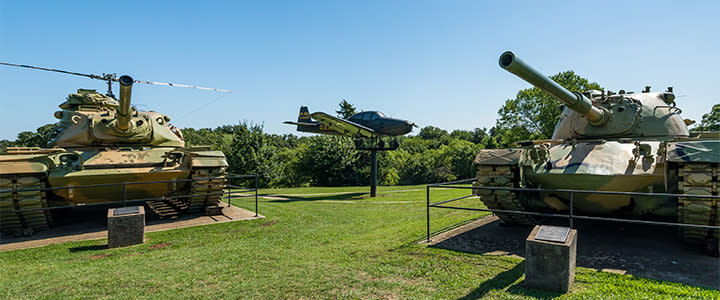 The 45th Infantry Division Museum
Dedicated to the military history of Oklahoma and the 45th Infantry Division, this museum is a must for any history buff. It includes the country's third-largest collection of historic U.S. military firearms and the world's largest collection of items once owned by Adolph Hitler.
Remington Park Racing Casino
Head to Remington Park for action-packed horse racing and exciting casino gaming on 750 top-notch electronic gaming machines. Remington Park also features various restaurants and Pubs. Admission and parking are free.