Are you ready to rock your ride? Check out CycleBar in Classen Curve, offering an experience with your workout and amenities that will make you feel like royalty. Before you book, here are some tips for success and ideas of what to expect:
Prior to your ride, hydrate, eat intentionally, and get ready to be wowed. Arrive a little early to sign in and find the right fit. CycleBar provides cycling shoes, make sure they're comfortable and not too tight around the toes. Didn't come prepared? Don't worry. Stash your stuff in a locker and fill up your complimentary water bottle. Choose from ice cold or room temperature purified water. Grab a light snack, towel, ponytail holder, chapstick, makeup remover, they've really thought of everything.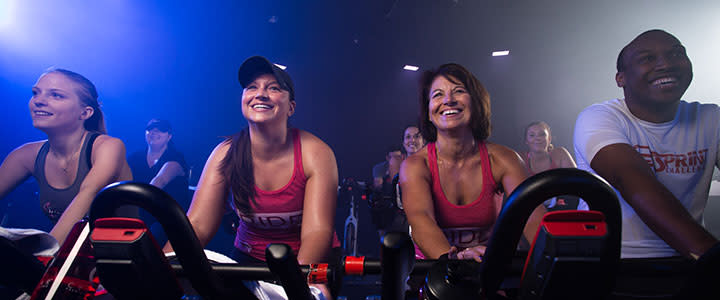 Make your way into the theatre to get adjusted in the saddle. Make sure your handlebars and seat are at a comfortable reach and that you're not hunched over or sitting upright. Ask an instructor if you're unsure, they're there to help you get the most out of your ride.
Soon the lights will go down and music will start pumping. Slide your feet into the pedals. Look for the side of the pedal with a silver, metal attachment. Slide in toe first in a downward motion. When you're ready to dismount unclip by sliding your feet outward.
Now begins the experience. Find your cadence and get ready for warm up. It's not a slow build, you'll be warm and burning calories within the first few minutes of class. From here you'll climb up hills and dig for the other side's release. Races begin and you'll find yourself pedaling faster than you thought possible. Look up on the screen to find where you've placed. If you're not feeling competitive, switch your rankings to private. Need to take a break and slow down? Go for it, the lights are low and the music is loud. No one will notice. Everyone is focused on their own gains and goals.
Towards the end of the class weights and resistance will be incorporated for upper body strength. The pedaling, like the music, never stops. The curated playlist will pass the 50 minutes in no time. Instructors keep the theatre motivated with the encouragement you need to push through the last few miles. Soon you'll be hopping off saddle with a pep in your step and quakes in your legs.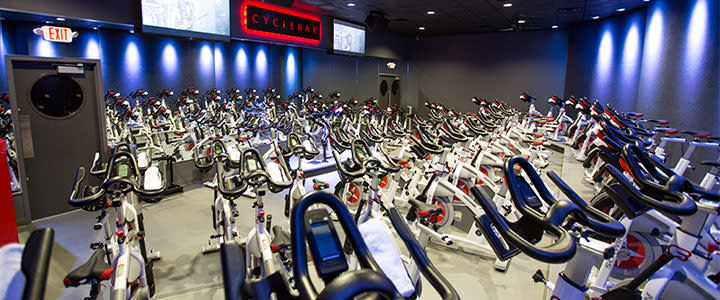 After cool down you'll feel refreshed and renewed, you'll also be sweaty and thirsty. Grab a cleansing towel for a refresher or head for the shower to rinse off. CycleBar provides all you need to leave looking fresh with an extra healthy glow. After that, you deserve a treat. Just steps away you'll find many dining options and shopping.
Need a little hydration? Stop in RePUBlic. If you're craving something sweet and light, Green Goodies is just down the way. Craving a burger? You've earned it, head to Tucker's! Or partake in a retail reward at Red Coyote or On A Whim.