In preparation for Valentine's Day, we hosted bloggers Full Van Fun for a 24-hour couples' getaway. From where to stay to the perfect romantic spots, Full Van Fun's itinerary is full of plenty of Valentine's Day inspiration. So start planning your perfect date night in OKC with some help from Full Van Fun.
Here's how Full Van Fun spent their romantic getaway in OKC!
---
Pinkitzel
The whole point of a romantic weekend away is to forget the day to day and get lost in the now with each other. So Pinkitzel was the perfect start. Pinkitzel is a fantastical sweets shop in downtown Oklahoma City skirting the edge of Bricktown and sharing space with the newly restored historic Oklahoma City rail station. From the fanciful décor of black, white and pink to the array of colorful candies and sweet baked treats you are sure to find something delicious. The Double Truffle has a chocolate cake with a fudge ganache center topped with a chocolate buttercream and pink chocolate curls. So yummy.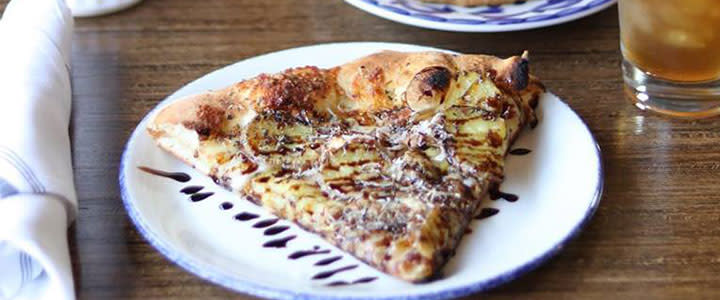 Halls Pizza Kitchen
For lunch, we headed to Midtown, where we had lunch reservations at Hall's Pizza Kitchen. Midtown is one of our favorite parts of Oklahoma City with a compelling mix of history, food, shopping, people, and more. Arriving at Hall's, we were greeted by the aroma of a wood fired oven. The place was lively with a mix of families, couples and large groups and all centered around the wood fired oven. 
After looking over both the main and brunch menus, we decided to split a pizza. We ordered a half Samwise and half tomato, fresh mozzarella and a variation on a traditional margherita pizza. The Samwise was like nothing we've ever tried. The rosemary roasted potatoes, caramelized onions, bacon, cream cheese, fresh mozzarella, parmigiana reggiano and a balsamic reduction drizzle were like eating an overstuffed baked Po-Ta-To (Samwise Gamgee style) all atop fresh baked bread. It was delicious but very filling. 
Oklahoma City Museum of Art
On thing we love about living around Oklahoma City is the abundance of culture. The Oklahoma City Museum of Art is a perfect example. From one of the largest Dale Chihuly collections in the world to classical greats such as Pierre-Auguste Renoir or contemporary artists like Jasper Johns, OKCMOA brings art and sculpture from all over the world to Oklahoma. 
We explored all of the galleries, especially some of the touring special exhibitions about Oklahoma Art and the "Question of Beauty". Inspired by the art, we couldn't leave without creating our own "shadow selfie" using the interesting shadows created by a suspended automobile sculpture. After taking the time to appreciate OKCMOA, we left for our next adventure – shopping!
Shopping
Oklahoma City has a wide range of shopping options. Since we were on a romantic getaway, we had the luxury to visit some stores we had always wanted to visit, but never had the opportunity. One store we visited was Antique Avenue Market. Oklahoma has many interesting antique stores (including one aptly named Architectural Antiques and Dead People's Stuff), but this was one we had never had a chance to explore. The store was full of memories from our childhood, historic treasures, as well as new custom creations from local artisans.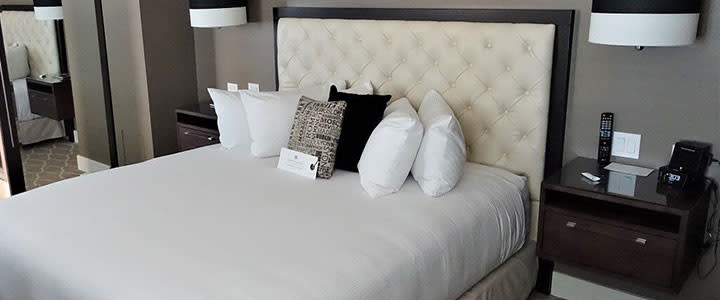 Ambassador Hotel Oklahoma City
After shopping, we returned to the Ambassador Hotel to get ready for dinner. When we stopped by earlier, we only saw the beautiful historic lobby. This visit was our chance to really explore the exquisite room and the impressive view of Midtown. 
The Ranch Steakhouse
While the Ambassador was wonderful, we could stick around too long because it was time for dinner! The Ranch Steakhouse is the epitome of an Oklahoma steak house. From the inspired cowboy art on the walls to overall Western motif, you knew this was the place to get steak. Between the two of us, we ordered a rib-eye and a filet to share. For our three sides we picked potato (mashed), potato (gratin), and potato (sweet). Everything was amazing and among the best meals we've had since moving to Oklahoma.
Oklahoma City Philharmonic
Once again, we stopped back at the Ambassador Hotel to drop off our leftovers and then drove to the Oklahoma Civic Center Music Hall to enjoy the Oklahoma City Philharmonic.  
Filled with delightful music and delectable food, we were ready to head back to the Ambassador and get ready for day 2 of our romantic weekend getaway. Walking into the Ambassador, we stopped for a few minutes to enjoy their back patio with a roaring fire, twinkling garden lights, and downtown view, it was the perfect way to end the day.
Hanks's Coffee and Wine
After a quiet night's sleep (something we are not used to) we took a walk down the street to Hank's Coffee and Wine for something warm to drink as the temperatures had dropped significantly overnight. Hank's is a quaint neighborhood coffee shop in Midtown across the street from the Ambassador Hotel. Relaxing at one of their reclaimed wood tables, we relaxed and enjoyed our drinks in comfortable colorful cups.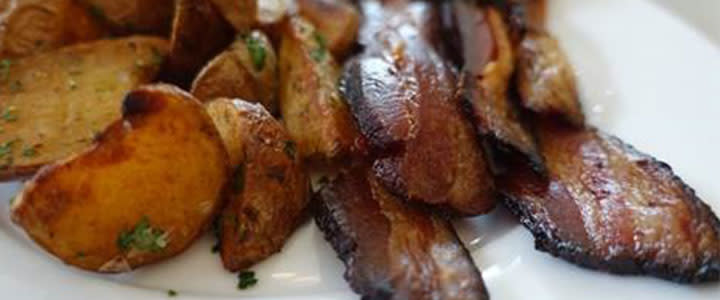 Kitchen 324
Kitchen 324 is a stylish, from scratch, farm to table restaurant serving breakfast and lunch M-F, brunch Sat-Sun as well as a daily dinner service. The menu has a unique take on traditional brunch items. We ordered the Scratch Biscuit with Chorizo Gravy and the Giant Buttermilk Pancake with side orders of crispy Yukon gold potatoes and the best bacon (McCabe's Small Batch Bacon) we have ever eaten. Ever. If the Ranch Steakhouse was one of the best meals we had eaten in Oklahoma, brunch at Kitchen 324 beat it.
Oklahoma State Capitol
After brunch, we did something that we have wanted to do since we moved to Oklahoma, visited the Oklahoma State Capitol. Nothing says romantic getaway like visiting a legislative building, right? Actually, the Capitol building is beautiful. Between the impressive Dome and other architectural details, murals depicting the rich history of Oklahoma, statues, and lighting, it is an architectural treasure. Besides the functional use of housing the House of Representatives, Senate and the Supreme Court of the State of Oklahoma, the Capitol also featured the Governor's Art Gallery with exhibitions of famous Oklahoma artists.
Roxy's Ice Cream Social
With our romantic getaway near the end, our final stop was Roxy's Ice Cream Social in Oklahoma City's hip Plaza District. We were stuffed from all the sweets and eats on our weekend, but there's always room for ice cream, especially when it locally made like Roxy's. Roxy's also makes their own soda including root beer, cream soda, and espresso root beer – yes that's right – espresso root beer.
---
Our romantic getaway to Oklahoma City was amazing. We found some new favorite spots, experienced the outstanding culture and history of the city, became a little more Oklahoman, and closer as a couple.