When the Oklahoma City Thunder kicked off their training camp Tuesday, they had almost an entirely new cast of characters wearing the white and blue uniforms.
While players such as Russell Westbrook, Steven Adams, Andre Robertson and Nick Collison are still on the roster, the Thunder have gone through a facelift since the end of last season. Gone are Enes Kanter, Domas Sabonis, Doug McDermott and Victor Oladipo.
However, in their place the Thunder picked up five new players that Oklahoma City fans will need to get to know.
1. G (#23)Terrance Ferguson: The Thunder selected Ferguson with the 21st pick in the first round of the NBA draft this summer. He was the only draft pick Oklahoma City had this year, but one General Manager Sam Presti seems to think can help the franchise for years to come.
Ferguson, 19, grew up in Tulsa before moving to Dallas where he played high school basketball at Deion Sander's Prime Prep Academy for three years. He made the decision bypass college to go overseas and play in Australia.
When he came back from Australia, the first place Ferguson went as soon as his plane landed was What-A-Burger.
2. PG (#2) Raymond Felton: A native of South Carolina, Felton played his college ball at North Carolina. As a junior he led the Tar Heels to a national championship victory over Illinois in 2005.
Felton went on to become the No. 5 overall pick in the 2005 NBA draft by the Charlotte Bobcats, where he earned the All-Rookie second team.
In his 12 years in the NBA, the 6-foot-1, 205 pound point guard has played for six different franchises. That includes two trips to the New York Knicks. His previous stop was backing up Chris Paul last season with the L.A. Clippers.
Oklahoma City will be his seventh team after he signed a 3 year contract in the offseason. As one of the elder statesmen on the team, he knows what his role his.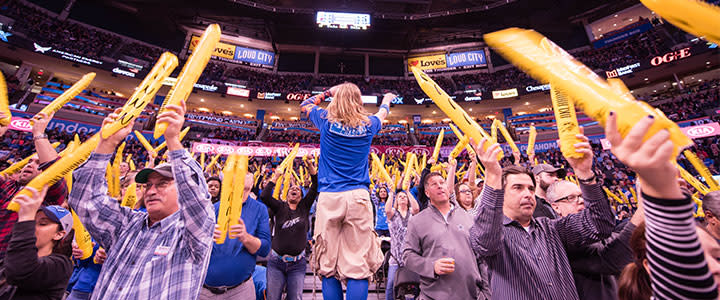 3. F (#54) Patrick Patterson: At the age of 28, Patterson is entering his prime years as a professional basketball player. And the Thunder couldn't be more pleased that the West Virginia native will be in Oklahoma City during those years.
Patterson comes to the Thunder via free agency after four years with the Toronto Raptors. There he transformed into a solid two-way play who can shoot and play defense.
Oklahoma City will be Patterson's fourth team since being drafted No. 14 overall in the 2010 NBA draft by the Houston Rockets after playing three seasons at Kentucky.
4. F (#13) Paul George: In what was the biggest coo of the NBA offseason, George became a member of the Oklahoma City via trade that still has many league analyst bewildered.
After announcing that the 2017-18 season would be his final year with the Indiana Pacers, teams across the NBA made trade pitches to the Pacers in hopes of landing George. That includes teams such as Boston and Cleveland.
However, the four time All-star was traded to the Thunder for Sabonis and Victory Oladipo on July 6.
George, 27, has one year left on his current contract and will become a free agent at the end of this season. Many believe he George will be heading back to California, where he grew up. But the Thunder have him in Oklahoma City for at least one season to try and convince him to sign long term.
George is considered one of, if not the best, two way plays in the league. He is a career 22.0 ppg scorer and has made the All-Defensive first and second teams three times.
George earned national coverage when he broke his leg in 2014 while playing for Team USA FIBA World Cup. But he fought his way back to once again become one of top players in the league.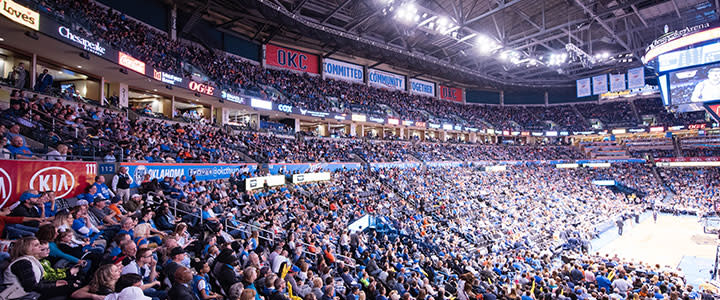 5. F (#7) Carmelo Anthony: While George is the best player the Thunder added this offseason, there is no bigger name or presence in the league than Anthony. From his play on the court to his community involvement and charitable causes, Anthony is one of the biggest names the NBA has to offer.
That name is now associated with Oklahoma City after he was traded from the New York Knicks Sept. 24 to the Thunder in exchange for Kanter, McDermott and a 2018 second round pick.
Much like George, it didn't look like the Thunder had a chance to get Anthony. But after a falling out with the Knicks and former President Phil Jackson, Anthony wanted out of New York. With a no-trade clause attached to his contract, many believed he would choose Oklahoma City, which is the smallest media market in the NBA, to be traded to. However, said those who said that do not know him.
Anthony has been considered one of the most prolific scorers in the NBA during his previous 14 seasons as a pro. He is a 10 time all-star and won the 2013 to win the scoring title.
Before coming to NBA in 2003 as the No. 3 overall selection by the Denver Nuggets, he led Syracuse to a national championship as a freshman.