The Oklahoma City Memorial Marathon is approaching fast; as fast as 2016 winner Patrick Gomez sprinted towards the finish line last year! This weekend, we'll cheer on 25,000 runners and welcome thousands more to OKC. The marathon sets the city abuzz with activity and energy. Running in the marathon, no matter the distance, is a riveting and unforgettable experience. In OKC, we run to remember and we cheer with fervor. But one of the loudest cheers comes from our friends at Red Coyote.
What's the single most important piece of equipment needed to take on the task of running the marathon? The shoes, of course! The apparel is also important, since you'll want to look and stay cool while you run past thousands of cheering spectators and up Gorilla Hill. But whatever your apparel or shoe preference - Red Coyote, a locally owned running and fitness store, has you covered head to toe.
Red Coyote supports runners all year-round and they really shine in the weeks and days leading up to the marathon. Year-round, they offer specialized fittings, events and in-store specials. Everyone is invited to join their weekly Pack Pint Runs with a COOP Ale Works beer waiting at the end of the 5K run.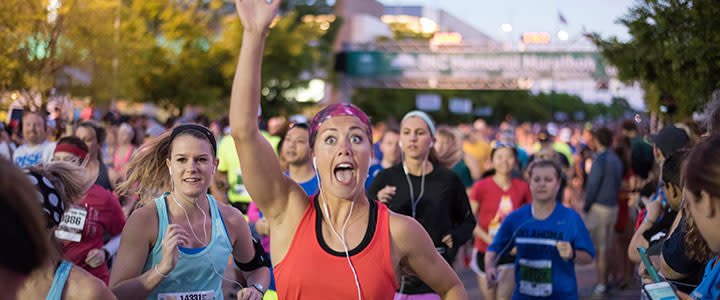 You'll also see many runners who have been training with Red Coyote for months proudly sporting their official training gear this weekend. Red Coyote offers a newbie, half, or full training programs leading up to the marathon. Owners Burke and John Beck assert that a training and support group is the key to success. The community of support is necessary through those long run days and on the early race morning. Red Coyote's commitment to being more than just a shoe store reflects their desire to support and give back to their community. They have found the perfect outlet through the Memorial Marathon.
You can't miss Red Coyote during the expo on Friday and Saturday at the Cox Convention Center. They'll bring the store to you, offering custom marathon apparel including hats, socks, shirts and pullovers which may be necessary for the colder temperatures expected this year. You'll find nutrition bar offerings, energy snacks and gel samples. Any last minute questions or gear needs? In need of a pep talk? The Red Coyote team is here for you.
As you run or watch the marathon you'll see runners in Red Coyote apparel holding large signs with times noted and runners following close. Pace groups are led by an experienced runner who runs at a steady pace to assist runners in achieving their goal time to complete the half or full marathon. As the pacemakers set the rhythm and pace for the race, so has Red Coyote set the pace for our city when it comes to running, fitness and the spirit of generosity. Red Coyote is proud to run, rally and support the 17th Annual OKC Memorial Marathon.
Red Coyote is located just off the marathon route in Classen Curve. They'll be open for spectators and runners to shop after the race. This year, Red Coyote will hold a marathon party in conjunction with Cultivar Mexican Kitchen. Beginning at 5 a.m. Cultivar will offer a pre-race personal belongings drop-off location. At 8:30 a.m. the restaurant's festivities kick off with a brunch menu and, free massages, promotional giveaways, and two margaritas specials, aptly named the "13.1" and the "26.2". This event is family friendly and 10 percent of sales will be donated to The Boys and Girls Club of Oklahoma County.