Do you love things smothered in gravy? If so, you're going to be in gravy heaven at Good Gravy Diner, located on the north end of the Western Avenue District at 8014 N. Western Avenue, where they are serving up a variety of omelets, biscuits, burritos of the breakfast-type, hot and cold sandwiches and of course, Oklahoma's staple meal offering – chicken fried steak. They also make some mean burgers and French fries.
And what better to smother all of the above delectable food items with than 47 different types of gravy – many of them specialty gravies, including…..chocolate gravy!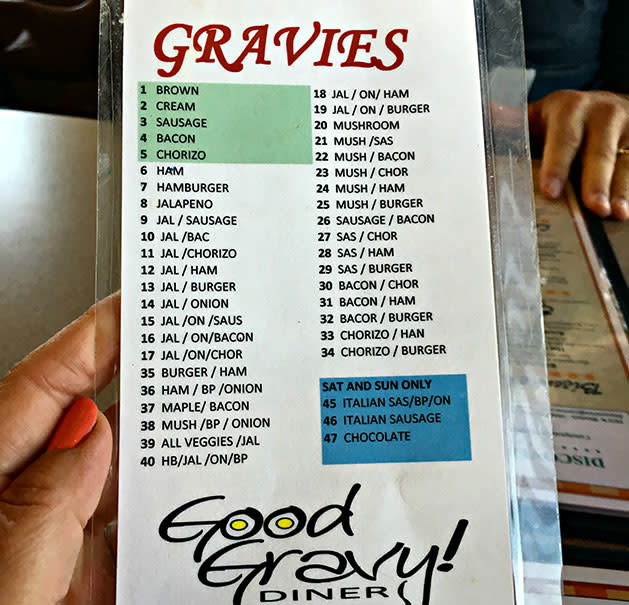 Yes, you read that correctly…there is such a thing as chocolate gravy (only served on Sunday).
There are also such things as Jalapeno Sausage Gravy, Bacon Gravy, Chorizo Gravy and there is even such a thing (GASP!) as Maple Bacon Gravy!  These are but a smidgeon of the choices of gravy at Good Gravy Diner and what you have them ladled over, well, there are scads of choices as well.
Because Good Gravy is in Oklahoma, it would be a crime if they were without a Chicken Fried Steak meal and this one is HUGE! The Chicken Fried Steak and Eggs at Good Gravy comes on three plates, and they come loaded with an enormous, hand-breaded, chicken fried steak, two eggs, crispy hash browns, a large, fluffy, homemade biscuit and your choice of two gravies. You could choose Jalapeno Gravy for the steak and Bacon Gravy for the biscuits, both of which are delicious.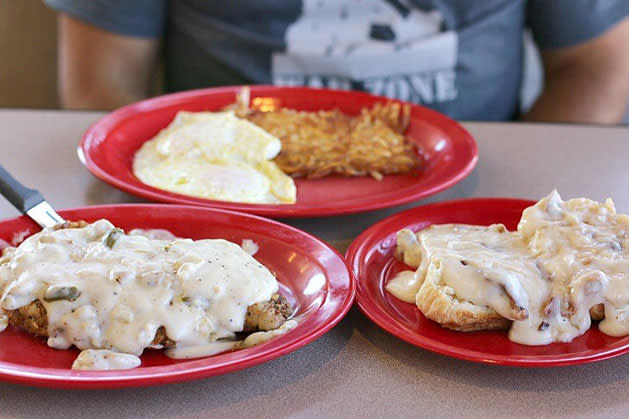 Another favorite diner pick at Good Gravy Diner is the Breakfast at Large. Large is a pretty accurate description of this generous breakfast.  This one comes with two fluffy, golden biscuits that come out hot and with two bowls of gravy served on the side, two eggs, bacon, ham, sausage and hash browns. You'll end up taking a to-go box home with this choice also.
The rest of the menu is loaded with other options for breakfast and lunch (Good Gravy is only open from 7 a.m. to 2 p.m. Wednesday through Sunday) like enormous omelets with loads of fillings, French toast and waffles.
Lunch options can start with the Platters, most of which are served with…you guessed it…gravy! The Platter options include Hamburger Steak and Roast Beef smothered in brown gravy,  Chicken Fried Steak or Chicken Fried Chicken or Chicken Strips enveloped in cream gravy or even one of their daily specials like Meatloaf.
A diner wouldn't be a diner without hamburgers and there are hamburgers of all sorts with loads of toppings, like The Oinker, a sausage burger topped with bacon and sharp cheddar cheese, or, if you like instead, you can opt for hot or cold sandwiches as well.
Leaning on the lighter side of eating? You could order one of four salads or something off the Lite Lunch menu where there is even a peanut butter and jelly sandwich for the young or young at heart.
Good grief, I mean Good GRAVY! There really is something for everyone at the Good Gravy Diner and with the most-expensive item on the menu costing $9.99, you can afford to try them all!