Is anyone thirsty?  Well you are in luck!  No matter which District in Oklahoma City you may find yourself in, there is a refreshing and tasty drink waiting. Is anyone thirsty?  Well you are in luck!  No matter which district in Oklahoma City you may find yourself in, there is a refreshing and tasty drink waiting. Here's just a taste of a few places you may want to check out:
Adventure District – Drink and play is the name of the game at Remington Park Racing Casino.  Home to Bricktown Brewery and Henry Hudson's Public House, your options for enjoying a beverage are endless at this racetrack and casino. 
Asian District – Love sushi? Then we've got the perfect place to drink and eat. Head to Grand House for happy hour sushi and beer specials weekdays from 4 to 6 p.m.
Automobile Alley - Looking for a relaxed environment and dog-friendly patio?  Peloton Wine Bar & Café offers it all plus they feature more than 20 beers and 50 wines. 
Bricktown – If you are in the mood for an indoor or outdoor setting in the Bricktown Entertainment District, Yucatan Taco Stand Tequila Bar and Grill is the place for you. Yucatan is known for award winning made from scratch margaritas and for the tequila lovers, they offer more than seventy-five premium tequilas.  They also proudly serve a full bar with a variety of specialty drinks.
Deep Deuce – With over 175 bottles of whisky and around 400 spirits, along with a selection of classic cocktails, beer and wine, if you are in the Deep Deuce District WSKY Lounge is where you want to be.  WSKY celebrates live jazz in the lounge along with a variety of fine cigars, but don't worry if you are a non-smoking patron, WSKY Lounge is equipped with a state of the art air filtration system for your comfort.
Downtown – Located in the historic Colcord Hotel, the patio at FLINT has an outdoor lounge feel with a waterfall and fireplace, perfect for enjoying crafted drinks. The view from FLINT will make you want to stay a little bit longer and keep you sipping on those drinks.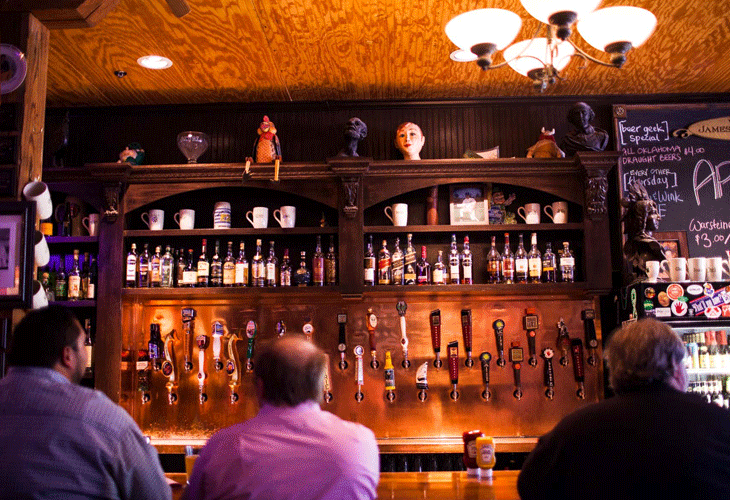 Midtown – If you enjoy a large variety beer or scotch selection then James E. Mcnellie's Public House is where you want to be.  This place offers a casual atmosphere where a collection of hard-to-find draught and bottled beers from all over the world are served.   
Paseo Arts District – Sauced on Paseo brings together the quirky charms of the Paseo Arts District with beer and live music for everyone to enjoy. From beer, wine and cider on tap or one their specialty drinks, you can't go wrong while hanging out at the patio at Sauced or playing a game of skee ball inside. 
Plaza District – If you find yourself in the mood for a craft beer then check out Oak & Ore.  From the wall of taps to the friendly staff and great atmosphere, it's perfect for a night out. And if the weather is nice, head to the patio and enjoy the vibes of the Plaza District.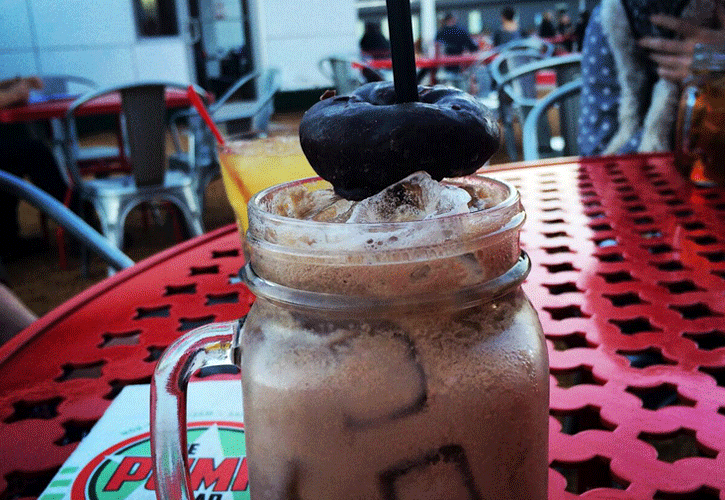 Uptown 23rd – Fairly new to town, but making waves is The Pump Bar. With drinks such as Haterade or the donut-topped Milk Money - the specialty and tiki drink choices are endless. Plus, there's a 9,000 square foot patio area for all to enjoy. 

Western Avenue – With 100 unique beers drawn from custom taps, close to 250 hand-selected bottles from around the world, RePUBlic Gastropub offers a zippy wine list and unique cocktails for everyone's taste. Grab a seat at the giant bar or enjoy a table inside or out at this contemporary American Public House inside Classen Curve.
It's time to get out, explore OKC's districts and have a nice libation while you're at it!