The Oklahoma City Pro-Am Classic bicycle races are coming to three downtown districts the weekend of June 2-4. The sixth annual professional event will feature riders from approximately 40 states, as well as a few international riders, including Peta Mullens from Australia.
Mullens is the current Australian road race champion, and this is her second visit to Oklahoma City for a race.
"Peta Mullens was here last year, and she's helped spread the word about Oklahoma City's races," DNA Racing team manager Chad Hodges said. DNA is an Oklahoma City-based racing team. "Thanks to Peta's good words, we have an entire Australian women's team competing this year."
Hodges said the event has several notable racers and teams, including: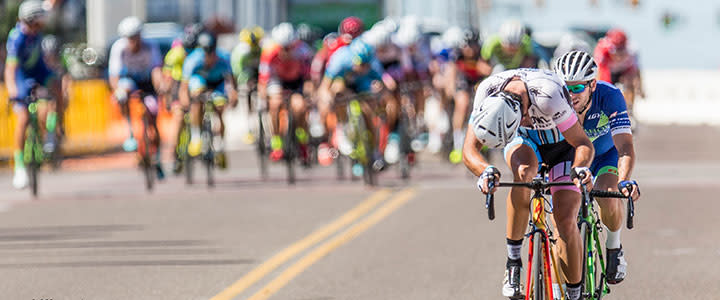 Oklahoma City's own Arapahoe Resources, represented by a full squad, including Julio Padilla, winner of two Pro-Am stages in 2016.
Daniel Holloway, Texas Roadhouse Cycling Team, 2016 Criterium and Road Race National Champion.
The Crit Life professional cycling team, traveling the nation taking on the toughest and best criteriums in the United States.
Peta Mullens, Hagens Berman Supermint, former Australian National Road Race Champion and winner of the 2016 OKC Pro-Am Classic Automobile Alley course.
Skylar Schneider, ISCorp Cycling, presented by Progress Software, former winner of the OKC Pro-Am Classic, taking the Friday night win in Midtown in 2016.
The OKCPAC is really two different kinds of racing: closed course and tour racing. Friday night, June 2, professional racers will compete in a National Calendar race in Midtown. Hodges said the course has been shortened to 8/10 of a mile this year, which means better viewing for spectators and more challenges for the racers, including a tiring hill on NW 6th Street.
The Friday night race will be held in conjunction with the return of H&8th, the music and food festival that helped establish Midtown as a premiere OKC destination. The event, now held annually, features approximately 30 food trucks, beer from Anthem Brewing Company, and live music that includes headliner Skating Polly. H&8th runs from 5-11 pm, and unlike in previous years, NW 7th Street will not be involved.
"The music stage will be in the grass lot across the street from Barrios," board member Laura Massenat said. "We have to shift the boundaries of the event to accommodate the race course, so we're staging on Hudson from NW 8th to NW 10th, and on NW 9th between Hudson and Walker."
Because the race and festival are being held concurrently, organizers expect 30,000 or more spectators in Midtown that night. The first race begins at 5:30 pm. The course layout, though, makes it possible to get great views of the race in several different spots in Midtown. Prime viewing will be on NW 5th and NW 8th between Lee and Hudson, and on Lee and Hudson between NW 5th and NW 8th.
Races on Saturday and Sunday are in Film Row and Automobile Alley, respectively. The Fondo (tour race) is divided into three distances to better accommodate riders of all ability. Participants can choose from 40, 60 and 100-mile options.
"There is so much to be excited about this year," Hodges said. "We expect more professional rider than last year, and we certainly expect the caliber of competition to be even more impressive."