It's safe to say, fans are still Thunder-struck on the Oklahoma City Thunder. With game-time just around the corner, we've got your go-to guide to everything OKC Thunder and your experience in OKC.  For the official schedule, team updates and information, visit okcthunder.com, download the Thunder Mobile App and follow the teams social media accounts on Facebook, Twitter, Instagram and Snapchat at @okcthunder. Be sure to share your photos using #WeAreThunder and #ThunderUp!
Game Day Ready!
If you're heading to the game, you'll want to give yourself a couple of hours to get downtown, park, grab and bite to eat and find your seats before tipoff. Doors open 90 minutes prior to the game's start time, and fans are encouraged to be in their seats 20 minutes prior to tipoff to Thunder Up and welcome the team onto the court. Here's a guide to dining in Bricktown if you're looking for good food and an easy walk back to the game. Before select games in the fall and spring, join the family-friendly fun on Reno Avenue for ThunderAlley. The festivities begin three hours prior to tipoff and include games, face painting and entertainment. Check their website at okcthunder.com for specific dates.
Gear Up!
Clothes make the fan, and there are plenty of places around town to get proper Thunder gear. For official NBA-licensed merchandise, check out the Thunder merchandise shop in Chesapeake Energy Arena at 100 West Reno Avenue and online at okcthunder.com/shop. For locally designed clothes to get you in the spirit, check out Shop Good in Automobile Alley, DNA Galleries in the Plaza District or Blue Seven on the north side of town.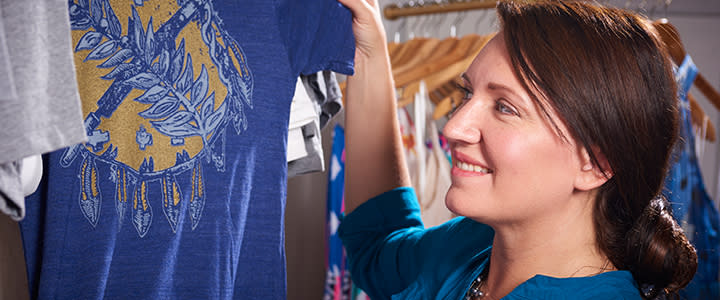 Fun at the Arena
Beyond basketball, Chesapeake Energy Arena is buzzing with activities on game day. Love's Loud City has face painting (section 302), a photo booth (section 312), spirit
stations for sign making and face tattoos (section 322) and more. There's even a fan mail station (section 318) where fans can write letters to their favorite Thunder players, coaches or entertainers. And little ones won't want to miss the OU Children's Physicians Thunder Kids Zone (section 113) with shooting courts and other games perfect for younger fans.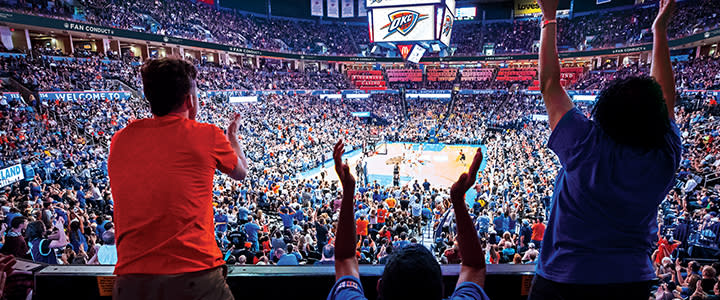 Last Minute Tickets
You can now search all available tickets for Thunder home games at once, including tickets on sale from the team and tickets sold by other fans. Visit okcthunder.com/tickets to select from all available authentic tickets in one place.
Watch Pary Sites
If you're not one of the lucky fans with tickets, you can still have fun watching the game with local fans. Grab a beer and watch the game at RePublic Gastropub in Classen Curve, Bleu Garten Food Truck Park in Midtown, Empire Slice in the Plaza District or The Garage, just to name a few.
After the Game
Looking for somewhere to celebrate the Thunder victory? Head over to FLINT, the restaurant at the Colcord Hotel, for a drink at their bar or large outdoor patio. Or, grab a beer at Bricktown's Tapwerks. Or, splurge and head over to Mahogany Prime Steakhouse where Thunder players have been seen after the game.