Fall is finally here and with the opening of Scissortail Park, Mix-Tape Phase II, the Plaza District Festival and the Musical Swings in Bicentennial Park all within a few days of each other, there's no doubt it will be an eventful season. Here's a guide to all the new happenings in OKC this week.

The Musical Swings
The Musical Swings is a free, interactive public art installation that launched on September 20. The temporary installation features 10 swings that trigger various notes from the piano, harp, guitar and vibraphone, encouraging you to move in sync with your neighbor to create real-time melodies. Outdoor fitness classes, live music and community lunches will also take place in Bicentennial Park while the Musical Swings are in town. A full list of events can be found here. Stop by Bicentennial Park from 9 am-9 pm daily to check out the Musical Swings before the last day on October 13.

Mix-Tape
Mix-Tape, Factory Obscura's first permanent immersive art exhibit, opened its doors to the public on September 22. The 6,000 square-feet of interactive art space is located in Automobile Alley and highlights the nostalgic tradition of creating homemade musical compilations on cassette tape while introducing unique textures, visuals and modern technology. The exhibit is filled with hand-crafted materials so all the art, including the giant boom box that's visible from the street, is touchable and interactive. Mix-Tape was designed for all ages to play and discover, so come with an open mind and bring the whole family out for an unforgettable experience. Tickets can be purchased here for a single-entry, an individual annual pass or a family annual pass.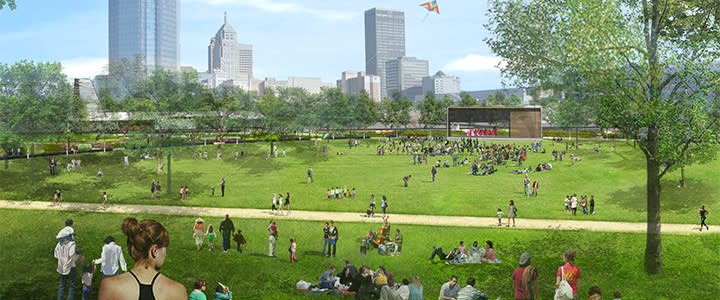 Scissortail Park
Scissortail Park's grand opening celebration will take place on September 27-29 with exhilarating performances and family-friendly activities happening all weekend. The park will open at 5 pm on September 27 and kick off with a free concert at 6:30 pm by BRONCHO, Republican Hair and Kings of Leon⁠—a multi-Grammy Award-winning rock band formed in 1999 by four band members with an Oklahoma City background. Bring your appetite and choose from one of the many food trucks at the park. What grand opening celebration is complete without fireworks? Don't miss the show on Scissortail Lake after the concert.
September 28 is Family Day and the festivities start early with outdoor fitness classes at 8 am and activities all day long—paddle boat rentals on Scissortail Lake, a game zone, food trucks, face painting and crafts in the KidZone, live music, and entertainment for all ages. The eventful day is capped with the Premier Starry Night Concert at 6 pm by Jonathan Tyler & the Northern Lights, the Billy Jones Band, and Markus James and the Wassonrai, followed by a firework show on Scissortail Lake.
The grand opening weekend celebration finishes strong on Sunday with another fun-filled day. Starting at 11 am, food trucks will be serving up savory and sweet dishes, paddle boat rentals will be available at the Scissortail Lake Boathouse and local artists will come together for a community art installation project. Afternoon and evening festivities include a Neighborhood Showcase by a variety of local performers, The Pride of Oklahoma Marching Band, a special OKC Philharmonic Concert at 6 pm and a final firework show to conclude the weekend celebration.
The Oklahoma City Streetcar is offering free rides all weekend, just park in one of EMBARK's designated lots and show your receipt for a free ride to the Scissortail Park stop on the northeast corner of the park. Use this map to help determine your best route.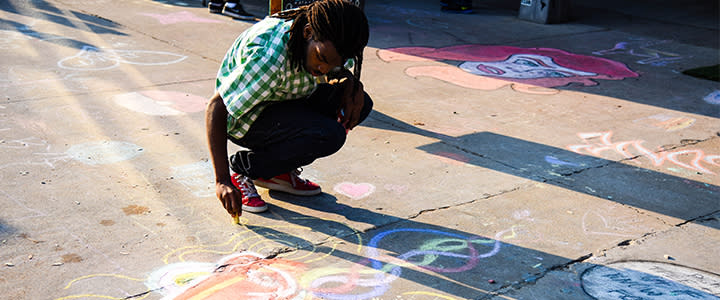 Plaza District Festival
The Plaza District Festival is an annual event that attracts locals and visitors to the Plaza District for a day of celebrating Oklahoma's own performing artists, visual artists and musicians. On September 28 from 11 am-10 pm, you can eat at some of Oklahoma City's top food trucks, catch a performance at any of the four stages, watch artists paint murals in real-time or purchase a one-of-a-kind piece of art from the local artist booths.
Check out this page for a full list of events happening the first week of fall. No matter what you choose to do in OKC this week, you're bound to have a good time.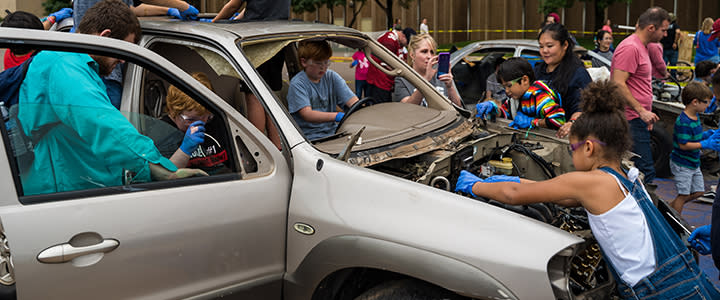 Tinkerfest
This event is all about the kids and Science Museum Oklahoma is offering free admission for the occasion. From 9 am to 4 pm on Saturday, Science Museum Oklahoma is hosting Tinkerfest—a daylong celebration of curiosity and creativity.  Guests of all ages will have the opportunity to get hands-on with a variety of activities from using raw materials and tools to create unique machines to launching rockets and art exploration. Plus, numerous crafting and building activities will bring together makers, artists, crafters, engineers and educators to showcase how their diverse skills converge.