On December 9th, Thousands of Little Monsters will flock to downtown OKC to see their Mother Monster live concert at the Chesapeake Energy Arena. Looking for a Saturday night to remember? Lady Gaga tickets are still available. Take a look at these prime pre and post concert restaurants and bars suited for a night just as fabulous as Lady Gaga herself!
Short on time with a big appetite? Head to The Wedge in Deep Deuce. Great for a group, they offer wood fired pizzas, fresh appetizers and affordable wine and beer selections. The Truffle Shuffle is a favorite, it pairs perfectly with a local IPA like COOP's F5.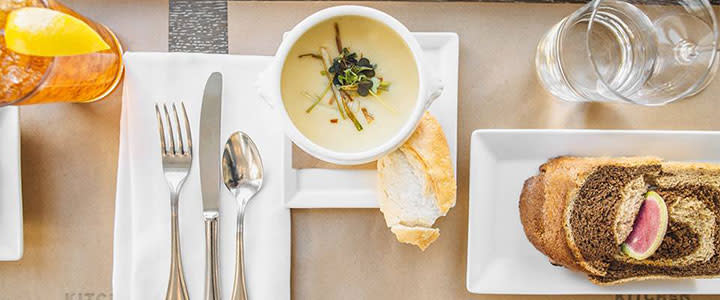 Slow down and settle in for a lovely affair at the recently revamped Kitchen 324 in the center of downtown. The atmosphere is cozy and the service, just as warm. Ask about the special, always a great choice!
Need a pre concert pick me up? All About Cha in Bricktown offers a fine coffees and teas that will have you just dancing the night away. Beverages are served in two sizes, Love or Passion. If you're up for being up all night, go for the Passion (larger size) and order a Green Latte or classic Cafe Latte with an extra shot.
Do you wish to elevate your evening? Head up to the Devon tower's crowning jewel and end your night with excellent views. Vast sits on the 49th floor offering a selection of cocktails, wine, beer, and some of the finest food OKC has to offer. Christmas lights look spectacular from here, especially Automobile Alley!
Those in search of a classy close to the evening should head to Stag Lounge in Deep Deuce. A high-style haunt, Stag offers more than 350 whiskeys and almost 500 spirits, cigars, and live music.
Brunch is the best way to celebrate a Sunday or recover from a late Saturday night. Head to Packard's for made from scratch offerings the way you wish your mom could cook! Order a Breakfast Board for the table to enjoy while you sip on a coffee cocktail or mimosa.