There's nothing worse than being out late and having a rumbling stomach. Oklahoma City has several culinary saviors for your late-night cravings around the metro. Here are ten late night eateries that will be happy to help you eat out after hours.
Guyutes (730 NW 23rd St.)  If you're going to name yourselves after a Phish song, you may as well keep the kitchen open until 2 a.m. Guyutes has a fun-filled menu of pizza tapes, crazy wraps, salads and main dishes along with a bevy of specialty drinks , beer, ciders, and even a small wine list. Try the Tequila Sunffryz , crispy waffle fries, piled up with tequila queso, pulled pork and a fried egg.
Beverly's Pancake House (3315 NW Expressway) Breakfast served all day long is the slogan at Beverly's and by that they mean all night as well. This 24-hour diner serves breakfast and a whole lot more like hearty salads, chili, sandwiches, and even chicken pot pie. They're famous for their Chicken in the Rough – fried chicken offered in various sized meals and, of course, they offer light fluffy pancakes by the drove.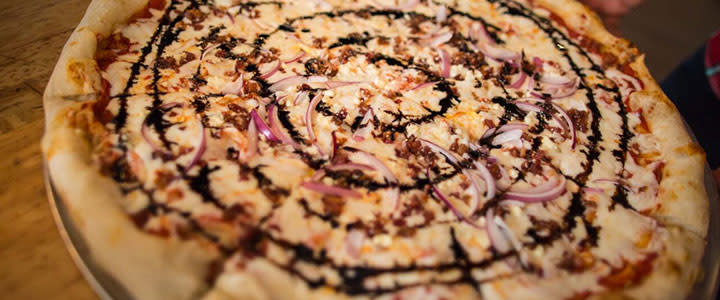 Empire Slice House (1734 NW 16th St) Enjoy pizza by the slice at Empire Slice House Monday through Saturday until 2 a.m. and Sunday until midnight, or when the weather's nice, grab a drink in the beer garden out back. A favorite among the spice lovers is the Foghorn Leghorn topped with marinara, roasted chicken, bacon, jalapeno and Sriracha drizzle.
The Pump Bar (2425 N Walker) This funky little place that was formerly a gas station, stays open nightly until 2 a.m. and serves up late-night snacks like burgers and tater tots with garlic aioli and Sriracha ketchup.  They have a popular outdoor patio (dogs welcome) where locals hang out and listen to live music.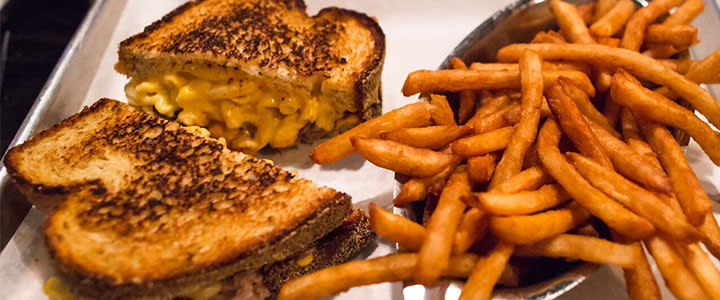 The Mule (1620 N. Blackwelder)  OKC loves The Mule, and it is evident from the packed-full dining room - even on the late nights of the weekend when they stay open until midnight (closed Sunday at 3pm. however).  The bar is always hopping, but the real prize is the gourmet grilled cheese menu offering of the  likes of The Cortez, a braised short rib version served on jalapeno cornbread.
Waffle Champion (1212 N Walker #100) Forget that 24- hour chain waffle place from your youth. Waffle Champion is open 7 p.m. to 2 a.m. Tuesday through Sunday and also has a walk-up window until 2 p.m. Friday and Saturday.  This can satisfy your craving for breakfast during late night hours as you can choose from a variety of sweet or savory waffles along with soups, salads and milkshakes.
The Garage Burgers and Beer (various locations) Ask local OKC folk for their favorite burger place and chances are many of them will say -  The Garage.  Open Sunday through Wednesday until midnight and Saturday until 1 am, you can count on them to serve up amazing bison, turkey, angus beef burgers, fork and knife hotdogs, tacos, and fresh cut fries all with some kind of crazy twist.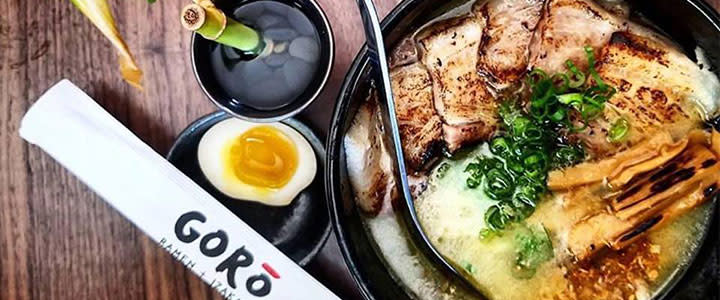 Goro Ramen (1634 N Blackwelder Ave) Who doesn't love a steaming bowl of authentic ramen noodles on a cold winter's night during late hours?  You can enjoy this and more at Goro Ramen daily until midnight and Sunday until 10 p.m.  This ramen noodle shop offers up a bevy of ramen soups, appetizers (try the Brussels Sprouts Salad), steamed buns and much more that will leave you warm, happy and fulfilled.
The Jones Assembly (901 W Sheridan)  All the cool kids are hanging out at The Jones Assembly eating incredible food, soaking in the atmosphere, and enjoying happening music. Featuring a impressively large, wide-open space with a soon-to-be retractable roof for nice weather, The Jones Assembly offers two unique patio experiences and yummy choices like wood-fired pizzas, or mains like Cacio e Pepe.
The Press (1610 N Gatewood) If winding down later in the week is your thing, The Press stays open for you from Thursday through Sunday until 2 a.m. Named because the operating space was once a former printing press and garage, this down-home, comfort-food menu will have you enjoying your late hours and leaving feeling happily gratified with items like Black Angus meatloaf and Candy Apple Porkbelly.