With the arrival of 21C Museum Hotel in June, Oklahoma City became the sixth location for the small chain of boutique hotels. Each of the locations includes an art gallery and restaurant, the latter of which is a distinct concept in each city. The Oklahoma City restaurant is Mary Eddy's, and the upscale casual concept opened a full week before the hotel to give locals a taste of what was to come.
The bar and restaurant are both open concepts, with high ceilings, beautiful light fixtures, and tons of natural light from the large windows on three sides. Blond wood and white tiles dominate the decor, and pieces of art from the hotel's collection provide interesting aesthetic touches (and conversation pieces) in a very comfortable atmosphere.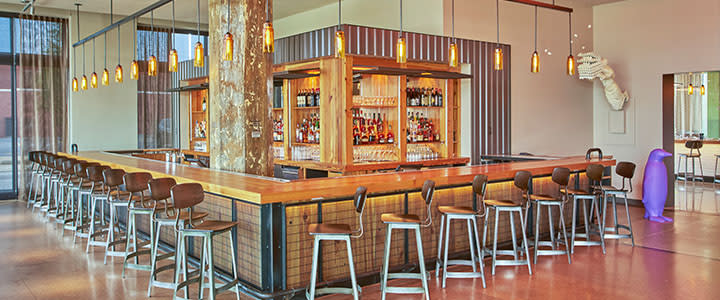 Mary Eddy's offers breakfast and dinner, as well as a bar menu that bridges the divide between the early and late meals until 5pm. The bar menu features "snack" options that are large enough portions to count as a meal, including the Tin Lizzy burger, served with aged cheddar and lemon aioli. The lamb ribs are a unique offering in the metro, and feature rhubarb, collard-carrot slaw, which adds a super tangy zip to the ribs' pungent flavor. Mary Eddy's charcuterie is made in-house, and is already one of the best in town, thanks in part to the toast points; they're soaked in porchetta drippings before being toasted.
For dinner, Mary Eddy's offers classic American cuisine, inspired by the vision of executive chef Jason Campbell. Campbell is a versatile, talented chef, but his specialty seems to be fish. The trout is the best you will find south of Colorado, and the cornbread served with the Red Drum will make Southern hearts happy. It's good enough your grandmother will want the recipe. As for Okie foods, Campbell also offers a twist on an Oklahoma favorite: roasted okra. The Campanella pasta is yet another unique dinner entree for the city, featuring a poached duck egg and crispy chicken skin. The menu includes flatbread pizzas, chops, and fresh salads, too.
The bar features a very eclectic, super current wine list, an excellent selection of local beers, and classic and craft cocktails. Reservations are highly recommended, especially during peak hours.