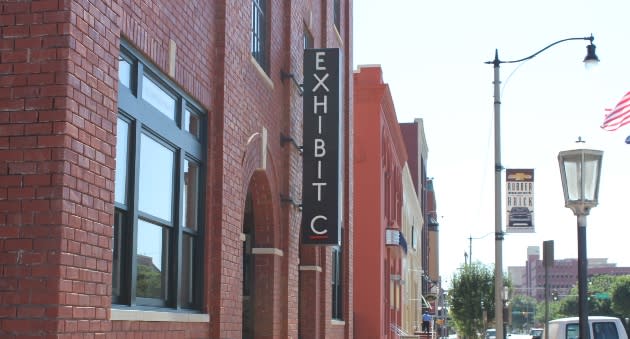 It was this time last year that the finishing touches were being put on Exhibit C gallery and gifts. The weather was warm and crews were working feverishly to ensure the doors to Exhibit C opened just after America celebrated their Independence.

On July 8, 2014, Chickasaw dignitaries and citizens along with representatives from Oklahoma City, the Oklahoma City CVB, the Mayor's office and many, many more great people joined together as we cut the ribbon at 1 E. Sheridan to open the doors to Bricktown's first Native American art gallery and gift store, Exhibit C. It's hard to believe it's been a full year since we were welcomed by Oklahoma City and Bricktown!

To celebrate, on July 11 starting at 2 p.m. Exhibit C is hosting an anniversary celebration that includes a drawing for an original piece of art work by dg Smalling, a reception for current featured artist Cale Chadwick, along with complimentary cupcakes and exclusive in store savings for future purchases. Exhibit C is located in the former Candy Factory building next to the American Banjo Museum and across the street from the Melting Pot.
First Year in Review
Within the first year, Exhibit C accomplished a great deal from hosting public and private events to showcasing world-renowned artists. We cannot wait to see what year two has in store, however, first let's take a quick look back at the featured artists since opening.

In this past year, we were honored to feature many outstanding artists. In addition to the artist collections the gallery has every day, every four months a featured artist is showcased. And, our first featured artist to open Exhibit C was none other than the world-renowned Chickasaw artist, Mike Larsen;  to close out 2014, and welcome 2015, Exhibit C featured the paintings from Chickasaw native Billy Hensley; and in March 2015, we featured our first Choctaw artist, dg Smalling.
Most recently on July 1st, Chickasaw native Cale Chadwick became our fourth featured artist. If you've been to Exhibit C before, stop in again to see works of art from Chadwick. You'll be in awe. Chadwick spends her free time creating unique pieces of art using her drawing, painting and photography skills. Chadwick's artwork will remain on display through October.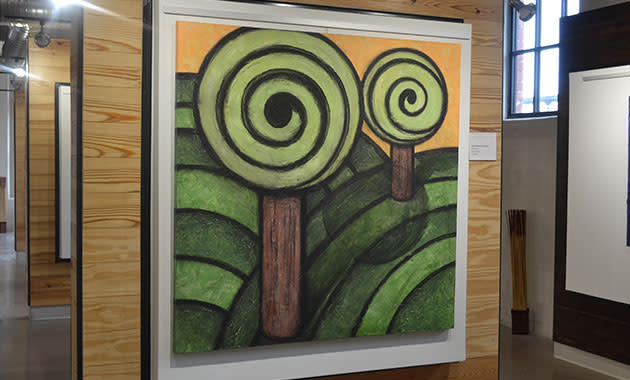 More than art
Exhibit C is also home to a tourism information center and retail store. We're located in the heart of Oklahoma City. With Bricktown seeing more than one million visitors annually, we knew adding a tourism information center to the native culture that we were already offering; Exhibit C would provide an overall native experience that you can't get anywhere else in Bricktown to visitors and locals.

After taking in the artisan works, visit the tourism information racks located inside Exhibit C. You'll find tourism information pieces that can help you in planning any trip to the 13 counties in south-central Oklahoma that represent Chickasaw Country. Our staff at Exhibit C is also well equipped to answer any tourism-related questions.
Retail is a large part of Exhibit C. Not only does the gallery include artisan works for sale including, jewelry, pottery, paintings and clothing; Exhibit C also carries Chickasaw Country branded items, the full line of Bedré Fine Chocolate and books from the Chickasaw Press. Our goal for Exhibit C was to create a place where artists could showcase and sell their work just as much as a creating a place that the public could come to learn about Native art and culture in addition to buying authentic Native American and Oklahoma gifts and mementos.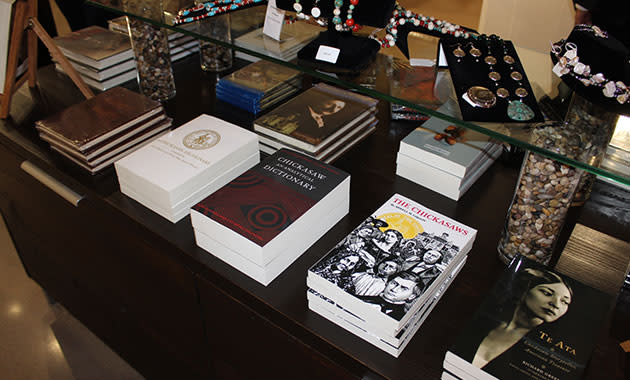 Exhibit C continues to hold monthly cultural events that are open to the public, for more information about events visit Exhibit C on Facebook or http://www.exhibitcgallery.com/. Exhibit C is open daily from 11 a.m. until 8 p.m. at 1 E. Sheridan, Bricktown.