Nothing feels better in the cooler days of fall and winter than holding a steaming cup of java or hot tea.
No matter where you choose to caffeinate, there are many delicious and diverse styles of coffee beverages to enjoy throughout the city—this list highlights just a few of our favorite local spots.
Located in the revitalized Britton district of Oklahoma City, Brew Brother offers a wide variety of coffee options on the menu, including a sweet potato pie latte and a 'Brew Box' with all the coffee treats and accessories that you need in your life.
At the center of the coffee boom is Elemental Coffee in Midtown, one of the pioneers of the local coffee scene. The tagline is "coffee in its purest form," and the Elemental team is committed to showcasing the quality and flavor of their responsibly sourced beans. Three different roasts are available every day, as well as full coffee service: espresso, Americano, cold brew and high-quality teas.
Not Your Average Joe is on a mission to inspire the local community by including adults with special needs in the creation of exceptional coffee in an encouraging atmosphere. Stop by NYAJ in Midtown at the walk-up window, take coffee to go or grab a seat inside where seating is available at half capacity for the time being. ere.
Find good company and a great cup of joe at Eôté Coffee Shop + Roastery, the coziest basement coffee shop in Oklahoma City. EÔTÉ, which stands for "Ends of the Earth," is a promise to customers that roasters are determined to source and produce top-notch coffee beans.
Located in historic Automobile Alley, Coffee Slingers has always practiced responsible sourcing and fair trade. The focus at Slingers is flavor, acidity and aroma, so they don't produce dark roasts, as that kills off all those nuances that give quality coffee layers and complexity.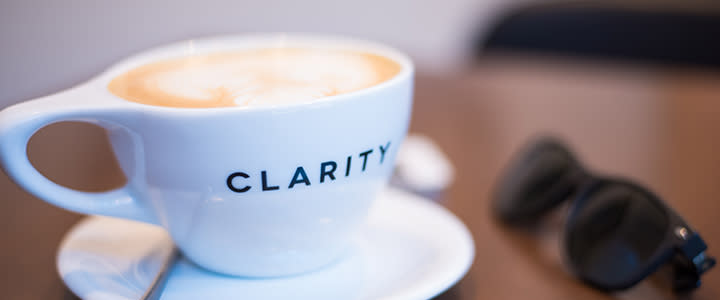 The coffee mad scientists at Clarity Coffee tend to push their beverages to the edges of the culinary experience, with monthly specials that are modern takes on classic coffee drinks. One month might be an agave-lime latte with a base of Ethiopian and Colombian roasts, while another is a local pumpkin spice latte with locally sourced, fresh pumpkin.
Freshly brewed coffee and handcrafted lattes await you at Culture Coffee, the newest coffeehouse in Oklahoma City's up-and-coming Innovation District. Make sure to try the cereal milk latte!
The Last Drop is a coffee shop that makes you feel like home and a place to chat with neighbors, friends and visitors. Enjoy delicious coffee and espresso drinks in this unique coffeehouse atmosphere that is close to downtown OKC and the Oklahoma State Capitol Complex.
Classen Coffee Company may have the coolest building in the coffee business. The old school, low slung stucco building just off Classen Blvd. is filled with nooks, crannies, chairs and tables that create the ideal study zone. The building set vacant for fifty years, but now is a hub for good coffee, delicious pastries and community building, including an on-site food pantry to help the neighborhood. It's coffee with a conscience.
Red Cup is an offbeat coffee shop that plays by its own rules. In addition to its fresh coffee and primarily vegetarian menu, Red Cup has become a gathering place with a welcoming atmosphere where neighborly staff and locals can always be found.