Since 2006, Oklahoma City has been a national destination for paddlesports, including stand-up paddleboards (SUP) and kayaks.
The Boathouse District is home to an official training site for U.S. Olympic athletes in several boating/rowing events and the location of top-notch training facilities has led to the growth of recreational paddlesports as well. Within the city, there are three major locations for paddlesports: the Boathouse District, Lake Hefner, and Lake Overholser, including the Stinchcomb Wildlife Refuge.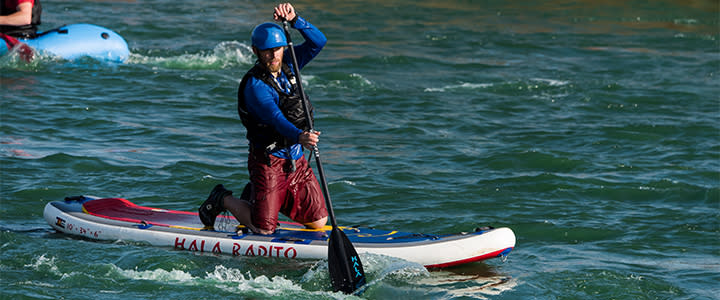 Riversport Adventure Parks in the Boathouse District is one of the easiest ways to get on the water, for beginners and experienced athletes. Both SUP and kayak rentals are covered in the day pass at Riversport. Staff members go over safety issues and then assist paddlers in getting on or in the equipment directly from the dock. Using Riversport solves one of the main logistical issues—where best to access the water. For SUP, staff members provide direct support until customers gain balance, and offer important pro tips like foot position—shoulder-width apart, not skateboard style, which is the natural mistake beginners like to make, a mistake that lands them in the water.
With SUP specifically, a beginner should expect a couple minutes of getting acclimated to the sport. The board is wide enough to provide good balance once your core is engaged. The rhythm of paddling and maintaining balance is pretty basic, even for the athletically challenged. Expect a good, moderate workout, as many of the muscles used in SUP aren't ones we exercise regularly.
Riversport staff also discusses wind issues along the Oklahoma River. A windy day—common in Oklahoma—means choppy waters, and that can be challenging for beginners. (Olympians practice here because they're not looking for ideal conditions.) Beginners are encouraged not to go too far downriver, as the wind can make the return trip difficult, but the entirety of the river is available for exploring.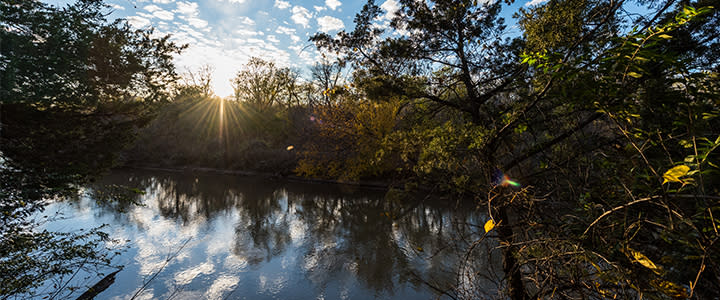 Lake Overholser offers a much more predictable environment for kayaking and paddle boarding and the views are beautiful. You can also use Riversport's boathouse at Overholser for rentals and Stinchcomb Wildlife Refuge offers calm waters, an abundance of native wildlife and places to rest along the way. The old bridge and Overholser dam are beautiful backdrops as well.
Another pro tip regarding the lake, though, is that the river is much more dense with people, so it tends to be safer for beginners or solo paddlers. Isolated spots around Overholser are frequent and while that provides a peaceful getaway, help is not readily accessible either. Beginning paddlers do testify that getting back on the board in the water is much easier than they expected.
Lake Hefner is one of the city's most popular destinations for recreation, food and entertainment. The 17-mile shoreline provides several places to get in and out of the water and Riversport and OKC Kayak (a family-owned local business) rent kayaks at the Hefner boathouse. Kayaking is the main paddlesport at Lake Hefner. The lake tends toward choppy even on good days, so it's more of a destination for sailboats and windsurfers, but there are plenty of coves and inlets to explore in a kayak.