Heading to OKC for Spring Break?  Great news—there's plenty to keep you and your family busy from sunrise to sundown.  
Here's your list of must-do's while in the city:

Science Museum of Oklahoma
Spring break is a time to try new things and to get messy! Spend the week with us as we explore the power of science! Make things that fly, play with water, recycle, upcycle, break things and learn the science of grossing people out. Each day will be its own adventure!

Monday, March 14
TAKE FLIGHT! From slingshots to gliders and parachutes to hovercrafts, we will focus on flinging things and engineering designs to keep things airborne.

Tuesday, March 15
OOEY, GOOEY, and GROSS! Time to investigate the icky, concoct with chemistry and digest the dirty. Spend the day exploring slime, bugs, and things others might think are gross, but we know are science!

Wednesday, March 16
H2O MY! It's about to get wet here! Explore water in all of its forms! Make rivers and design boats, investigate steam power, and explore with ice. Be ready to soak in the science.

Thursday, March 17
GOING GREEN! Get ready to get green, but it has nothing to do with the luck of the Irish. You are the environmental engineer that can change the world! Take a long look at the world we share as we perform experiments in wind energy, recycling, pollination, and explore the science of environmental cleanup.

Friday, March 18
SPRING BREAK IT! Sometimes the best way to figure out how things work is to break them to see what's inside! Investigate inner workings with an electronics take-apart, drop stuff off the roof, destroy things with liquid nitrogen, and do a bit of tinkering to see what it takes to invent something new.

Activities and projects differ each day. Camps available for 1st through 6th graders (6yrs-12yrs).
Pricing and Hours: Members: $225 for the week, Non-members: $250 for the week. Camps are 9:00am - 4:00pm, Monday, March 14 through Friday, March 18, 9am to 4pm.
For more information call (405)602-3760 or email reservations@sciencemuseumok.org.

Myriad Gardens
Join the Myriad Gardens during spring break for walk-up activities offered on Tuesdays and Thursdays March 8, 10, 15 and 17 from 10am to noon. Participants can arrive at any time during these hours to participate in rotating activities such as creating a garden craft, planting seeds, or going on a scavenger hunt. All events are free and are located in the Children's Garden Porch. While there, be sure to check out the beautiful display of Orchids inside the Crystal Bridge Tropical Conservatory during their Deceptive Orchids exhibit through March 19.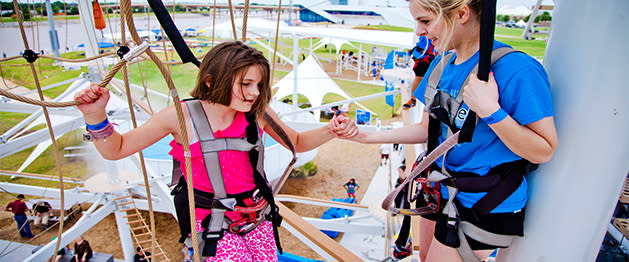 Oklahoma City Boathouse District
Get outside at the Boathouse District and enjoy the sun on your skin! Besides taking on the heights on the SandRidge Sky Trail or zipping across the Oklahoma River, the SandRidge Youth Pavilllion will be open with four new slides---America's Tallest Slides—March 12-20 11am-7pm.  The new slides bring the Adventure Park's total number to two high-speed spiral slides and a set of two side-by-side slides that are great for racing.
The new SandRidge Youth Pavilion offers virtual reality sports experiences including golf, skiing, football and baseball. Also, RIVERSPORT Adventure Camps take place the week of spring break! RIVERSPORT camps introduce kids to rowing, kayaking, sailing and whitewater rafting. Following the introductory camps, kids have the option to pursue more advanced camps and RIVERSPORT competitive programs and teams. Morning, afternoon and full-day camps are available for youth ages 8 to 16. For more information, visit boathousedistrict.org or call 552-4040.
O'City St. Patrick's Fest & Parade
O'klahoma City is lookin' mighty paddy!  On Saturday, March 12th 2016, come to the "pot o' gold" in Bricktown at the O'City St. Patrick's Day Parade.  The parade starts at 11 am in Downtown OKC and ends in Bricktown with plenty O' live music, great beer, delicious food and fun for everyone.  So don your emerald attire, and head to OKC's premiere entertainment district with the whole family...or just the grownups looking to paint the town green.
Winter Jam 2016
As we celebrate Spring, we welcome the return of Winter Jam to OKC March 12 at the Chesapeake Energy Arena.  Co-headlining this year's 48-city Winter Jam Tour Spectacular are two fan favorites: GRAMMY® Award-winning duo for KING & COUNTRY and GRAMMY®-nominated singer/songwriter Matthew West. The tour will also feature Crowder*, RED, Sidewalk Prophets, NewSong, Tedashii, KB, Lauren Daigle and evangelist Tony Nolan, while the Pre-Jam Party is slated to showcase Stars Go Dim and We Are Messengers.
National Cowboy & Western Heritage Museum
Drop by any time, March 14- March 18 from 10am-2pm, and create a different make-and-take activity each day while supplies last. Free to members or with Museum admission.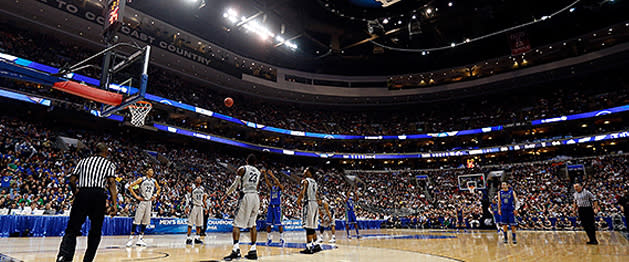 2016 NCAA Men's Division I Men's Basketball Championship
Join your family and friends at the 2016 NCAA Division I Men's Basketball Championship First/Second Rounds, March 18 & 20, 2016, at Chesapeake Energy Arena, hosted by the Big 12 Conference.
Sesame Street Live: Make a New Friend
No matter where you're from or where you've been, everyone is special - so join in! Elmo, Grover, Abby Cadabby, and their Sesame Street friends welcome Chamki, Grover's friend from India, to Sesame Street. Together, they explore the universal fun of friendship and celebrate cultural similarities, from singing and dancing, to sharing cookies! Join the fun and make a memory with your friends and family! Sesame Street Live's Make a New Friend comes to Oklahoma City March 18-20 at Cox Convention Center!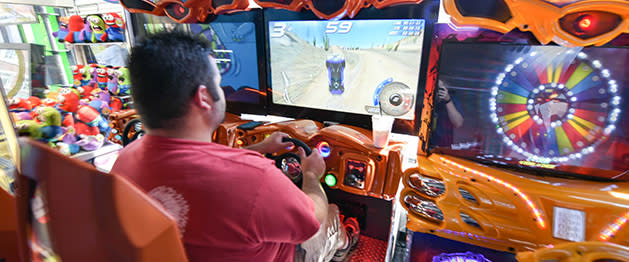 OKC Favorites
Don't miss out on the favorite family-fun attractions in Oklahoma City while in town. Your itinerary should include the Oklahoma City Zoo, Museum of Osteology, the Oklahoma National Memorial & Museum, TopGolf, IFly OKC, Main Event, Dave & Buster's, Pole Position, RedPin Bowling Lounge and Brickopolis.  They're all awaiting your kick-off to Spring!

There's much more happening in OKC in March. For a full list of events, check out our calendar here.