From the beginning, Oklahoma has been a state of newcomers. People came from all over to find a home and a future here. The composition has always been somewhat diverse, and that's true of the food scene as well. With the rise of food TV and chef-driven entertainment, food adventuring is growing in popularity, and Oklahoma City has some delicious ethnic restaurants that are well off the normal tourist routes. If you are an adventurous eater, give these local "Okie" restaurants a shot.
Distinguishing between tacos and "gringo" tacos is important. There are restaurants in abundance that will cater to more of the "gringo" style, but La Michoacana Meat Market is about as authentic Mexican as it gets. Pay for as many $2 tacos as you want at the register—they'll just ask "corn or flour?"—and then take your receipt to the ladies behind the lunch counter. Choose from barbacoa, carnitas, fresh-made chicharrones, salsa verde beef, and a dozen other varieties. It's not Tex-Mex, so don't waste time looking for free chips and salsa.
Sheesh Mahal specializes in food that comes from the border of India and Pakistan. It's also 100 percent halal. They will start you with free mint tea, and then the food will arrive. The butter chicken is a local favorite, and if you really are adventurous, you can get goat karahi or mutton korma. Some days it's goat, and some days it's sheep, so you might ask first. There are so many new dishes at Sheesh Mahal that half the fun is exploring the region via food.
One of the best tactile dining experiences is Ethiopian food, as most of it is done with your hands. Queen of Sheba serves dinner only, and the menu includes a delicious selection of meat and vegetarian dishes, especially wat, an Ethiopian stew that can be mild or spicy according to your preference. They will serve it on injera, sourdough flatbread that serves both as plate and utensil. In other words, they'll pile the stew on top of the bread, and you simply tear off other pieces of injera to pick up the food. It's not just fun; it's delicious.
Authentic Colombian food in the heart of Oklahoma City is one of our city's best-kept culinary secrets. El Fogon de Edgar is located in an old house, but don't let the exterior fool you; the food is stellar. Start with empanadas—Colombian style means they're made with cornmeal instead of flour—and ask for plenty of aji, a spicy, green salsa made from aji peppers. The beef dishes are slow-cooked, so whether you opt for sobrebarriga or carne asada, you're going to get meat you can cut easily with a fork. There are plenty of vegetarian options on the menu, as well as more classic fare like arroz con pollo.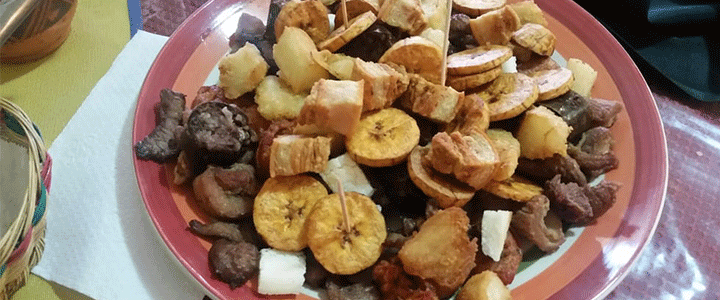 Nunu's Mediterranean Café is the only place in Oklahoma City to get hashwa, a traditional Lebanese dish made with seasoned beef, rice, slivered almonds, and apparently, magic. You can get hashwa with more familiar dishes like hummus, grape leaves, and tabouli, and you can even order kabobs, but if you do, just get them as part of the sampler platter that includes hashwa.