Bleu Garten is Oklahoma's original food truck park, located at the corner of 10th and Harvey in historic Midtown OKC. Its name come from the French word "bleu," a term to describe excellence in the kitchen, and the German word "garten," as in bier garten. Combine them and Bleu Garten offers an outdoor food truck-infused dining experience surrounded by flowing beer and a massive number of TVs and community engagement.
Bleu Garten prides itself on providing a family-friendly, pet-friendly environment for food truck fans to gather and celebrates friends, family and fun! At any given time, patrons can find up to four food trucks and mobile boutiques at the Garten. From gourmet pretzels and donuts to OKC's best BBQ, pizzas and more, Bleu Garten's rotating food truck lineup has something to satisfy everyone's taste buds. Plus, mobile boutiques like Jaxx and Hill and Opolis Clothing offer local vendors an
opportunity to connect with the every-growing crowd at Bleu Garten. Their full truck lineup can be found on their website and on Truck It's free mobile app.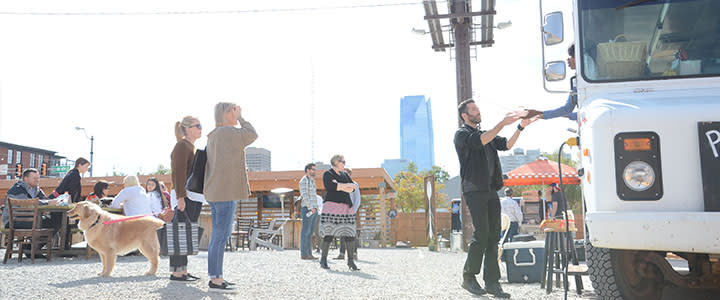 In addition to the fabulous food trucks that frequent Bleu Garten, patrons can expect to find an every-expanding list of local beer on tap, wine on tap, and a large offering of brews in cans. They serve up local beers from Anthem, COOP, and Roughtail, regional favorites like Santa Fe Brewing and Dave's Pale Ale, and even favorites like Pabst and Hamms. Additionally, the Garten offer some tasty drink specials that rotate based on the season. Their summer bar menu was just released and is sure to provide cool relief for the hot Oklahoma sun.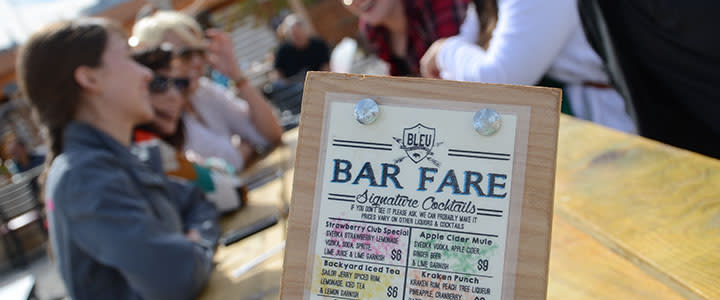 Bleu Garten also offers several events to entice localites to celebrate outdoor fun. Their reoccurring Beer Yoga series, run by Brooke Larson (aka @BeerYoga), takes place every Friday at 10am. This one-hour, beginner-friendly yoga class is followed by a pint of beer! What more could you ask for? The Garten also hosts events like a Kentucky Derby watch party and a Summer
Kickoff Party and invites attendees to dress the part and have a great time. Plus, by incorporating live music and fun games, Bleu Garten gives people an experience to remember (and share on social media).
Speaking of social media, Bleu Garten's social profiles are a great way to keep up to date with new events, weather cancellations, special promotions, and so much more. You can follow them on Facebook, Twitter and Instagram. They often offer sneak-peeks into special offers and events