Looking for some unique fun in OKC? Well, we've uncovered some extra family fun for you and the kids to experience just southeast of the metro area! Oklahoma City is proud to be the home of the first skeletal museum of its kind in America with hundreds of skeleton displays that are guaranteed to thrill you to the bone.
The Museum of Osteology is so unique that it has been featured on national television programs such as Modern Marvels, Dirty Jobs and Auction Kings. Museum owner Jay Villemarette has spent a lifetime bringing this museum into existence after his passion was sparked by a discovery of a dog skull in the woods at the age of seven. Several years later, he and his wife, Kay, continued to thrive off of this unusual hobby of collecting and cleaning various skeletons, and eventually their efforts gave birth to a business in the 1980s.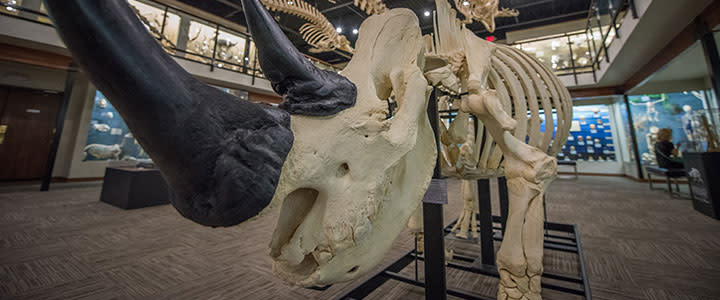 One of the coolest exhibits you will see lies at the entrance of the museum as a brightly-lit display shows off hundreds of flesh-eating beetles cleaning the skulls. Eww! But in all serious, it is a fascinating sight to see these beetles in action and an interesting insight into one of the steps this museum goes through to clean these skeletons.
Once through the doors and into the museum, you're welcomed in by an oasis of some of the most recognizable animals' skeletons; you're sucked in with curiosity. Have you ever seen, or even thought about what lies under the flesh of a gigantic humpback whale? Well you are about to see one in full form as you walk alongside them as well as birds, giraffes, rhinos and monkeys to explore these bones. Every animal you could think of probably has a skeleton somewhere in this museum. There is even a cat and dog section that contains both wild and domesticated breeds. It's really interesting to see what little Fido looks like underneath all of that fur.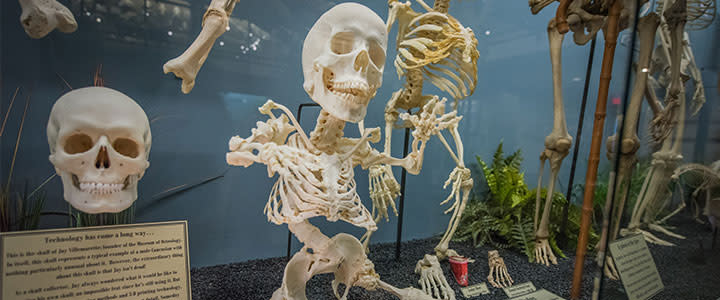 Another great point about this museum is that it's an excellent educational experience. The exhibits are highlighted with facts and information about the skeletons and there are interactive displays that encourage children to get to know these skeletons better. Scavenger hunts, group tours, birthday parties and other hands-on learning experiences are offered through the museum services.  And, don't forget to leave enough time to explore one of the coolest museum gift shops to ever experience!
Make sure to round up the entire family and head to the Museum of Osteology during your next adventure in OKC. Nothing beats an educational experience that can be fun, too!
The Museum of Osteology is open Monday through Friday from 9am-5pm, Saturday from 11am-5pm, and Sunday from 1pm-5pm.