Oklahoma City is nationally known for being huge in terms of area, and that means we have tons of places to play outside. From active outdoor fun to casual al fresco dining, we have more than a few options to get you out and moving, or sitting and enjoying a beautiful view.
Active Outdoors
The Boathouse District is home to OKC RIVERSPORT, and it's within walking distance of Bricktown hotels. In addition to the beautiful setting, including stunning architecture and a walking-running-bike path along the river, you can enjoy kayaking, zip lining, rowing and paddle boarding. There are activities for every age, and nearly any equipment you would need is available for rent—by the hour or day pass. The Boathouse District trails and river lead directly to the Lake Overholser Boathouse, with even more outdoor activities, like a climbing wall, and easy access to Stinchcomb Wildlife Refuge.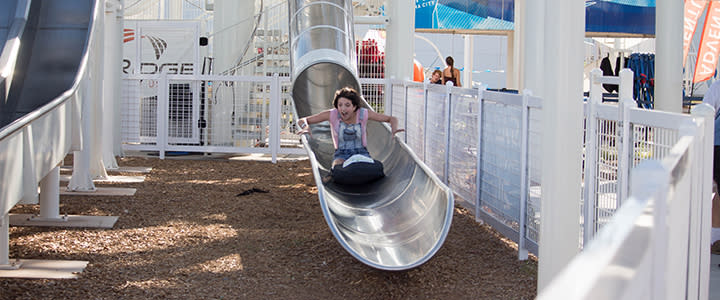 If skateboarding or BMX is more your thing, the metro features three skate parks, including Mat Hoffman Action Sports Park, with an 11-foot half pipe and a 10-foot oververt pocket, among other obstacles and challenges.
Lake Hefner has long been a destination for the metro's fitness crowd, with trails for biking, running, in-line skating, or a casual walk to take in a sunset. The lake features sailing and kitesurfing, as well one of the state's largest public golf courses.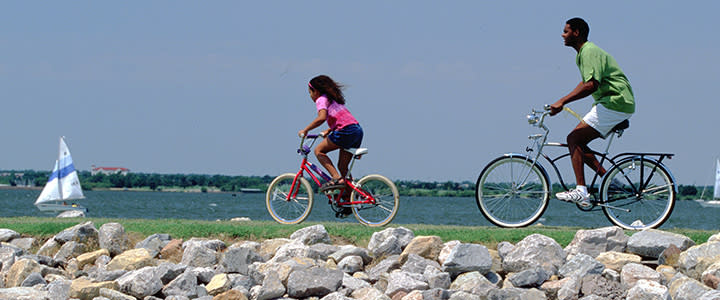 For the serious biker or runner, Oklahoma City has a network of ten interconnected trails that lead to nearly every part of the city, a total of 80 miles of non-motorized trails. An interactive map is available at okc.gov to help you plan your outing.
Nature
Looking to get back to nature? You can actually pull that off while in Oklahoma City. Stinchcomb Wildlife Refuge on the far west side of the metro is 1,000 acres of hiking, fishing, birdwatching, and communing with nature. If you're patient and quiet, you can usually spot whitetail deer, beaver, egrets, cormorants, and hundreds of species of migratory birds and waterfowl. Don't be surprised if a bobcat or coyote shows up, too. Like your dad said, "They're more afraid of you than you are of them," so don't worry.
On a smaller scale, Martin Nature Park at 5000 W. Memorial—the northern edge of Oklahoma City proper—features 144 acres of grassland, trees, birdwatching, and smaller indigenous wildlife. Relax on the 2.5 miles of hiking trails, and be surprised by how quiet the city can be in the middle of the city.

Dining Al Fresco
Just want to sit outside and soak up sun or take in a sunset? Several area restaurants feature outstanding patio dining and drinking. Red Rock Canyon Grill is a local favorite, in large part due to a spacious patio on the edge of Lake Hefner. Enjoy some local Southwestern flavors while taking in one of the best views of the sunset in the metro.
The buzz of the city more your thing? Try the expansive patio at Flint in the Colcord Hotel. The view is stunning, as you're seated at the base of the Devon Tower. Cuisine is comfort food with a southwestern twist, and you're right across the street from Myriad Gardens if you fancy an after-dinner stroll.
In Midtown, you can choose between Packard's New American Kitchen and Café do Brazil for rooftop patio dining. Both have stellar views of the city skyline, but Packard's features American cuisine, while Café do Brazil, unsurprisingly, features the cuisine of Brazil. Both have excellent, full-service bars.

Fun Outdoors
The Myriad Gardens, our 17-acre public park in downtown, is home to beautiful plants from all over the world, and it's also the venue for a variety of outdoor, warm weather fun. Every year on Sunday evenings, the Gardens host a Twilight Concert Series from June through August. Local and regional acts show up, and the shows are free for all ages. Bring a blanket and a picnic basket. On Wednesday evenings in June and July, you can catch a movie outdoors as well. Sonic sponsors summer movie nights with films for the whole family.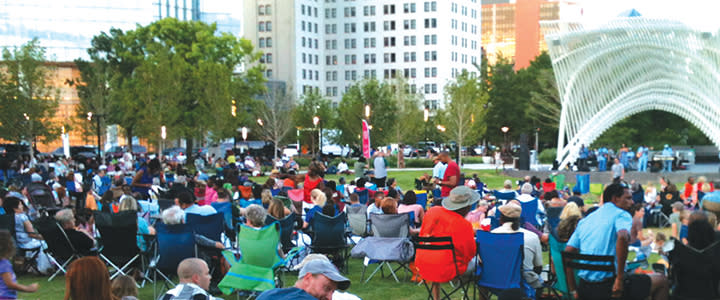 Want a different view of the city? If you're not afraid of heights, head over to the Wheeler District and ride the Ferris wheel. Located on the southern bank of the Oklahoma River, the Ferris wheel, which used to sit on the Santa Monica Pier, now provides a beautiful view of downtown. Food trucks are usually out at Wheeler Riverfront Plaza, so you can purchase a $10 day pass and make an evening of it, including multiple rides.
In addition to the arts festivals in the metro, several of the districts host monthly events that feature live music, food, activities, and retailers. The Paseo Art Walk is every Friday year-round, beginning at 6pm. Live on the Plaza is the second Friday of every month from 6-10pm.
H&8th Night Market began as a food truck event every month in Midtown, but two years ago, the organizers, convinced that Oklahoma City was ready for more, smaller events, converted it into an annual celebration. On Friday, June 1, 2018, H&8th returns, and as it has the past two years, it will host the Oklahoma City Pro-Am Classic, a bicycle race in the heart of the city. Vendors, food trucks, live music, and tons of activities are on the schedule for this event, which is in all likelihood, our city's biggest annual party.