The PBR (Professional Bull Riders) will buck back into Oklahoma City January 21-22, as the Chesapeake Energy Arena welcomes the elite Built Ford Tough Series (BFTS) Express Employment Professionals Invitational for the 18th consecutive year.
Going up against the rankest bulls in the business, the Top 35 bull riders in the world will vie for their piece of the $140,000 payout in Oklahoma City. The toughest athletes in sports will face opponents 10 times their size through two days of action-packed 8-second rides and heart-stopping wrecks.
Last year, veteran Brazilian Fabiano Vieira squeezed past sophomore rider Mason Lowe to take the Oklahoma City event title. This year, Vieira will be back to defend his title, alongside Oklahoma native Ryan Dirteater and reigning PBR World Champion Cooper Davis. Four other World Champions are scheduled to compete as well, including Mike Lee (2004), Guilherme Marchi (2008), Silvano Alves (2011, 2012, 2014) and J.B. Mauney (2013, 2015).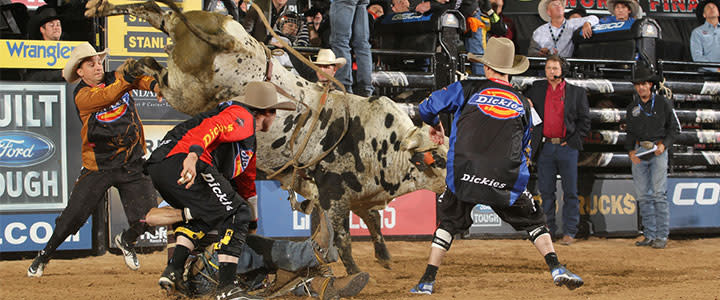 The riders will face one bull each in Round 1 and 2. Immediately following Round 2 on Sunday, the riders' individual scores will be totaled and the Top 15 will advance to the Built Ford Tough Championship Round for one more ride and a chance at the $30,000 event title. Competition will begin at 7 p.m. on Saturday, January 21 and at 2 p.m. on Sunday, January 22. Tickets for the Express Employment Professionals Invitational are on sale now and start at $15. They can be purchased at the Chesapeake Energy Arena Box Office and Ticketmaster.
For an enhanced PBR experience, fans can now purchase PBR Elite Seats, which provide a behind-the-scenes look into the toughest sport on dirt. This once-in-a-lifetime experience includes early entry; tickets to a premium seating section; a catered reception; a 60-minute, backstage tour by a PBR Host, featuring a PBR 101 presentation and visit with the sport's fiercest bulls; and the opportunity for photos and autographs from the top PBR stars. After the event, PBR Elite Seat ticketholders also will be given premium dirt access, where they can get their complimentary 8 Seconds PBR program, Elite Seat lanyard and other memorabilia autographed by the Top 35 bull riders in the world.
Win Tickets to PBR in Oklahoma City