At this time of year, Remington Park and Oklahoma City become the Quarter Horse Racing Capital of the World. We're talking about over $6 million in stakes purses and  futurities, which attract the very finest Quarter Horses. And when we say the finest, we mean the fastest equine athletes on the entire planet.  Something like 55 miles per hour!
And that means the horses reach their top speed three strides out of the gate!!
Annually, Oklahoma has the largest per capita Quarter Horse population in the entire country. That computes to 171,000 Quarter Horses. Texas claims more horses (don't tell anyone), but Oklahoma has the most Quarter Horses when compared with the population.
That's big.
The success of horse racing at Remington Park is directly attributable to its casino. With 750 gaming machines churning a percentage of their drop - or total amount wagered, as they say in gaming circles - to purses for the horsemen racing there.  As a result, purses at the Oklahoma City track are the highest in the country for Quarter Horses and in the top  ten for Thoroughbreds.
That's big, too.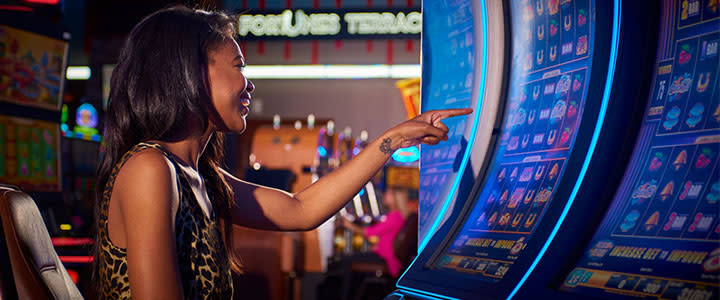 Remington Park is owned by Global Gaming Solutions, a business arm of the Chickasaw Tribe based in Ada, OK.
But there are other reasons to take in a night of racing at Remington Park. One of the things they take great pride in is their diverse offering of menu items throughout the building.  Let's start with hot dogs and burgers and nachos and pizza, served in one of the popular concession stands sprinkled throughout the building. But if you want to move up a little, you could head up to the Clubhouse level and view the races from the 900-seat terraced dining room known as Silks, or the Players' Lounge for serious horse players. Or then there is Eclipse on the Penthouse level for special occasions. If you're in the casino, you have a choice of Henry Hudson's or the Bricktown Brewery, two popular eating establishments in the Oklahoma City metro area.
Quality racing, world class casino in a party atmosphere inside and an amazing family offering on the front apron facing the race track and stretching from two waterscapes and bronze statues on either side of the grandstand building. So many things to do.
Now that's big!!