What are you doing New Year's Eve? Bringing a date, the kids, or other loved ones to Arts Council Oklahoma City's Opening Night, presented by Midfirst Bank and Devon Energy. Now in its 31st year, Downtown OKC's largest New Year's celebration is shaking things up a bit, most notably with the inclusion of Emmy award-winning hip hop artist Jabee. If you haven't been downtown on the Night in a while or even if you're a perennial reveler, you'll want to hit up these attractions before midnight:
First, get a head start on your New Year's resolutions by joining Arts Council Oklahoma City for the 4th annual Finale 5K that afternoon. At 4pm, runners will start off from Colcord Drive at Bicentennial Park, in front of the Civic Center Music Hall. All participants will receive an Opening Night wristband and a chance to win original artworks. The most festively dressed runner will receive a prize as well, so go all out!
Hear Jabee, along with other hip hop acts Yung Tray, Sativa Prophets, and L.T.Z., in the art museum's upper lobby. The set begins at 7:00 PM and concludes with Jabee, who goes on at 10:00. Before then, if you haven't already, do yourself a favor and check out Jabee's Black Future.
Catch a set by one of OKC Improv's companies then mark your calendar for their next show (it's January 6th). They'll be performing from 7:00 to 11:00 PM in the art museum's auditorium. This comedy troupe often appears at Film Row's Paramount Theatre and features some of Oklahoma City's funniest people, including Everybody and Their Dog veterans, Sue Ellen Reiman and Brenda Williams.
While scurrying from venue to venue, take a second to warm up and chow down in Finale Alley, at the corner of Colcord Drive and Walker Avenue. Among other food trucks, Junction Coffee and Buttermilk Southern Sliders will be fueling the festivities all night.
Be social! ACOKC is excited to offer a custom Snapchat filter this year, available at Bicentennial Park and its surrounding blocks. Share your snaps, tweets, and Instagram posts using the hashtag #OpeningNightOKC, and see what other attendees are sharing as well.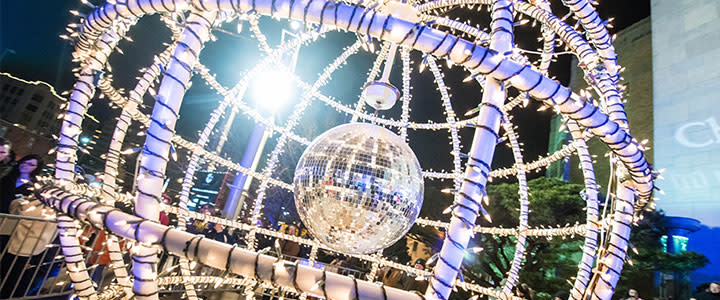 And of course, be sure to make it to Bicentennial Park's Finale Stage by 11:30 for headliner David Bruster and the Walkabouts. Their New Orleans-infused pop sounds will provide the perfect party atmosphere as they drive us through the grand finale countdown, complete with Opening Night's signature ascending "ball drop", one of the state's largest fireworks displays, and into 2017!
You can purchase admission wristbands in advance for $8 at local 7-Eleven stores, MidFirst Bank locations, the Oklahoma City Museum of Art, Plenty Mercantile and online here. Wristbands will also be available at the event for $10. Children five and under will be admitted free.
Arts Council Oklahoma City is a non-profit 501 ©(3) organization dedicated to bringing the arts and the community together through free or low-cost cultural events and a variety of arts outreach activities that impact underserved populations. Each year, Arts Council events, programs and services reach nearly one million Oklahoma City residents and visitors. Arts Council Oklahoma City is sponsored by MidFirst Bank, Devon Energy Corporation, OGE Energy Corporation, Ozarka Water & Coffee Service, Sonic – America's Drive-in, ICG, The Oklahoman and NewsOK.com, Toucan Production and Tyler Media. Arts Council Oklahoma City receives funding from the Oklahoma Arts Council and National Endowment for the Arts, and is an Allied Arts member agency.